Toronto has a new audio show. The first-ever Toronto Audiofest was held at the Westin Toronto Airport Hotel October 19-21. In one year, it has effectively supplanted the Toronto Audio-Video Entertainment Show (TAVES), which began in 2011 but gradually lost its way.
For the first three years, TAVES was held at the historic King Edward Hotel, in downtown Toronto, and in 2014 moved across town, to the more modern Sheraton Centre Toronto. Those were the show's glory years. But in 2015 TAVES moved to a less attractive suburban hotel, and last year to an exhibit hall on Toronto's airport strip, where there were no good demo rooms.
Attempting to broaden the show's audience, the organizers added a hi-tech pavilion addressing categories such as 3D printing, robotics, digital imaging, gaming, virtual reality, and personal transportation. Last year, TAVES co-located with a recreational-vehicle show.
Meanwhile, the Montreal Audio Fest had risen, phoenix-like, from the ashes. Launched by the power couple Michel Plante and Sarah Tremblay, Salon Son et Image (SSI) was long a fixture on the Quebec audio scene, until it was sold in 2013 to the UK-based Chester Group. But in 2016, Chester Group canceled SSI mere weeks before it was scheduled to open, citing lack of interest among exhibitors.
Plante and Tremblay rescued the show, working feverishly to attract exhibitors and organize the event, which they renamed Montreal Audio Fest. It worked. The first MAF was a success; so were the 2017 and 2018 editions.
Last spring, concerned about TAVES's facilities and lack of focus, a few audio companies approached Plante and Tremblay, wondering if they could repeat their magic in Toronto. A few weeks later, Toronto Audiofest was announced. The show dates were exactly a week later than those scheduled for TAVES, which had relocated to an even larger exhibit hall on the airport strip. But in late August TAVES threw in the towel and canceled the show.
Although the first Toronto Audiofest didn't look as packed as last spring's Montreal Audio Fest, crowds were certainly good, and exhibitors were clearly happy with the venue and attendance. There will be a repeat performance at the same hotel in fall 2019.
Whether your audio interest was ultra-high-end, lifestyle, analog, or personal, there was a lot to see at Toronto Audiofest. I've focused mainly on streaming and lifestyle products -- here's the gear that caught my eyes and ears at the show. (Except where noted, all prices are in USD.)
Highlights
Bryston had a wild demo system in its room. For each channel, there were two Model T Active speakers, stacked vertically in line-source configuration. A layer of rubber separated the enclosures, held together with special braces. Each Model T Active houses three 8" woofers, two 5.25" midrange drivers, and two 1" tweeters. The total height of each stacked pair was just under 9'.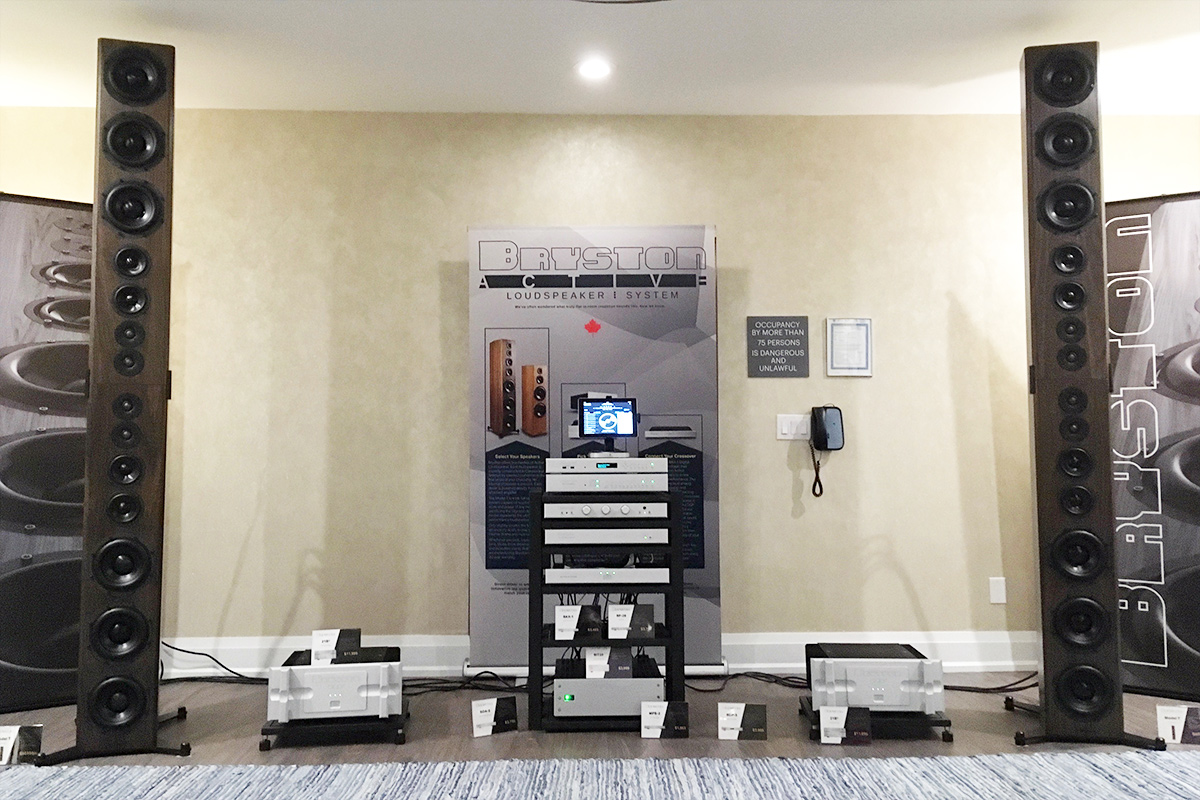 The rest of the all-Bryston system consisted of a BAX-1 active digital crossover, a BDP-3 digital player, a BDP-3 DAC, a BP26 preamp, and a pair of 21B3 three-channel power amplifiers. Not surprisingly, this system had astounding dynamics. A big honking saxophone note in Zoot Sims's rendition of Johnny Mandel's "Emily" -- it sounded as if the mike was right in the bell of his horn -- almost blew me out of my chair.
Of greater relevance to Simplifi readers was a silent display of Bryston's Wireless series of powered speakers. These are based on Bryston's Mini A three-way passive shelf-mount, and the Model A1 and A2 floorstanders. The Mini A has a single 6.5" woofer, a 3" midrange, and a 1" tweeter. The Model A1 has three 6.5" woofers, two 5.25" midrange drivers, and two 1" tweeters. The smaller Model A2 has dual 6.5" woofers.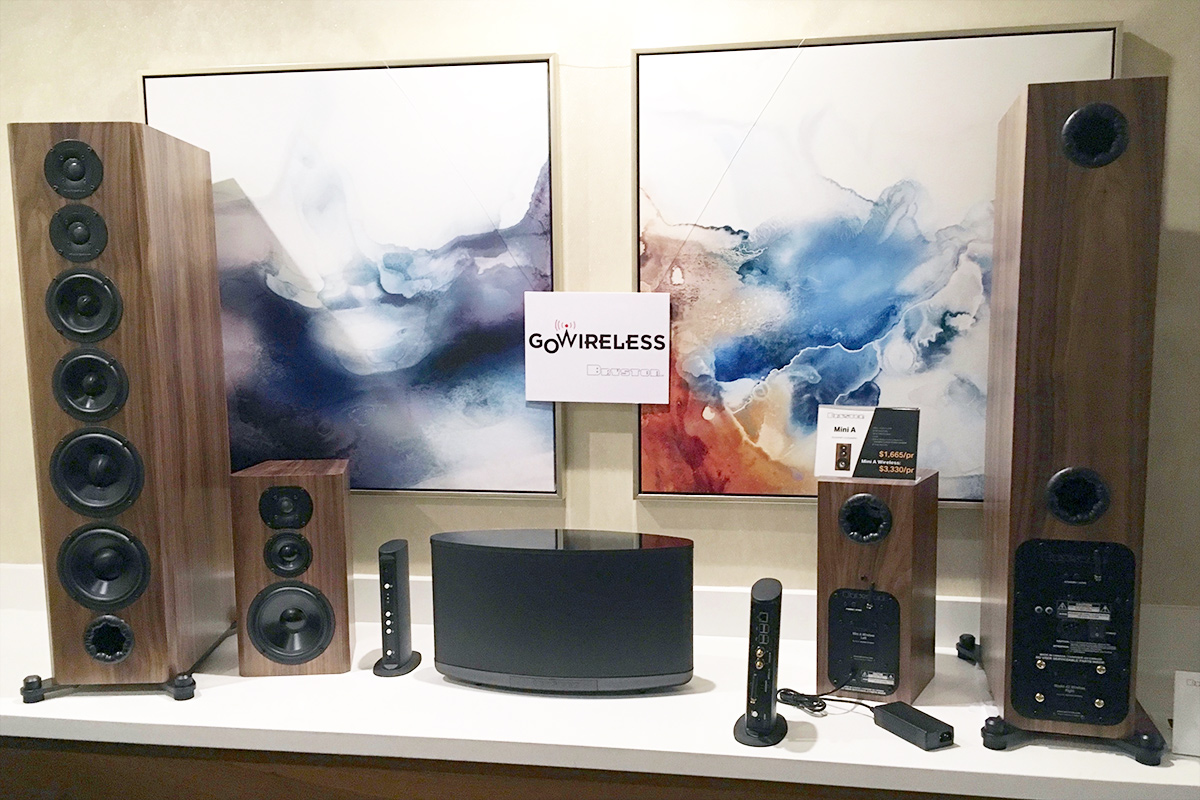 Back in March at the Montreal Audio Fest, Bryston showed the Mini A Wireless ($3300/pair) with built-in 70W class-D amp. Now Bryston has added powered wireless versions of the A1 and A2 ($5900 and $6900/pair, respectively), both with 500W class-D amps.
Wireless-series models have the same internal crossovers as their passive counterparts, and one amplifier in each speaker. All three models ship with a Wireless four-in-one transmitter that permits streaming over Wi-Fi via Apple AirPlay or UPnP. On the rear of the transmitter are a line-level analog input, digital optical in, four USB ports for connecting external storage devices, and an Ethernet port. It also incorporates a Raspberry Pi Linux-based computer, which makes possible network playback from NAS drives and supported streaming services, under control of a Web-based interface that can run on iOS and Android devices. Shipments of the Wireless models have just begun.
Elac's demo system comprised its Discovery DS-S101-G music server connected directly to the new Navis AR-F51 floorstanding active speaker system ($4000/pair). That system, as well as the AR-B51 stand-mount ($2000/pair), is pure analog. Whereas many active speakers now employ DSP-based crossovers, the two Navis models have analog crossovers. On the rear are RCA and XLR line-level inputs and an EQ control.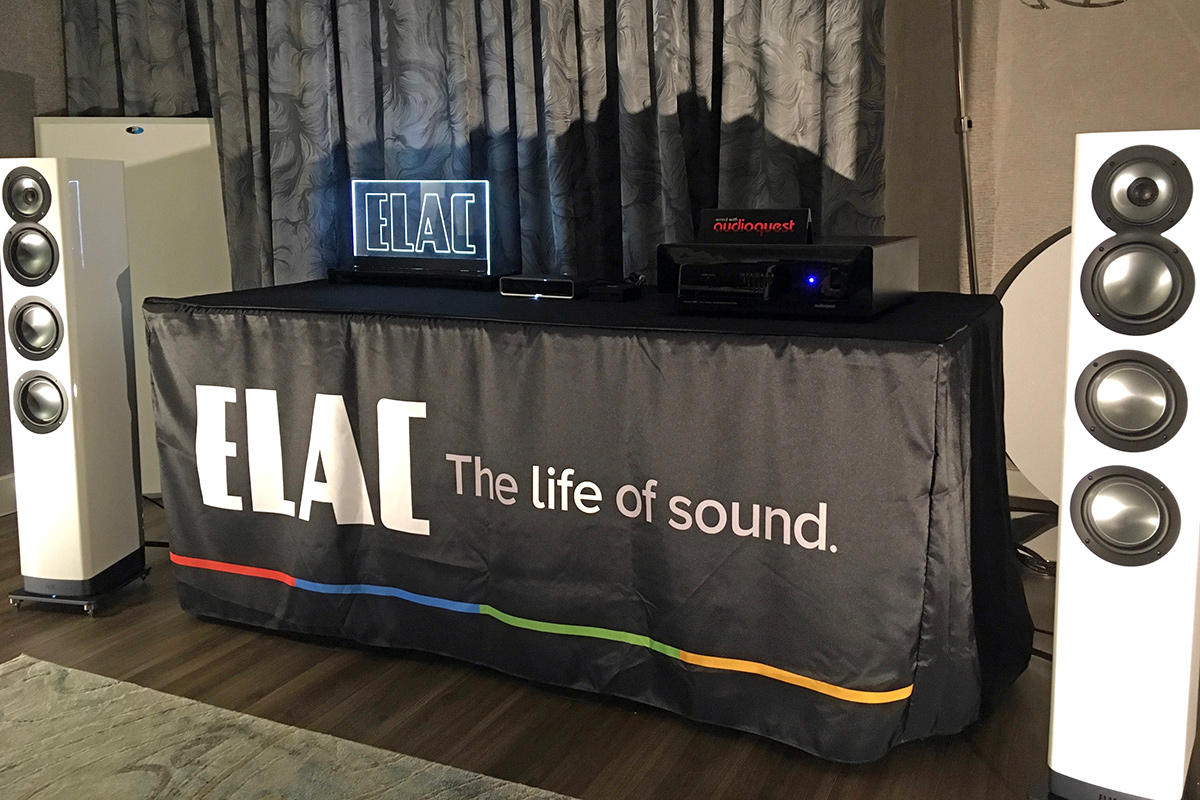 Navis speakers also have a wireless receiver than can connect to an optional transmitter that sends digital audio at 24-bit/44.1kHz resolution using Elac's proprietary AirX2 protocol. The transmitter adds AirPlay 2 support, Spotify Connect, Roon compatibility, and Bluetooth connectivity.
The AR-B51 and AR-F51 both have a coaxial driver, with a 1" tweeter at the apex of a 4" midrange. The tweeter is powered by a 30W class-AB amplifier, the midrange by a 70W BASH amplifier. The stand-mount has a single 5.25" woofer, while the floorstander has three woofers, with 150W BASH amps.
Shipments of the two Navis speakers will begin very soon. Watch for a review of Elac's Navis AR-B51 active three-way speakers in early 2019.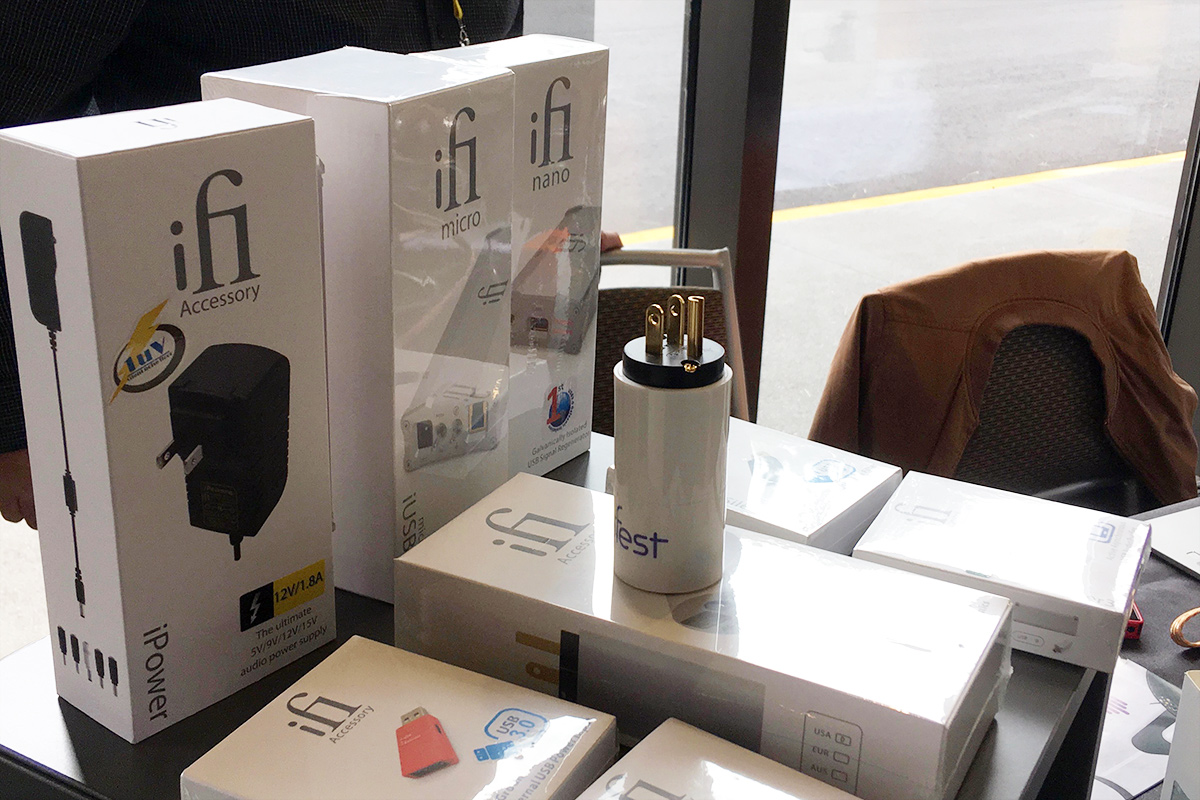 One of the pleasures of attending audio shows is discovering accessories that can help your existing system sound better. At Toronto Audiofest, I saw such a product: the AC iPurifier ($99) from the UK brand iFi. I'm itching to try it out with my Simplifi'd hi-fi -- the system is in my main-floor living room, where there's no space for a power conditioner. I've already experienced what upgraded power cords can do for this system. After I replaced the components' stock cords with AudioQuest NRG-Y3s, I heard a significant improvement in solidity and articulation. I'd like to hear if the AC iPurifier makes an additional improvement. It detects power-line noise and generates an out-of-phase cancellation signal, to provide a claimed 40dB of active noise reduction. I'd use two in my system, plugging one into each of the wall outlets I use to power my Dynaudio Focus XD active speakers.
Compared to conventional component hi-fi, it might seem that Simplifi'd hi-fi has fewer opportunities for tinkering and upgrading. But such opportunities definitely exist, as this product attests.
Lenbrook Industries, parent company of Bluesound, NAD, and PSB, exhibited at Toronto Audiofest in conjunction with Kennedy Hi-Fi, a retailer in Markham, Ontario, on Toronto's northeast border. Lenbrook displayed the NAD C 658 BluOS streaming DAC ($1499, available in December), fresh from its debut at the Rocky Mountain Audio Fest, in Denver. As its full name implies, the C 658 can function as part of a Bluesound whole-home music system. Listeners can stream music to the C 658 from network drives, and from a large range of online services. Supported services include Deezer, Qobuz, and Tidal, all of which have lossless CD-resolution tiers. Qobuz and Tidal also offer high-resolution streaming. The C 658 is MQA-capable, allowing for hi-rez streaming from Tidal.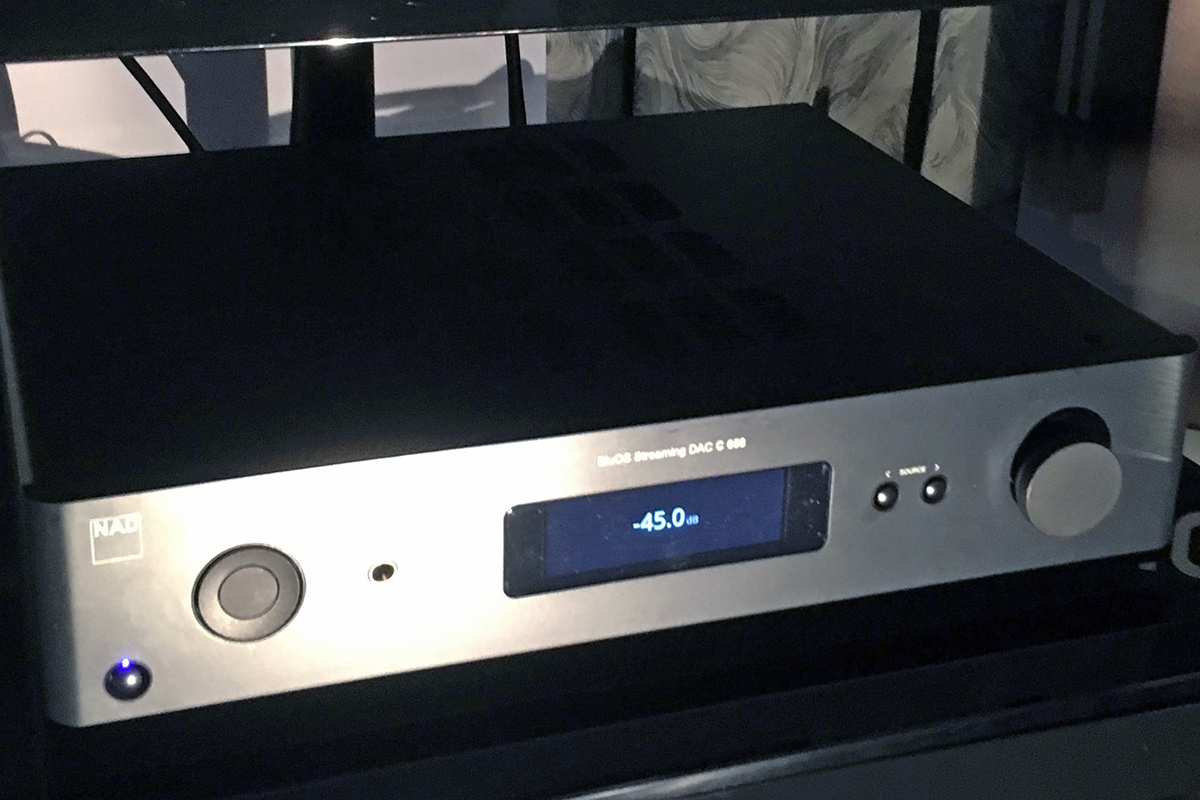 The C 658 has dual-band 802.11ac Wi-Fi, and two-way aptX HD Bluetooth. In addition to a moving-magnet phono stage there are two line-level inputs, two optical digital inputs, two coaxial digital inputs, and a subwoofer output. There's also a dedicated headphone amplifier. Curiously, the C 658 can't be used as a USB DAC -- its single USB port is for adding an optional wireless output module. On the back are two proprietary Modular Design Construction (MDC) ports for add-on modules that expand the C 658's capabilities, including an HDMI video switcher with 4K support.
A standout feature of the C 658 is built-in Dirac Live room-correction software, which adjusts the impulse response of your speakers and compensates for frequency-response irregularities in your listening room. A "lite" version is pre-loaded; the full version of Dirac Live is available for a $99 upgrade fee.
Kennedy Hi-Fi also had a silent display of Bluesound's new Generation 2i series. The whole line, which includes the Node 2i streaming preamplifier ($499), PowerNode 2i streaming amp ($799), Vault 2i CD ripper/streamer/server ($1199), and several Pulse powered speakers, has been updated. New features include Apple AirPlay 2 support, upgraded Bluetooth codecs, and dual-band 802.11ac Wi-Fi (the Vault 2i has only Ethernet networking).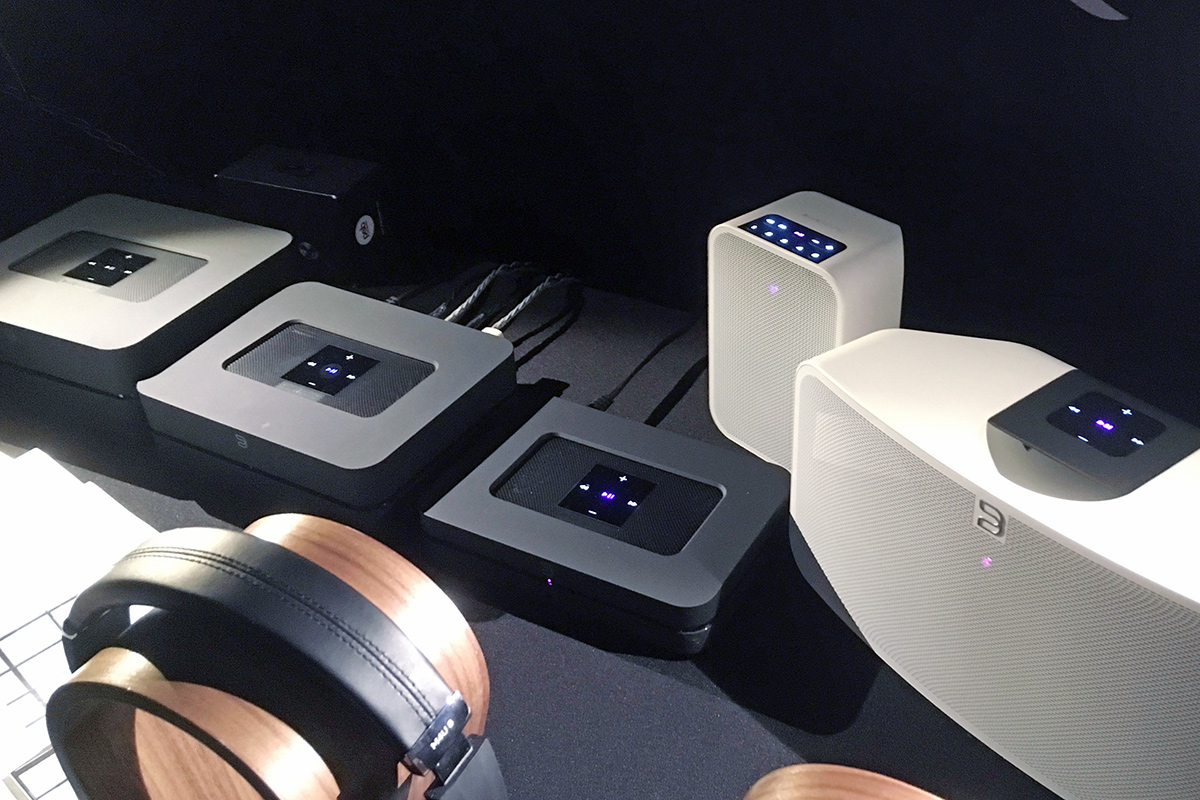 Except for the small Pulse Flex 2i speaker, all new models have two-way Bluetooth, allowing them to receive audio wirelessly from a smart device, and to transmit audio to Bluetooth headphones or speakers. They also support the aptX HD codec, which can transmit 24-bit audio. The Pulse Flex 2i has Bluetooth receive capability and aptX support.
Apple AirPlay 2, to be enabled by a firmware update, will allow users to stream music to multiple Bluesound components (and other devices with AirPlay 2 support) from iOS devices and Macs, in perfect sync. AirPlay 2 also enables Siri voice control of playback from the Apple Music streaming service. Users can add AirPlay 2 support to an existing Bluesound system by adding a single Generation 2i model.
The Pulse 2i ($799), Pulse Mini 2i ($499), and Pulse Flex 2i ($299) speakers all have updated driver configurations, and the top two models also have more powerful amplifiers. A new feature on the Pulse Soundbar 2i ($799 in black, $899 in white) is HDMI connectivity with support for Audio Return Channel (ARC).
Watch for reviews of Bluesound's new Generation 2i products in December or early next year.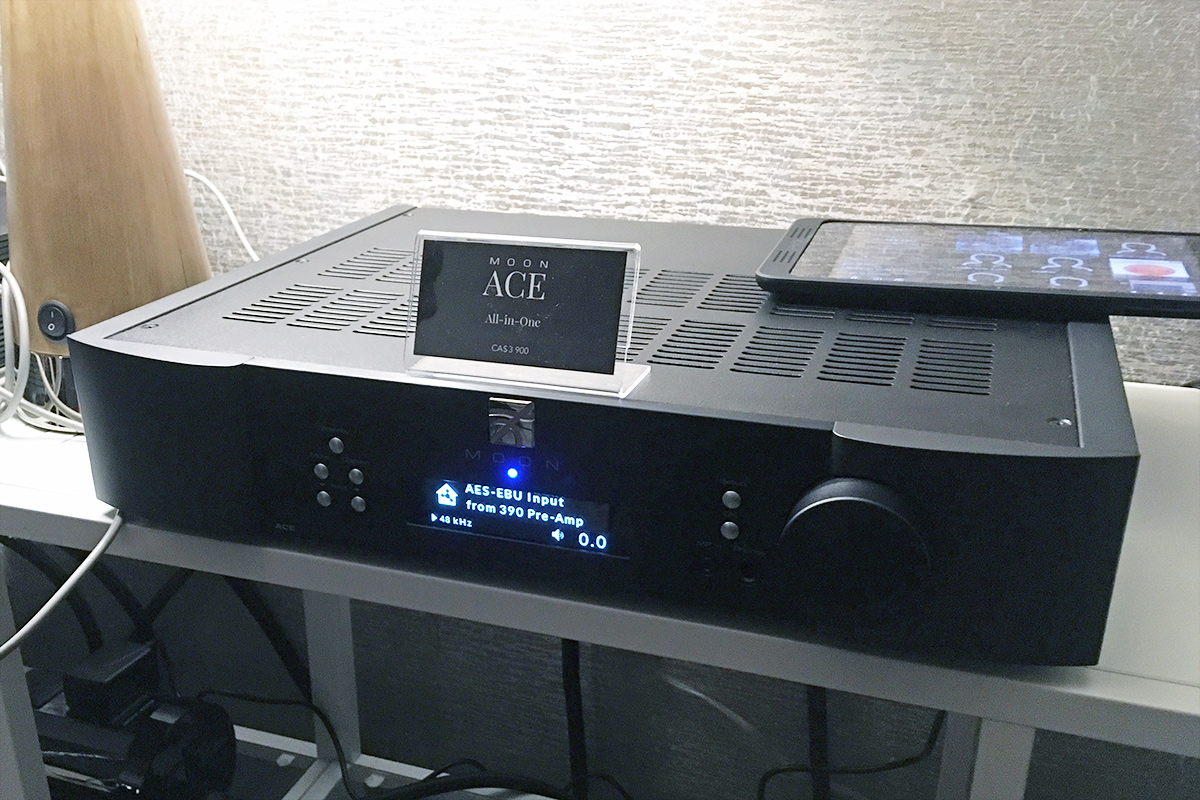 On static display in Simaudio's room was a new version of the Moon ACE all-in-one DAC-streamer-integrated amplifier. The original ACE was enthusiastically reviewed on this site by Al Griffin in 2017, and on SoundStage Hi-Fi by Uday Reddy in 2016. Priced at $2900, the new version incorporates Simaudio's latest Moon intelligent Network Device (MiND) technology. The MiND 2 module adds MQA decoding with Tidal Masters support, Roon compatibility, and zone grouping, all under control of an app that runs on iOS and Android devices. MiND 2 also allows lossless streaming from Deezer and hi-rez streaming from Qobuz. Other features remain the same, including: built-in MM phono stage, Wi-Fi and aptX Bluetooth, headphone jack, and 50Wpc output power.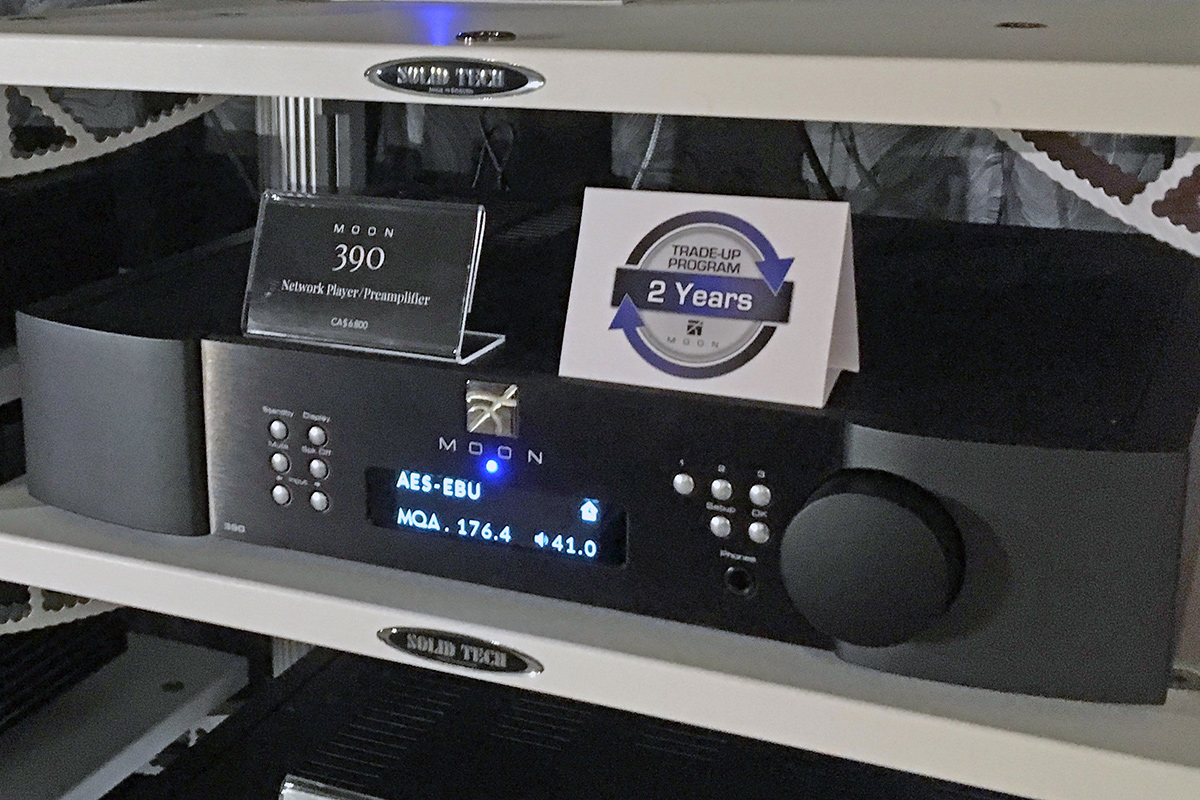 Simaudio's demo system included the Moon 260D CD transport feeding the new 390D network player and preamplifier ($5300). The 390D also incorporates the MiND 2 network player, along with an MM/MC phono stage, an HDMI 2.0 switcher, and a built-in headphone amp. To demonstrate the system, Simaudio VP Costa Koulisakis played the 50th Anniversary Deluxe Edition CD of the Doors' Waiting for the Sun, remastered in 24/176.4 MQA by Bruce Botnick, the Doors' longtime recording engineer and mixer.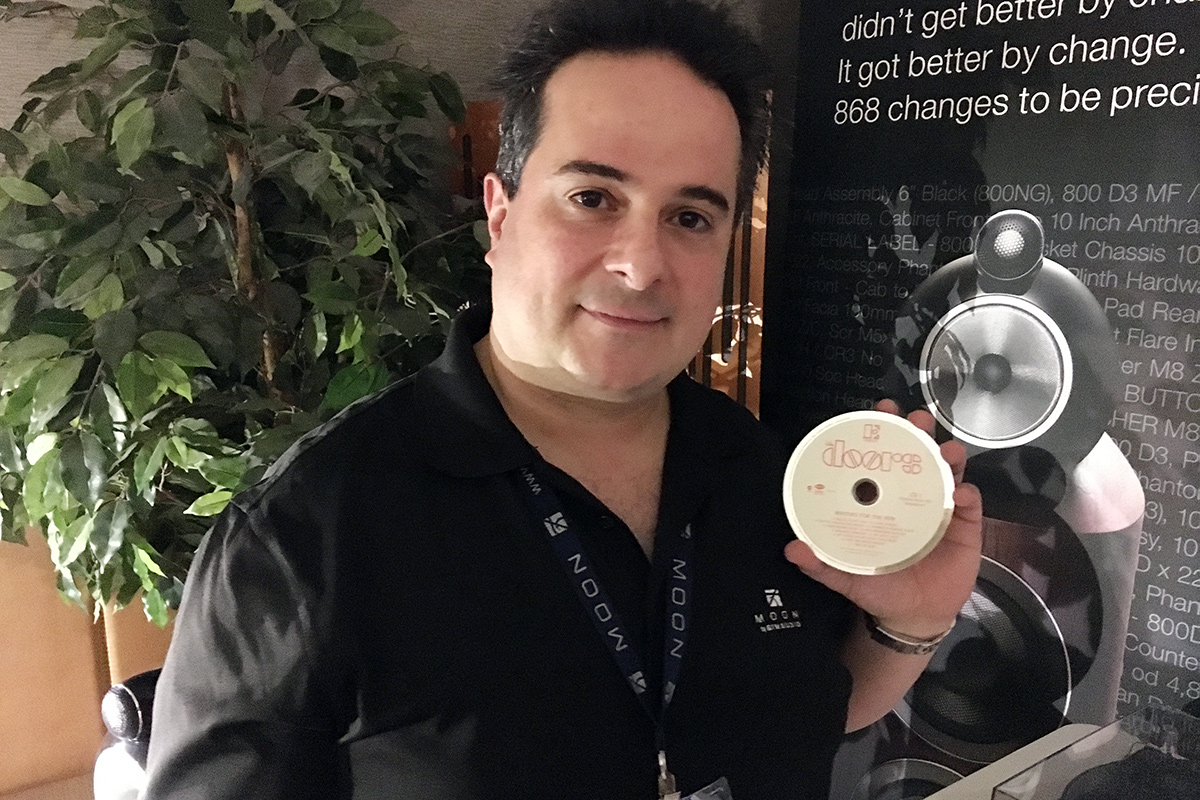 Costa Koulisakis
At Toronto Audiofest, Totem Acoustic demonstrated the Kin Play powered, two-way, shelf-mount speaker it had announced a few weeks earlier at Rocky Mountain Audio Fest. Each enclosure houses a 5" woofer and 1" metal-dome tweeter, with passive crossover network. The master speaker contains a 120Wpc class-D amplifier that powers both speakers, plus a rear-panel jack pack with RCA analog inputs (switchable between line-level and phono operation), 3.5mm stereo input, optical digital in, and subwoofer output. On the front is a rotary control for input selection and volume adjustment. The master speaker can be designated to reproduce the left or right channel, allowing for flexibility in placement. The Kin Play also has aptX HD Bluetooth connectivity.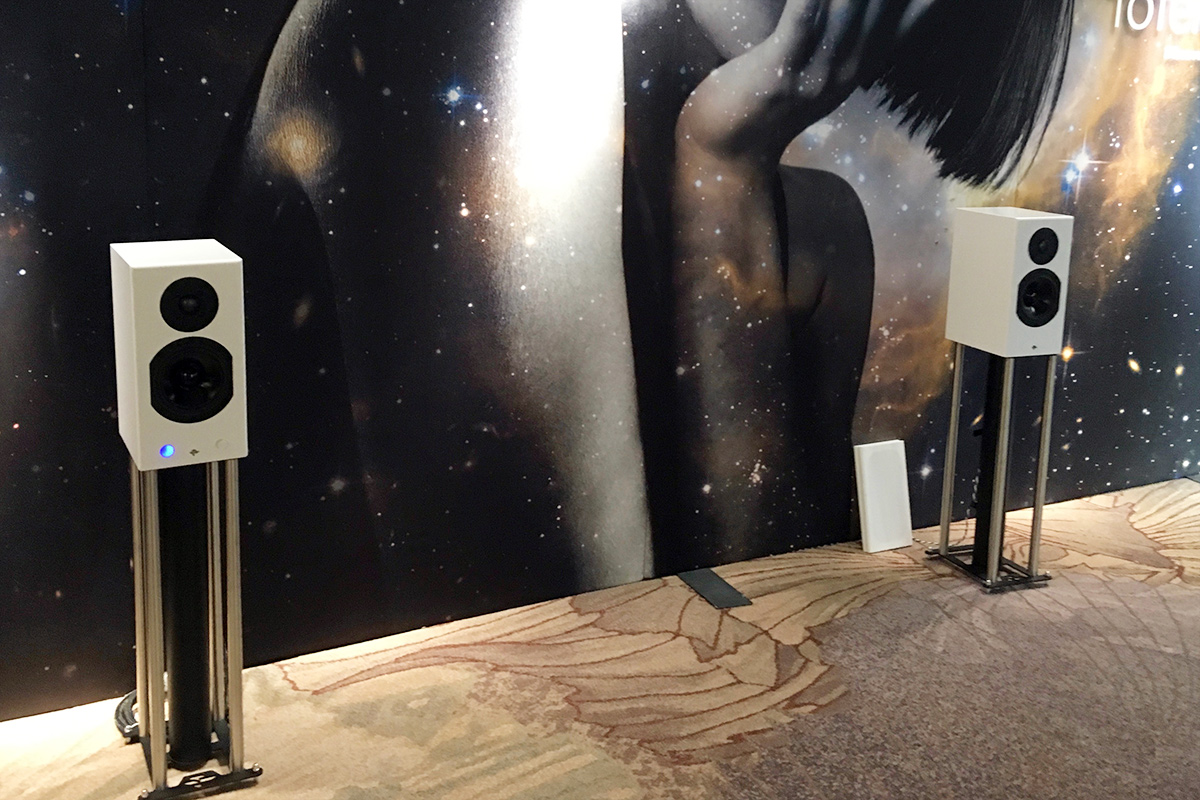 This all-in-one system sounded really good, with fast, tactile bass and a big, enveloping soundstage. When you consider that the Kin Play combines amplifier, phono stage, and amplifier for $999, this package seems like a steal. Shipping of the Kin Play has just begun; SoundStage! Simplifi will be the first media outlet to receive a review sample. Watch this space in January for a full review.
Yamaha went all-in for its demonstration system at Toronto Audiofest, with a $50,000 CDN setup that included the new C-5000 preamp and M-5000 power amp ($10,000 CDN each) powering NS-5000 speakers ($18,000 CDN/pair). The distinguishing characteristic of the NS-5000 is Yamaha's use of Zylon diaphragms for the woofer, midrange, and tweeter. Yamaha says this synthetic fiber provides "acoustic velocity comparable to beryllium." Sources included a CD-S3000 CD player/USB DAC ($7500 CDN) and a vintage Yamaha direct-drive turntable sourced from eBay by Paul Bawcutt, product specialist for Yamaha Canada, who fitted it with a Koetsu cartridge.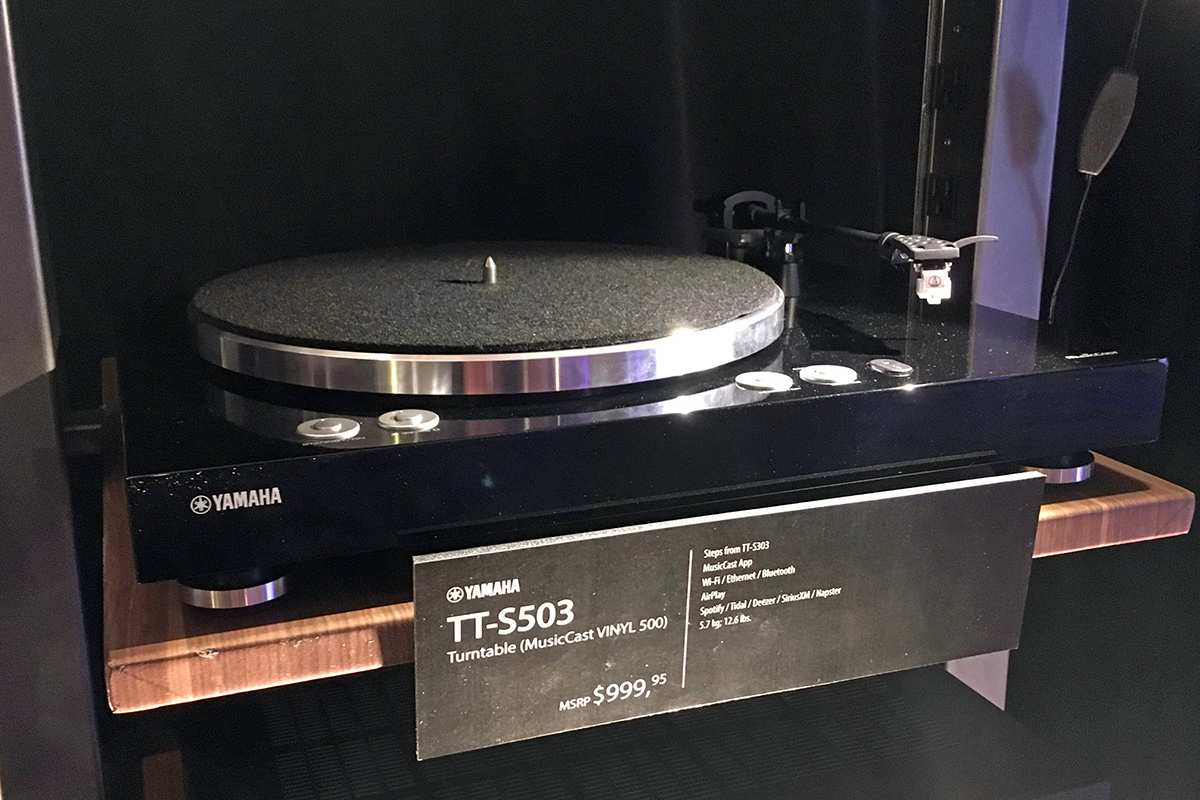 More interesting for Simplifi readers was the TT-S503 streaming turntable, aka the MusicCast Vinyl 500, which Yamaha had on silent display. Priced at $1000 CDN, the TT-S503 has a pre-fitted Audio-Technica cartridge and a built-in phono stage. You can also use it as a straight turntable, outputting your choice of phono- or line-level audio. And with line-level output, you have lots of other options. This belt-drive 'table has built-in Wi-Fi and Bluetooth, and client software for the streaming services Deezer, Spotify, and Tidal. Connect it to a line input on your stereo and you get vinyl playback plus all those digital extras. Using an app that runs on iOS and Android, you can also stream from the TT-S503 to any Yamaha MusicCast component. These include powered speakers, two-channel amps and receivers, and audio/video receivers. The TT-S503 also supports AirPlay -- from iOS devices and Macs you can stream to the turntable, and from there to connected audio components.
The TT-S503 will be available in late November. Yamaha will be supplying us a sample for a review, which you can expect to read on this site in the first quarter of 2019.
After hours
After the Toronto Audiofest closed for the day on Saturday, audio-industry members gathered for a cocktail reception in a main-floor lobby. The highlight of the evening was the presentation of four Lifetime Achievement Awards.
The first award went to Terry Richardson, a veteran sales representative who now works for Plurison, Canadian distributor for Cambridge Audio, Devialet, Focal, Naim, Rega Research, Stax, and a host of other distinguished brands.
The second recipient was the indefatigable Lily Luo, owner of Motet Distribution, based in Markham, Ontario. Luo provides Canadian distribution for many respected brands, including HiFiMan, iFi, Lumin, PMC, Triangle, and VTL. "I fell in love with her the first moment I met her," Plante said in announcing the award. "She makes such a difference in the industry."
Peter McGrath, director of sales for the Utah-based high-end speaker manufacturer Wilson Audio Specialties, accepted a posthumous award for David Wilson, who founded that company in 1974. McGrath recalled selling Wilson an Audio Research preamp in the early 1970s that Wilson immediately modified. "I still honored the warranty," McGrath said.
The fourth award went to Paul Barton, founder and chief designer of PSB Loudspeakers. Presenting the award was Gord Simmonds, CEO of Lenbrook Industries, PSB's parent company. "Paul Barton is a true pioneer in every sense of the word," Simmonds said. "His decades of research at the NRC [Canada's National Research Council] have helped shape the loudspeakers we know and enjoy today. Even more remarkable is that Paul is still the chief designer of PSB, breaking new ground and doing his best work ever."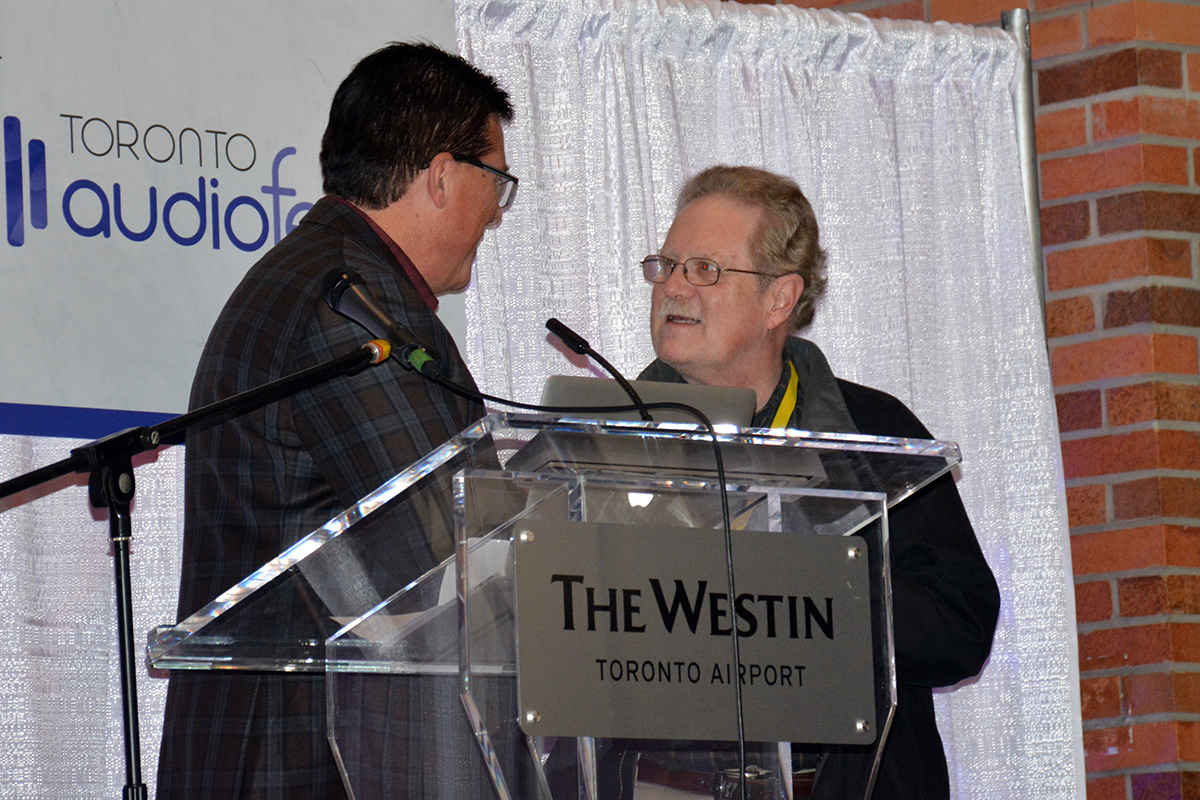 Gord Simmonds and Paul Barton
In accepting his award, Barton said, "Believe it or not, I plan to keep doing this as long as I can. Believe it or not, there are a lot more exciting things coming than we've ever seen before."
. . . Gordon Brockhouse
This email address is being protected from spambots. You need JavaScript enabled to view it.