You might think that a guy who earns his living by writing about technology would want to have the latest and greatest of everything. Not yours truly. When I make a purchase, I'll spend what it takes to get a product that will meet my needs for a long time—but then I'll make that thing last and last. I'll replace a product only if it stops working properly and can't be repaired economically; or if my circumstances change and the thing no longer suits my needs.
A case in point: The Apple Mac Mini that I use to run Roon Core is over a decade old. I upgraded it about five years ago, bumping RAM from 4 to 16GB and swapping out the internal hard drive for an SSD (my music files live on an attached LaCie 2big RAID system). I'll keep using that Mac Mini as my music server until it breaks, or until Roon pushes out an update that won't run on it.
But all things must pass, especially things technological. Last spring, my six-year-old 13″ Apple MacBook Pro started showing its age. The E key refused to respond when I was typing. Trying to key in the definite article at the beginning of a sentence, I'd get "Th" instead of "The." When I backspaced and typed more forcefully, I'd get "Theeee." Then the C key also started acting up. Battery life started to flag—my trusty old MBP needed to be juiced up more frequently than it had in its youth.
I can't fault the MacBook. Besides using it at home, I have lugged it to countless meetings, trade shows, and other events. My MBP owed me nothing.
I looked into repairing my old computer. A local Apple retailer cleaned the keyboard, which made the erratic behavior of the E and C keys a little less troublesome, but fixing the problem entirely would have involved replacing the main circuit board, at a cost of $450 (all prices in CAD). So it was time for a new machine. That I use my laptop for music playback as well as productivity applications would prove a major factor in my choice of a new computer.
Weighing my options
When my laptop started acting up, my first thought was to replace it with the latest MBP or MacBook Air built around Apple's M1 processor. My second was to wait for the next version of the MBP, rumored to be coming in late 2021. According to the rumors, the next-generation MBP would have a souped-up processor, more ports, and a new display with mini-LED backlighting. My third thought was to switch from macOS to Windows.
This line of thinking had started back in February, when I participated in an email discussion with a group of SoundStagers about hardware options for running Roon music-management software. SoundStage! Network founder and publisher Doug Schneider had talked about the advantage of using a highly specced Windows laptop with a touchscreen to run Roon. "The real advantage of using a touchscreen Windows laptop is that it doubles as a Roon server," Doug wrote. "So you get your server and you get your controller. And if you get a good one, like an HP Spectre, which 'folds' into a tablet, you have super convenience, too."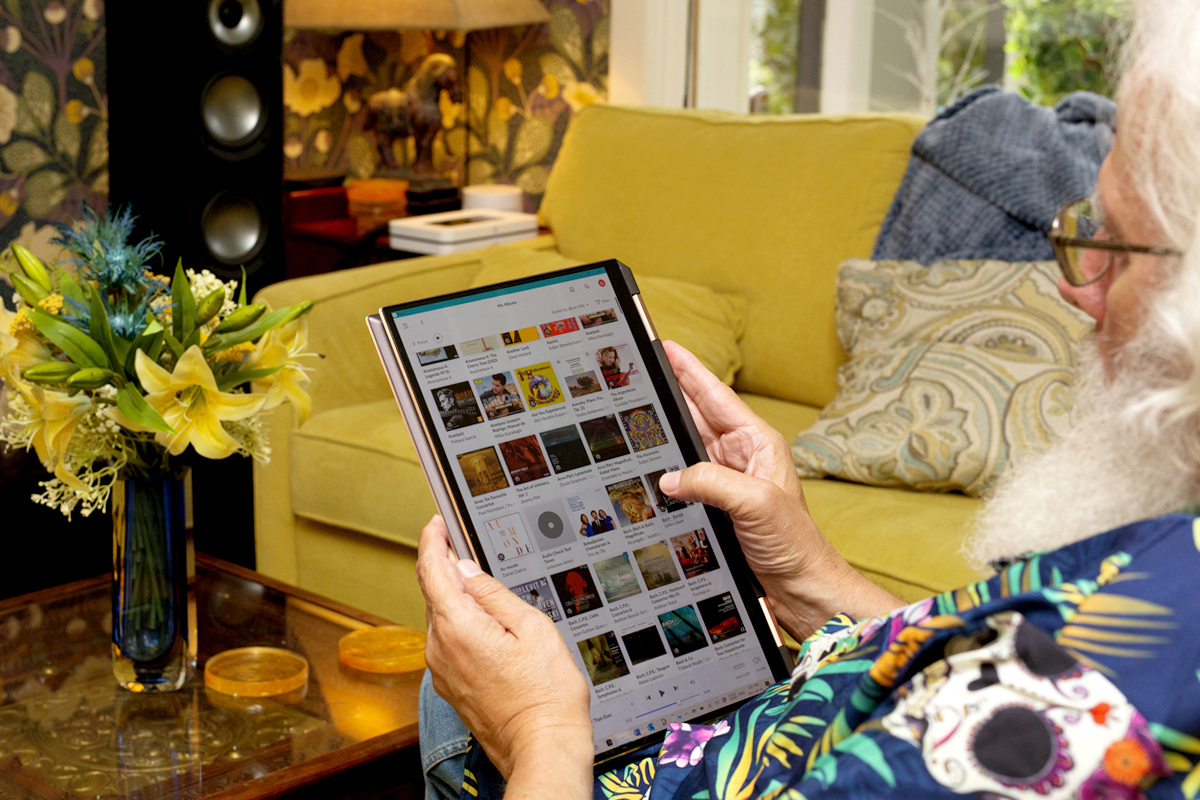 Whichever laptop I chose, I had no intention of using it as a Roon server. But I was really intrigued about the idea of a two-in-one Windows convertible with touchscreen control. For email, web browsing, word processing, and other productivity applications, I could use the computer in standard laptop orientation. And when I wanted to sit back and listen to music, I could flip the keyboard around to the back of the screen and use it like a tablet.
The idea appealed to me for another reason. There were signs that I'd soon have to replace the seven-year-old iPad Mini 3 I was using to run my music apps. It has a paltry 16GB of storage, which limits the apps I can run on it. And the iPad Mini 3 will not run any version of iOS later than 12.5.4. (The current version is iOS 15, released on September 20). A convertible laptop could replace both of my aging Apple devices.
Apple does not offer convertible MacBooks, and MacBooks don't have touchscreens. Of course, I could have got much of this flexibility by buying a new iPad or iPad Pro, and using it with an accessory keyboard for productivity applications like word processing, and tablet-style for music playback. I've actually tried this, but much prefer a real computer for productivity applications. It may be a matter of age and habit, but my head is stuck in the application-folder-file paradigm of computer operating systems. Whatever machine I chose, it would serve first and foremost as a work tool, and for work, I wanted a "real" computer.
For much of the spring and summer, I agonized over these options; poring over reviews of the latest Macs, and convertibles from Dell, HP, Lenovo, and Microsoft. In late summer, when HP had a promotion on its Spectre x360 13 two-in-one, I pulled the trigger.
Changing my religion
I don't think the Mac-versus-Windows religious wars are as hot as they once were; but in any event, I've never been much of a zealot. I joined the church of Mac in 2005, partly because I was working for a small publisher that was primarily an Apple shop. Before that, I'd been a paid-up member of the Wintel congregation, using Windows throughout the 1990s and early 2000s, and MS-DOS before that.
The last version of Windows I used on a day-to-day basis was XP—three generations older than Windows 10, the version installed on my Spectre convertible, and four generations older than Windows 11, which just launched. I faced a bit of a learning curve figuring out Windows 10, but I didn't find it particularly daunting.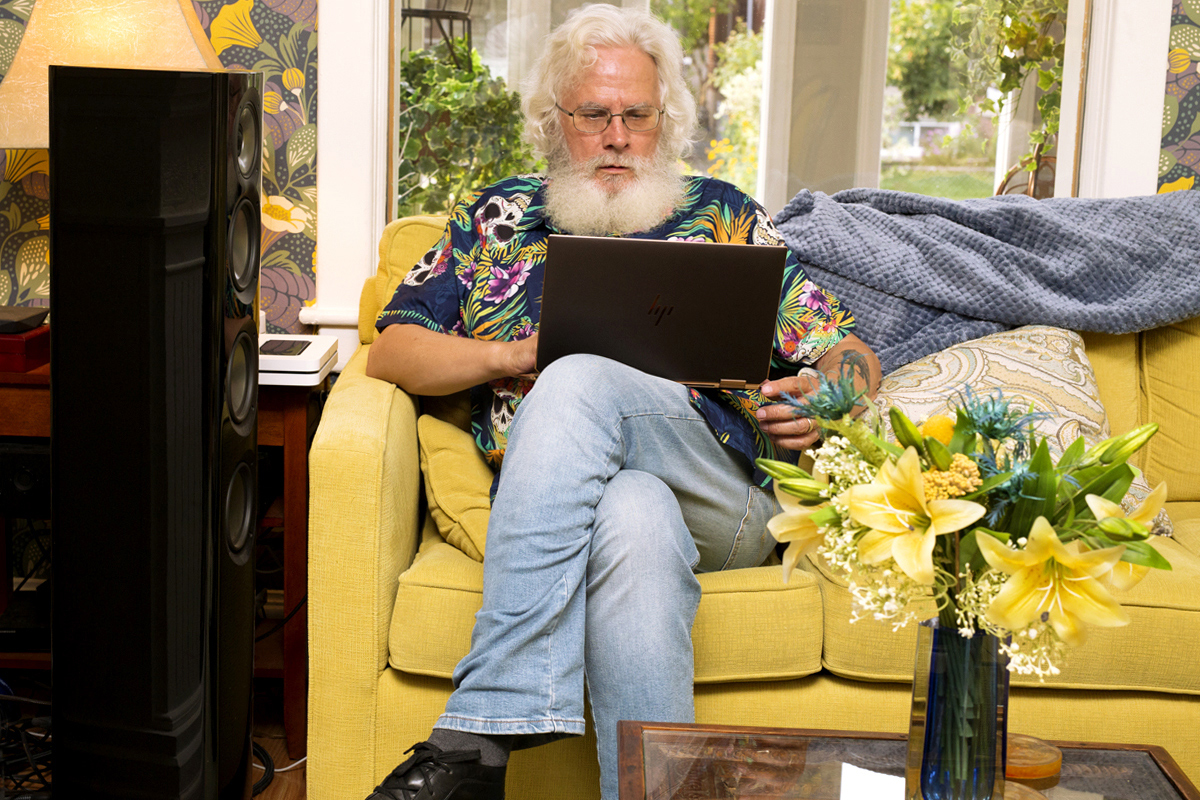 Something I dislike about Windows PCs is that many come with a ton of bloatware—preinstalled third-party apps from software vendors who pay a kickback to the hardware vendor. My new HP Spectre had several apps I needed, notably Microsoft Office 365, but it also had a ton of crap that was just in my way. Getting rid of it was a bit of a pain, and the first hurdle I faced.
After that, it was a matter of installing the apps I wanted, particularly for music playback, and then familiarizing myself with Windows 10's screen layout, command structure, and naming conventions. I think this could be a challenge for some long-time Mac users; it wasn't for me.
The hardware
Many people see Apple as a high-cost option, and Microsoft as a more economical choice. True, there are lots of bargain-basement Windows laptops on the market. But I wanted something that would last me for at least five years. And I wanted a premium machine with a great display, something that I'd get joy from using on a day-to-day basis. I don't run demanding applications like video editing or first-person games, so I didn't need a heavy-duty processor or graphics card. But I wanted something with at least 16GB of memory and a 1TB SSD, and that's the configuration I chose for the HP Spectre. The price was $50 less than I'd have paid for a similarly specced MacBook Air, and $450 less than I'd have paid for the equivalent MacBook Pro.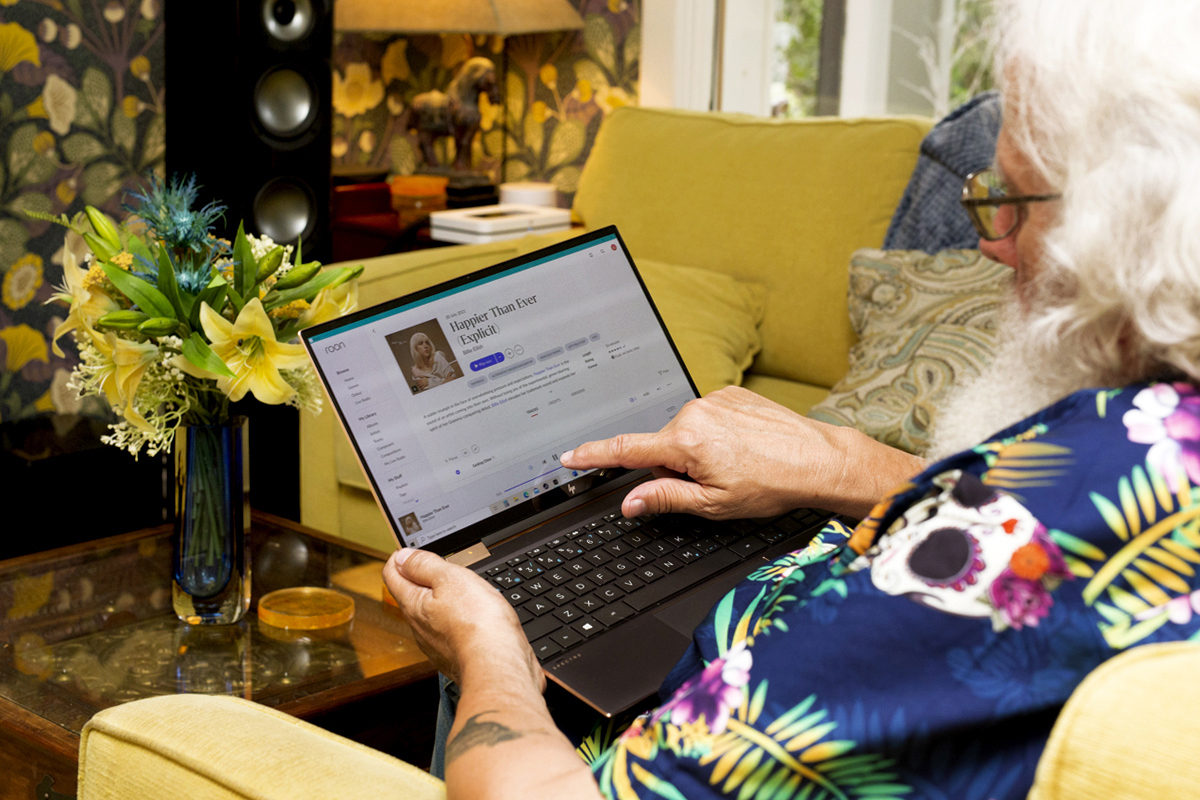 The Spectre x360 is a premium machine. Its aluminum body has gem-cut beveled edges, and I chose the Nightfall black finish, with copper-colored accents. It's as nicely finished as the MacBook Pro—but a little blingier, a little less elegant.
One area where my new Spectre outclasses my old MacBook Pro is the display. The Retina display on my MBP, a 13.3″ LED-illuminated LCD screen with a resolution of 2560 × 1600 pixels, is excellent, and was a big factor in my decision to purchase it in 2015. But the 13.3″ 4K UHD (3840 × 2160) OLED screen on the Spectre is sharper and more vibrant, with better color and deeper blacks. It's gorgeous.
Photography is an important application for me, especially if I'm covering trade shows or other events. My old MacBook Pro had an SD card slot, which I found very useful for importing photos. That feature is missing on the latest M1-powered MacBooks, but is rumored to be coming back on the next-generation MBP. The Spectre x360 has a microSD slot. I now use a microSD card inside an SD adapter in my digital camera, so it's easy to transfer images to my new computer.
The new Spectre has two Thunderbolt 4/USB-C ports, plus a USB Type-A port that I use for my portable AudioQuest DragonFly Cobalt DAC-headphone amplifier. So it has all the ports I need.
Being a writer, keyboard feel is very important to me, and both computers have excellent keyboards. But one area where the Spectre disappointed me was the touchpad, which I found far too sensitive. I'm a fairly fast touch typist, and when I started writing on the Spectre, I'd suddenly find myself in a different area of my document, or a different application altogether, because I'd inadvertently brushed my right thumb against the touchpad. I'd have to find my way back to the section I was working on, gather my thoughts, and resume. I set the touchpad sensitivity to low in Windows Settings, and it didn't make a discernable difference.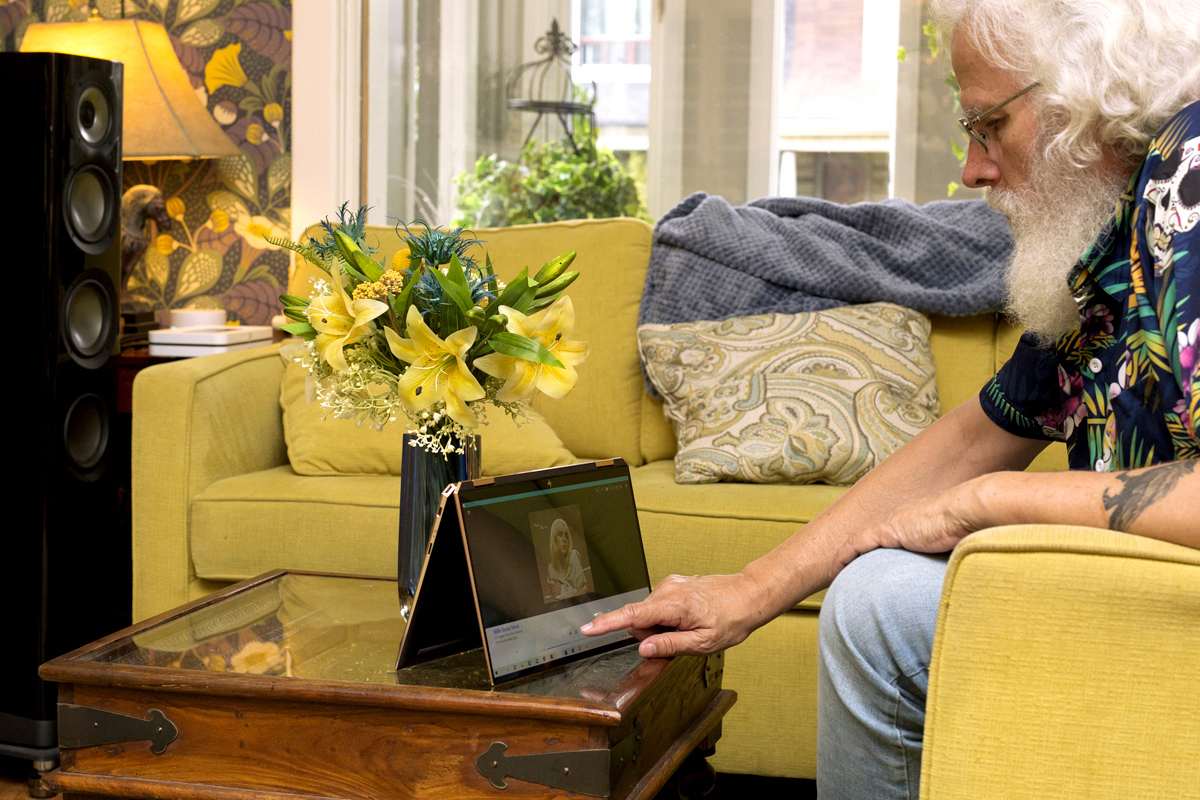 The MacBook Pro's touchpad requires an emphatic push to initiate an action, which I much prefer. In fact, the Spectre's hypersensitive touchpad came close to being a deal-breaker. I seriously considered sending the machine back to HP during the 30-day trial period. But then I started getting used to the thing. While I still prefer the MBP touchpad, I've learned to live with the Spectre's.
Makin' music
What tips the scales decisively in favor of the Spectre is the way it works for music playback. ("Finally, you get to something audio-related," I can hear exasperated Simplifi readers muttering. I'm grateful that you've stuck with me this far.)
Before buying the Spectre, I sometimes used my MacBook to control music playback, sitting it on my lap while I sat in the sweet spot on the sectional sofa in our living room. And sometimes I used my iPad Mini or, occasionally, a smartphone. In addition to Roon, I'd run the BluOS Controller app that works with my NAD C 658 streaming DAC-preamp.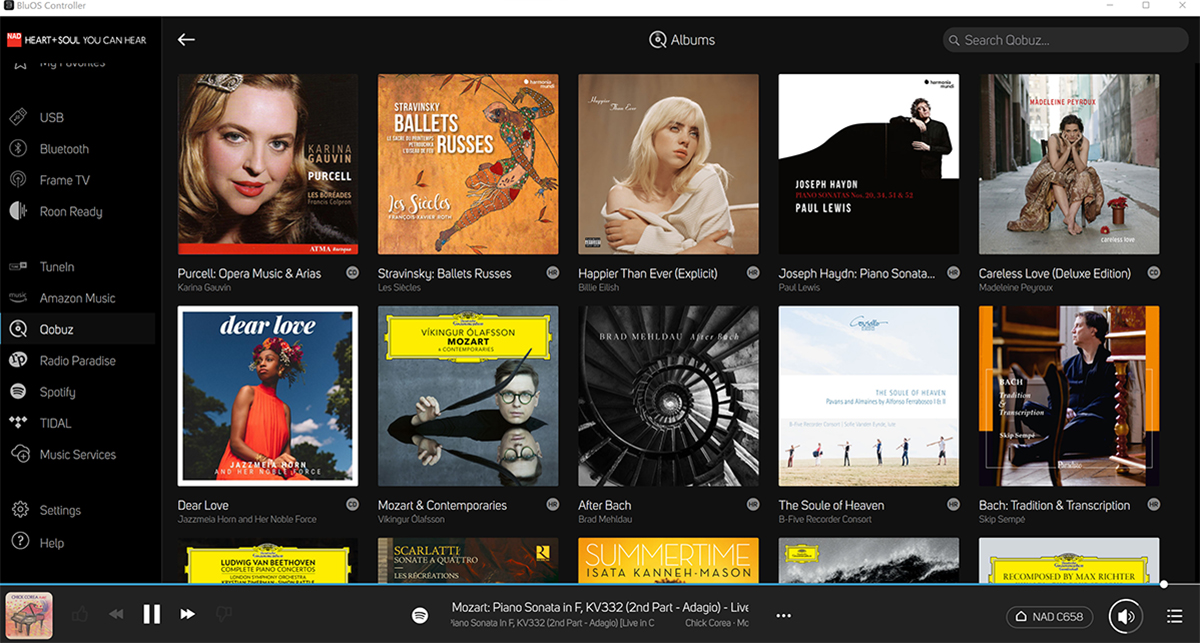 I still use a smartphone occasionally; but most of the time I use the Spectre, which is 0.7 pounds lighter than my old MBP. Sometimes I use the Spectre in laptop configuration, just as I used the MacBook. But now, with the Spectre, I can also scroll through album listings by swiping on the screen.
Sometimes I pick up the Spectre and use it tablet-style, but frankly, I find this tiring after a while. At 2.8 pounds, it's almost four times as heavy as my old iPad Mini. One other issue: Using the Spectre vertically oriented in tablet mode, I find the 16:9 aspect ratio of its screen too tall. I'd prefer a screen with a squarer aspect ratio, like 16:10 or 3:2.
Another option might have been a Windows touchscreen laptop with detachable keyboard, such as a Microsoft Surface Book 3. But a fully loaded configuration of the 13.5″ Surface Book 3 would have cost about $1000 more than I paid for the Spectre—which would have blown my budget. Besides, I like having an attached physical keyboard for entering search terms when I'm looking for something to play.
My preferred way of using the Spectre for music playback is to fold the keyboard back about 315°, and place the Spectre easel-style on a small coffee table only a few inches from my listening position. Set up this way, I can comfortably scroll through album listings and initiate playback. If I want to read liner notes or other content, I can pick up the Spectre, flip the keyboard behind the display, and use it tablet-style, then put it back in easel mode when I've finished reading. If I want to search for music, or respond to an email that's just come in, I can flip the keyboard around and use the Spectre in normal laptop mode.
And I'm not confined to Roon. The Windows version of the BluOS Controller app supports touchscreen control, so I can use the Spectre easel-style to scroll through album listings and cue up music, then pick it up and use it tablet-style when I want to adjust settings.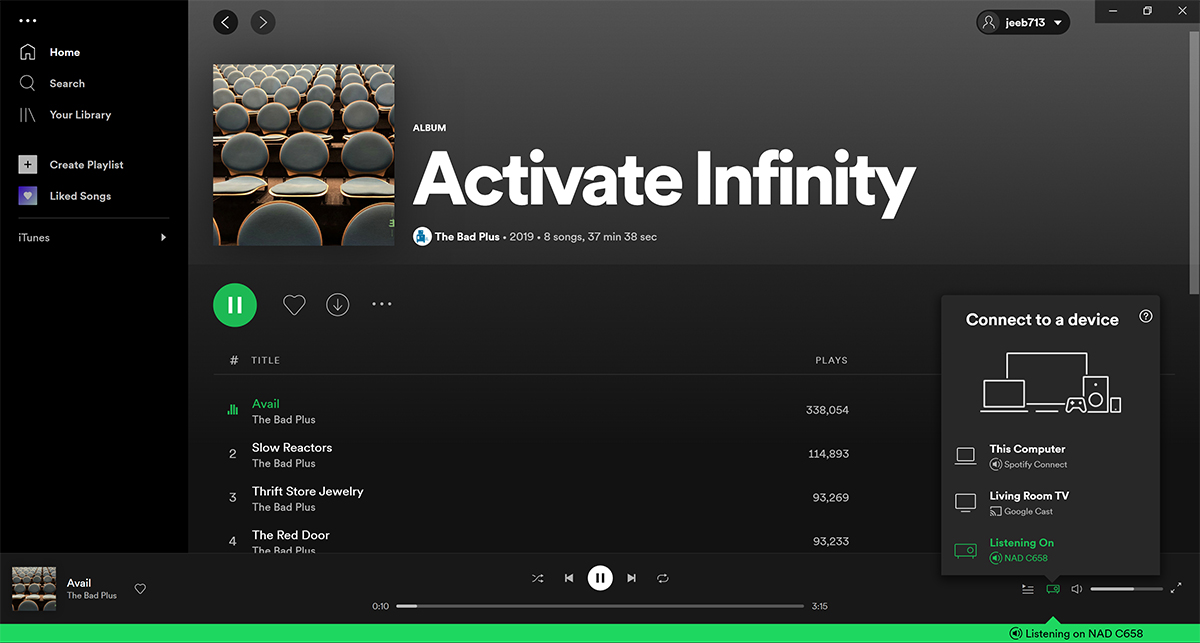 The Windows desktop apps for Spotify and Tidal also support touchscreen operation. So I can use the Spectre in tablet mode to select music with those apps, and then transfer playback to my music system via Spotify Connect or Tidal Connect.
A two-in-one Windows convertible isn't the perfect control device for music playback, because there's no such thing. But right now, it's the best form factor for my requirements. Here's hoping that I feel the same for the next five or six years.
. . . Gordon Brockhouse
This email address is being protected from spambots. You need JavaScript enabled to view it.