Many of the products I've recently reviewed for Simplifi have been DACs with built-in streamers -- most recently, Bryston's BDA-3.14 ($4195, all prices USD) and iFi Audio's Pro iDSD ($2749); and, before that, NAD's Classic C 658 ($1649), Lumin's T2 ($4500), and Naim Audio's ND5 XS 2 ($3495).
For lots of reasons, it makes sense to build streaming capability into a DAC. With a streaming DAC, you can sit in your listening chair and, using a smartphone or tablet, cue up almost any music you want to hear and play it through the DAC.
Not only is this the epitome of Simplifi'd hi-fi, it's where music is going. According to London, UK-based MIDiA Research, in 2019 streaming accounted for 56% of global music-industry revenues. Hong Kong-based Counterpoint Technology Market Research says the number of online music streaming subscribers worldwide grew 32% in 2019, to 358 million; the company predicts the number of streaming subscribers will grow another 25% in 2020.
I suspect that many music lovers already have very capable DACs that they're using to play music from CDs and/or locally stored files -- either downloaded or ripped -- but would like to add streaming capability. In many cases, it makes little sense for them to replace their DAC -- better to add some kind of streamer. A streamer is also a natural add-on for an integrated amp with built-in DAC, such as Simaudio's Moon Neo 340i ($4700) or Cambridge Audio's CXA81 ($1299).
Moreover, with high-performance audio systems, there's an argument for using an external streamer instead of one built into a DAC -- assuming that the streamer's abilities include Wi-Fi and/or Bluetooth. Hegel Music Systems' H120 ($3000) and other Hegel network amplifier-DACs, for example, don't include Wi-Fi or Bluetooth radios because Hegel believes they degrade an amp's sound quality.
Definitions
There's no way an article of this scope can specify the best choice of streamer for specific systems. But I can suggest some questions to think about.
I'll start with some basic definitions, culled from my February 1 feature, "The Name Game," in which I discussed the new classes of audio components that are finding their way into Simplifi'd music systems. According to a definition that is now used across all the SoundStage! sites, a streamer is a "device that receives digital audio over a local area network, under control of a companion app, and outputs the audio through USB, S/PDIF, or AES/EBU connectors. These products lack DACs and analog outputs. They're intended for connection to an external DAC, either standalone or built into another component. Also called a network streamer or network music transport." If you want to add streaming capability to an existing DAC or amplifier-DAC, this is probably the type of product you're looking for.
But in some cases you might want to consider a streaming DAC, aka a network music player, which we define as a "device with network connectivity, streaming capability, and a built-in DAC that feeds analog line-level outputs." True, that might entail some duplicated functionality, but other factors might outweigh this.
For example, Bluesound's Node 2i ($549) has a built-in DAC and line-level RCA outputs -- but it also has optical (TosLink) and coaxial (RCA) S/PDIF outputs. Even if you're using an external DAC, the Node 2i could be an attractive option because of the excellent BluOS software, and the hardware controls that let you adjust volume, pause and resume playback, and skip tracks without having to use the BluOS app.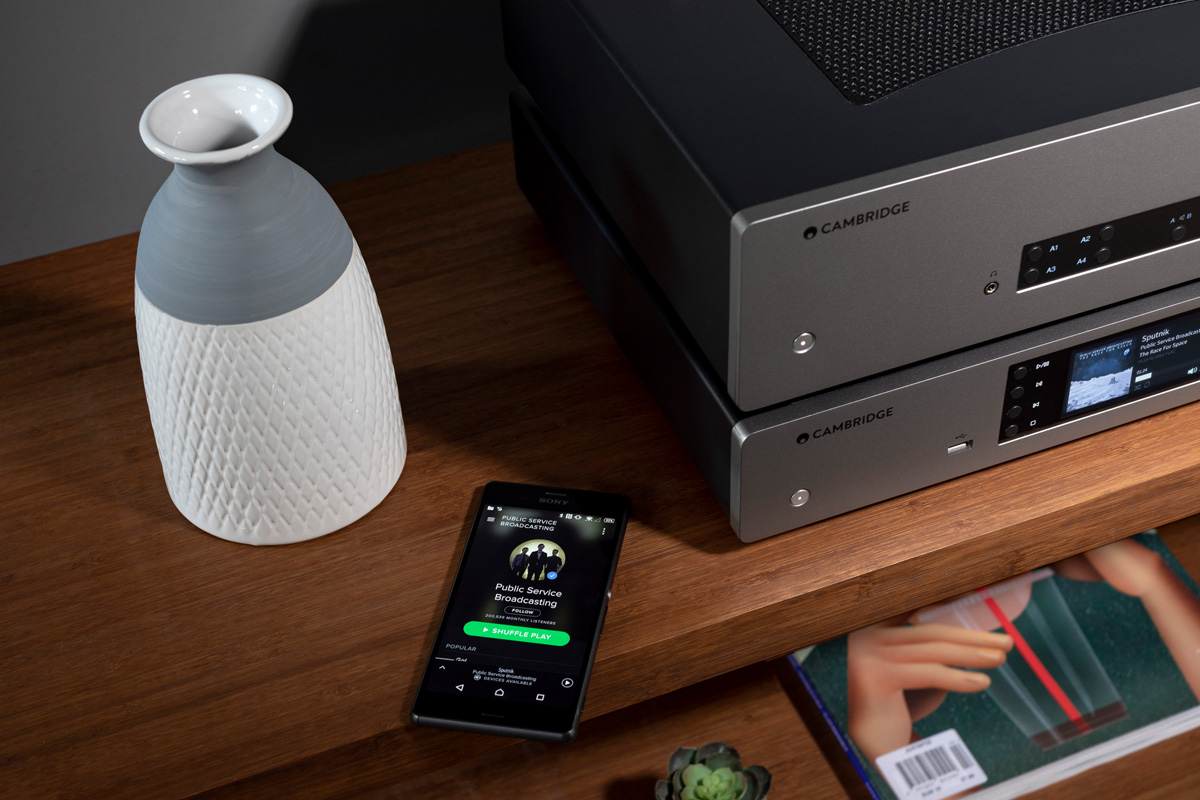 Another instance: Even though Cambridge Audio's CXA81 and CXA61 amplifiers have built-in DACs, the CXN (V2) streamer ($1099) is an appealing match, not only because it matches the amplifiers cosmetically, but because amp and streamer can be operated with a single remote control.
Where it's possible, there are good reasons for getting a streamer of the same brand as your DAC or amplifier-DAC -- for example, matching a Simaudio Moon MiND 2 ($1900) to one of that company's integrated amplifier-DACs, or one of its CD player-DACs. Among other benefits, you'd then have just a single point of contact for dealing with any technical issues.
Checklist
Here are some more fundamental issues you should think about if you're choosing a streamer to mate with a DAC you already own.
1) Network connectivity: Your streamer has to be connected to the network not only to receive music from online streaming services, but to allow control by an app running on a smartphone or tablet. Most streamers have built-in Wi-Fi, but some, such as Bryston's BDP-Pi ($1495), do not. If the streamer lacks Wi-Fi, and your network router isn't in the same room as your audio system, you'll have to figure out a way to connect it to your router -- perhaps a Wi-Fi USB dongle or a Wi-Fi access point.
Many streamers also have Bluetooth capability. Bluetooth isn't the ideal connection method for serious sit-down listening, but it can be really convenient for casual listening -- for example, when visitors want to play some of their favorite music from their smart devices.
2) Storage: Do you have a library of ripped and/or downloaded files that you want to play through your streamer? If so, where is it stored, and how will you make it accessible through the streamer? Many streamers have USB Type-A ports that allow you to attach external drives containing music files. Most streamers also let you play music stored on a computer or network-attached storage (NAS) system on your home network. You use the companion app to select music, and play it through the attached device.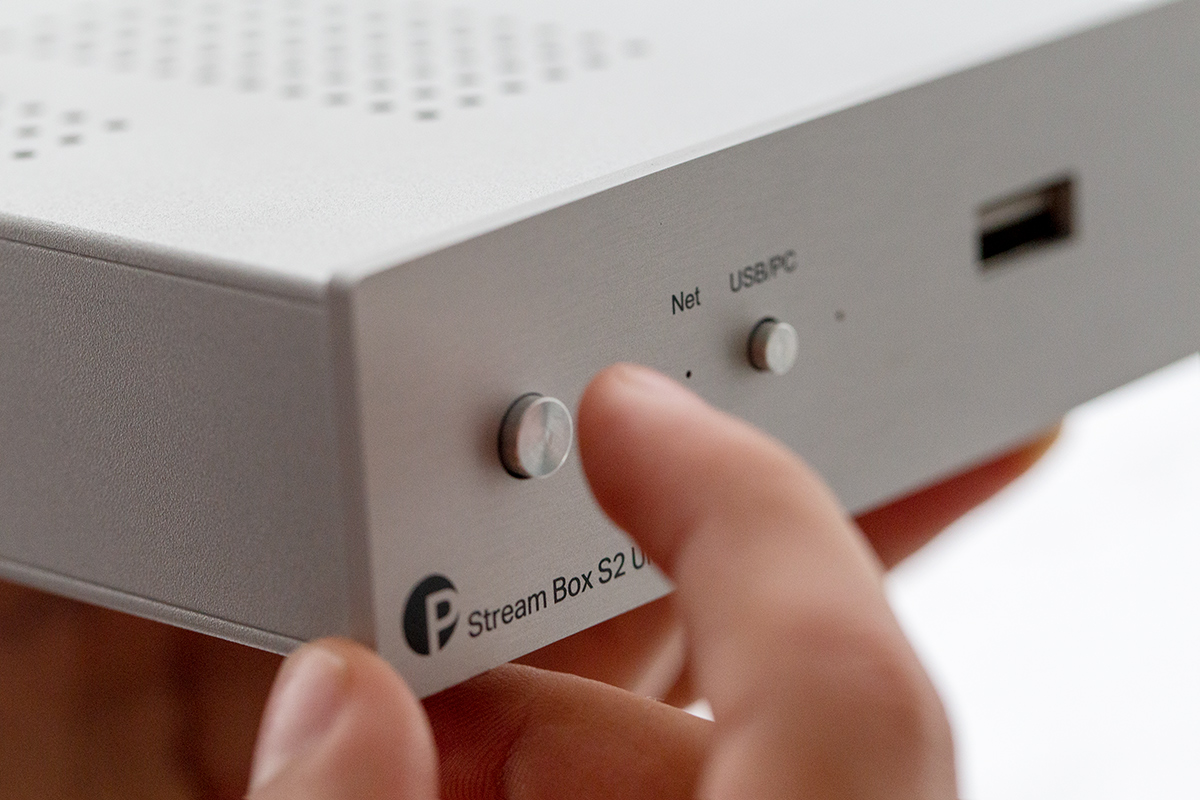 3) File compatibility: Does your collection include high-resolution PCM and DSD files? That's worth thinking about, because streamers vary in their support of these formats. Pro-Ject's Stream Box S2 Ultra ($849) and exaSound's Sigma streamer ($750) can play DSD files from an attached drive or over a network, but not all streamers support DSD.
4) Output options: What interfaces does your DAC have, and which are currently in use? Some streamers have several output interfaces (USB, coaxial and optical S/PDIF, etc.), while others have only one (typically USB). The resolutions supported by each interface typically differ. A streamer with TosLink and USB outputs may have maximum output resolutions of 32-bit/384kHz PCM and DSD256 via USB, but only 24/96 PCM via TosLink.
5) Streaming services: Which streaming services do you want to use, and how do you want to control them? Pretty well all apps used to control streamers have built-in clients for navigating streaming services -- some support only a few services, others support many. If you have a preferred service, make sure it's supported by the app for any streamer you're considering.
6) Tidal and MQA: If you're a Tidal subscriber, you should check out whether the streamer supports MQA, and how it will work with your DAC. If your DAC has full MQA decoding, it should be able to decode and render Tidal Masters content in hi-rez. If the DAC is strictly an MQA renderer, core MQA decoding will have to be performed before being sent to the DAC.
Full MQA playback requires two steps. The first is performing the first "unfold" of the MQA datastream. Tidal's desktop and mobile apps can do this, and so can music-player apps such as Amarra, Audirvana, and Roon. While many streaming DACs have MQA hardware decoding, I don't know of any streamers with this capability. Most of the sonic benefits of MQA are realized in this first process.
The second step is rendering. If the MQA stream has resolution higher than 24-bit/96kHz, the renderer will perform a second "unfold" to extract that data. It also customizes the playback digital filter for the content being played. Most of the sonic benefits of MQA come from the first unfold, whether it is performed by a DAC with MQA hardware decoding, or in software by a music-player app that supports MQA.
If MQA support is important to you, and your DAC does not have MQA decoding capability, you have a few options. One is to replace your DAC with a streaming DAC that supports MQA. Another is to use Roon (see below). Roon can perform MQA decoding in software. Depending on the MQA content, it will then pass high-rez PCM at 24-bit/96kHz to your streamer and DAC. Another possibility is to repurpose a computer as a streamer (see "Another Option," below), and use a music app with MQA decoding capability, such as Amarra, Audirvana, or Roon.
7) Usability and software: Unless you're using a third-party software such as Roon (see below), the software interface is a vitally important consideration. For assessing ease of use and functionality, there's no substitute for trying the software yourself as part of a retail demo -- but reviews like the ones on this site can help too.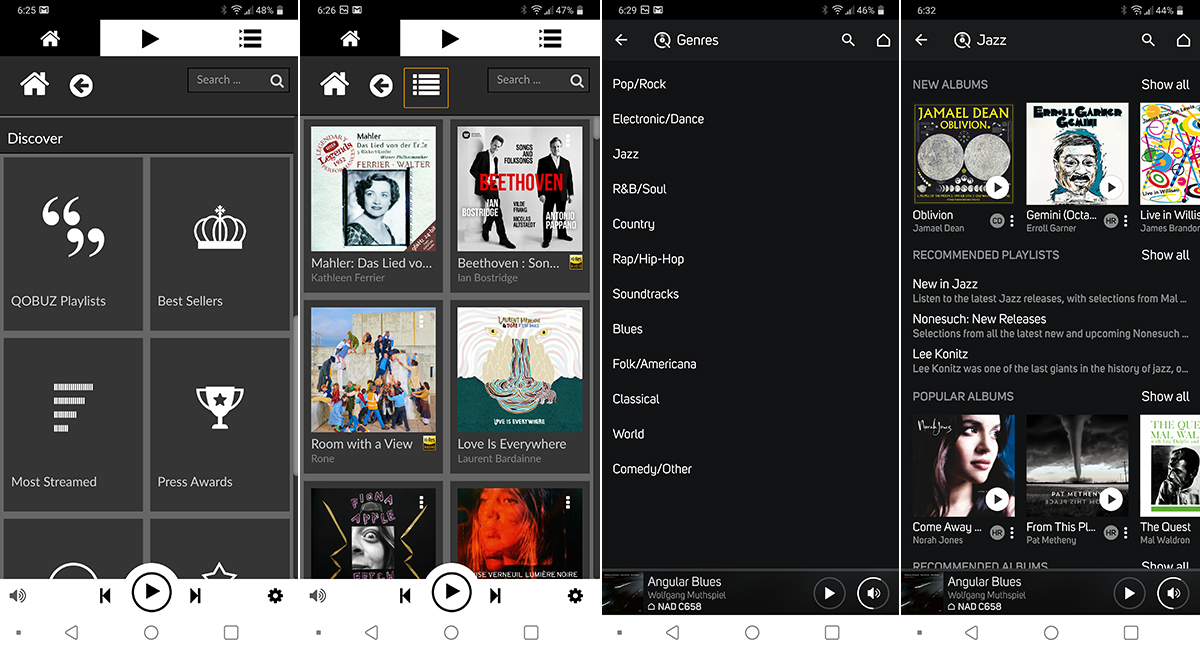 You can't take for granted that all of the features in the desktop and mobile apps for your favorite streaming services will be offered in the streamer app. For example, I find the Press Awards feature in Qobuz's desktop client a great tool for discovering new music. The Qobuz client in Pro-Ject Play -- the app used to control Pro-Ject's Stream Box S2 Ultra -- includes that feature, but it's not available in the Qobuz client for BluOS, the software used for Bluesound devices. But BluOS lets you specify your preferred genres when exploring Qobuz, a function unavailable in Pro-Ject Play's Qobuz client. So think about the features you most use in the apps for your streaming services, then check to see if they're available in the apps for any streamer you're considering.
8) Third-party software: In my experience, the software for most streamers ranges from awful to very good, with most of it falling somewhere in the middle -- i.e., serviceable. If you want the best streaming experience, it's worth looking at Roon, which costs $119 annually, or $699 for a lifetime subscription. I don't think that's extravagant, considering all that Roon offers -- many photo enthusiasts spend the same to use Photoshop and Lightroom, and I think Roon provides comparable value for digital audiophiles.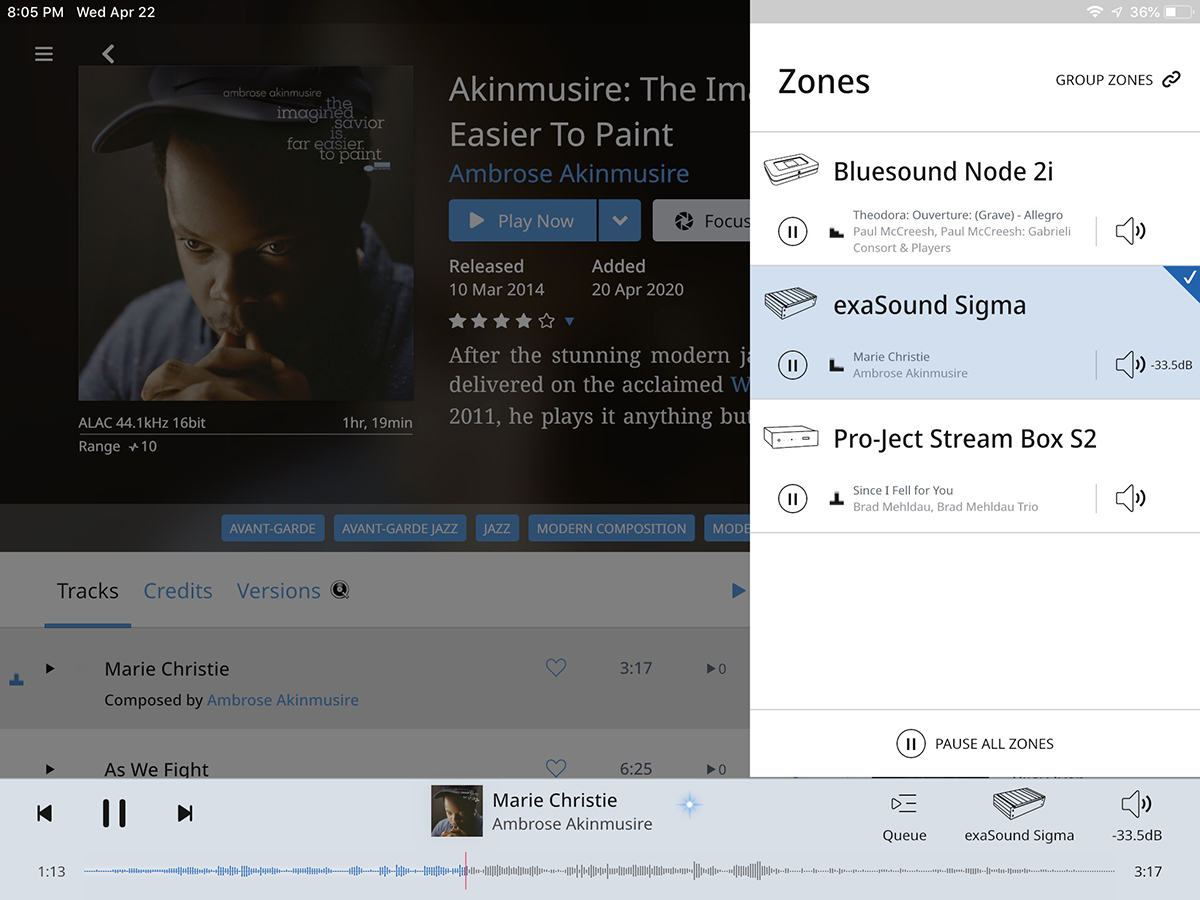 Not only does Roon provide a slick interface and an abundance of editorial content, it works with hardware from a multitude of brands. As Rob Darling, director of strategy for Roon Labs, explained in an interview with Simplifi last year, Roon tailors audio streams to the capabilities of each playback device, and offers DSP functions such as equalization and upsampling. If you're interested in Roon, look for a Roon Ready network player -- Roon lists compatible devices on its Partners page.
9) Hardware controls: Most interaction with your streamer will be through an app. But some models also have front-panel displays, and hardware controls that allow users to select music and initiate playback without having to use an app and a device. That can be handy in some instances. Some streamers also come with remote controls that support basic functions such as pause/resume and track skipping.
10) Other protocols: Quite a few streamers support Apple AirPlay, for CD-resolution streaming from i-devices, Macs, and iTunes libraries on Windows PCs. That can be really handy when you've cued up some tunes on an iPhone and want to play them through your main music system. Just tap the AirPlay icon in the Control Center for iOS, then choose the AirPlay-capable streamer as the playback device. If you have guests who have iPhones, they can play music through your streamer as long as they're logged in to your home network.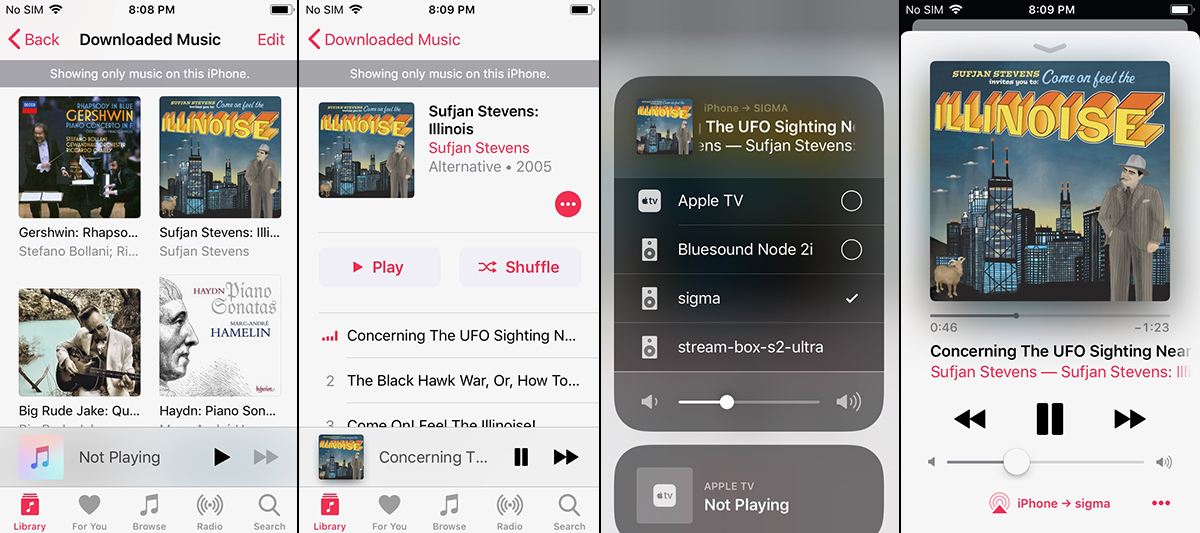 Streamers with AirPlay 2 capability are less common -- its main value is that it allows music to be streamed to multiple AirPlay 2-compatible devices simultaneously.
Quite a few streamers also support Spotify Connect. I suspect that most SoundStage! readers will gravitate to streaming services -- e.g., Amazon Music HD, Qobuz, and Tidal -- that offer lossless and hi-rez audio; rather than Spotify, which uses lossy Ogg Vorbis compression. But even if you're not a Spotify subscriber, Spotify Connect might be nice to have -- your guests who use Spotify will be able to play their music through your streamer from the Spotify app on their devices.
Another option
If your DAC has USB connectivity, an alternative to a dedicated streamer is to use a Mac or PC as a streamer. You can install an app such as Audirvana ($98), which allows playback of locally stored music as well as music from Tidal and Qobuz. Audirvana is rich, well designed, and robust. Tidal users will appreciate that it performs core decoding in software, while Qobuz users will enjoy its support of many useful Qobuz features, including the ability to filter by genre, and to view albums with Press Awards.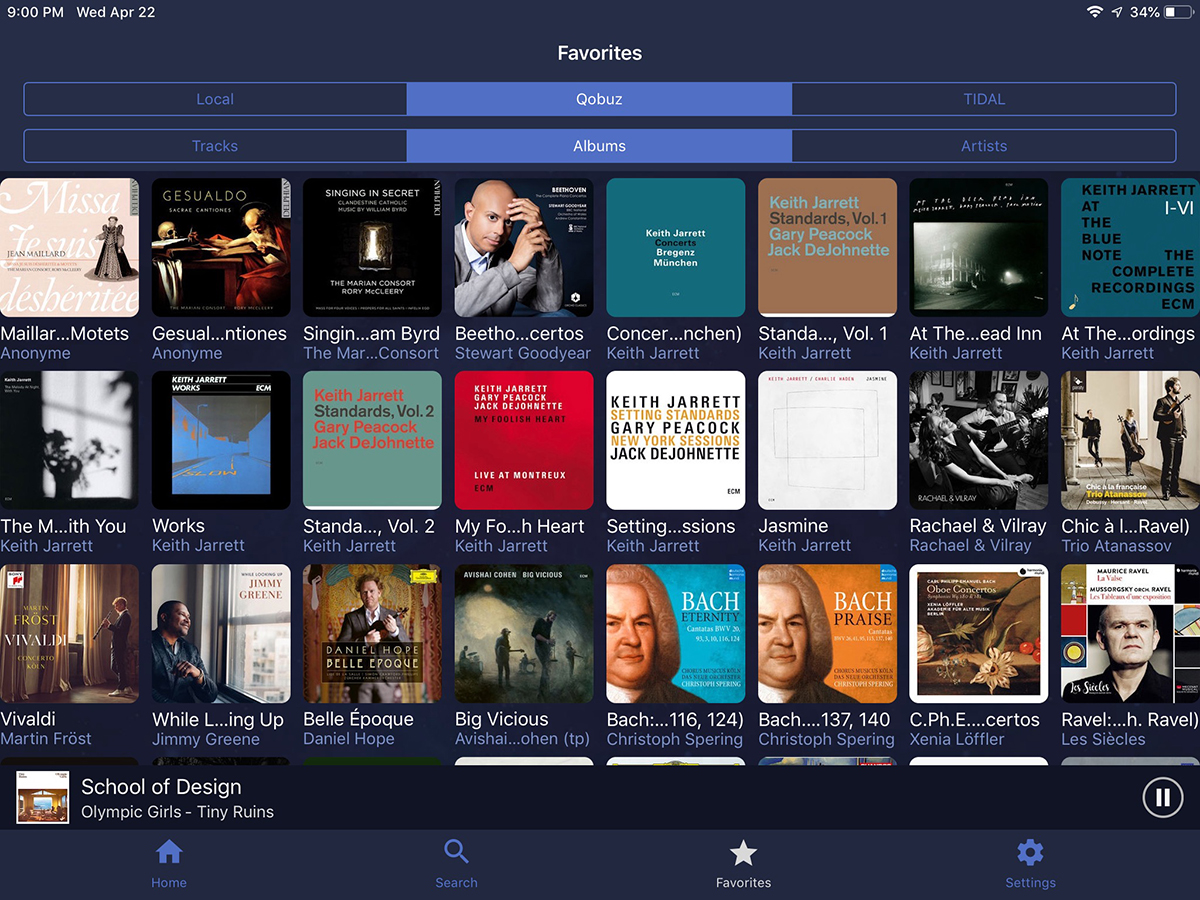 And with the Audirvana Remote app, available for Android and iOS, you can control playback from a smartphone or tablet. This could be a very attractive option if you have a Mac or PC that you can repurpose for audio playback.
. . . Gordon Brockhouse
This email address is being protected from spambots. You need JavaScript enabled to view it.