Cute, adorable, funky -- you rarely read those adjectives in reviews of serious audio products, but they do describe the appearance of Devialet's Phantom Reactor active loudspeakers. Perched on their matching tripod stands, the Reactors evoke memories of R2D2 from Star Wars (though each Reactor is much smaller), or characters from the game Angry Birds (the Reactors look way friendlier).
Cute they may be -- but Devialet's Phantom Reactor models are definitely serious audio products. They incorporate much of the leading-edge technology found in Devialet's acclaimed Phantom Premier series, two of which have received Reviewers' Choice honors from other SoundStage! Network sites.
There are two Reactors. The built-in amplifiers of the Phantom Reactor 600 ($1090 each; all prices USD) are specified to deliver 600W total peak power, and to enable the speaker to produce SPLs of up to 95dB at 1m. The amplifiers in the model I review here, the Phantom Reactor 900 ($1350 each), have a total peak power of (you guessed it!) 900W, and can produce up to 98dB at 1m.
Both Reactor models have the same distinctive profile as their larger siblings. In his October 2017 review on SoundStage! Hi-Fi, Doug Schneider said that the Gold Phantoms looked like "giant Tylenol capsules." Reviewing the Silver Phantom for SoundStage! Access in February 2016, Hans Wetzel compared its shape to a rugby ball. Both descriptions are apt, and both apply to the Reactors.
However, the Reactors are much smaller than the Premier Phantoms -- even smaller than the photos here convey. Each measures only 6.6"H x 6.2"W x 8.6"D, small enough to hold in one hand. The internal volume is three liters -- one-fourth that of the Premier models. But the Reactors are hefty, at 10.1 pounds each, and they pack a whole lot of punch. Devialet says they can produce bass as low as 18Hz, at which point they're down 6dB. The specified frequency response of both models is 25Hz-20kHz, ±1dB.
Inside and out
The Reactors employ a pair of long-excursion, side-mounted, 4" aluminum-dome woofers in a hermetically sealed subenclosure, their positions opposed so that their complementary pistonic actions cancel out extraneous mechanical vibrations. On the front of each Reactor, a perforated grille with an attractive rosette pattern covers what Devialet describes as a "full-range driver."
The front driver doesn't actually operate full-range. The Reactors have active crossovers, with a turnover frequency of 525Hz, and slopes of 24dB/octave, implemented in DSP. In addition, Devialet uses a sophisticated DSP function it calls Speaker Active Matching (SAM), which continually analyzes the incoming bitstream and, based on mathematical models of the drivers' characteristics, sends separate streams to two chips containing the speaker's DACs and amplifiers: one for the two woofers, another for that "full-range" driver.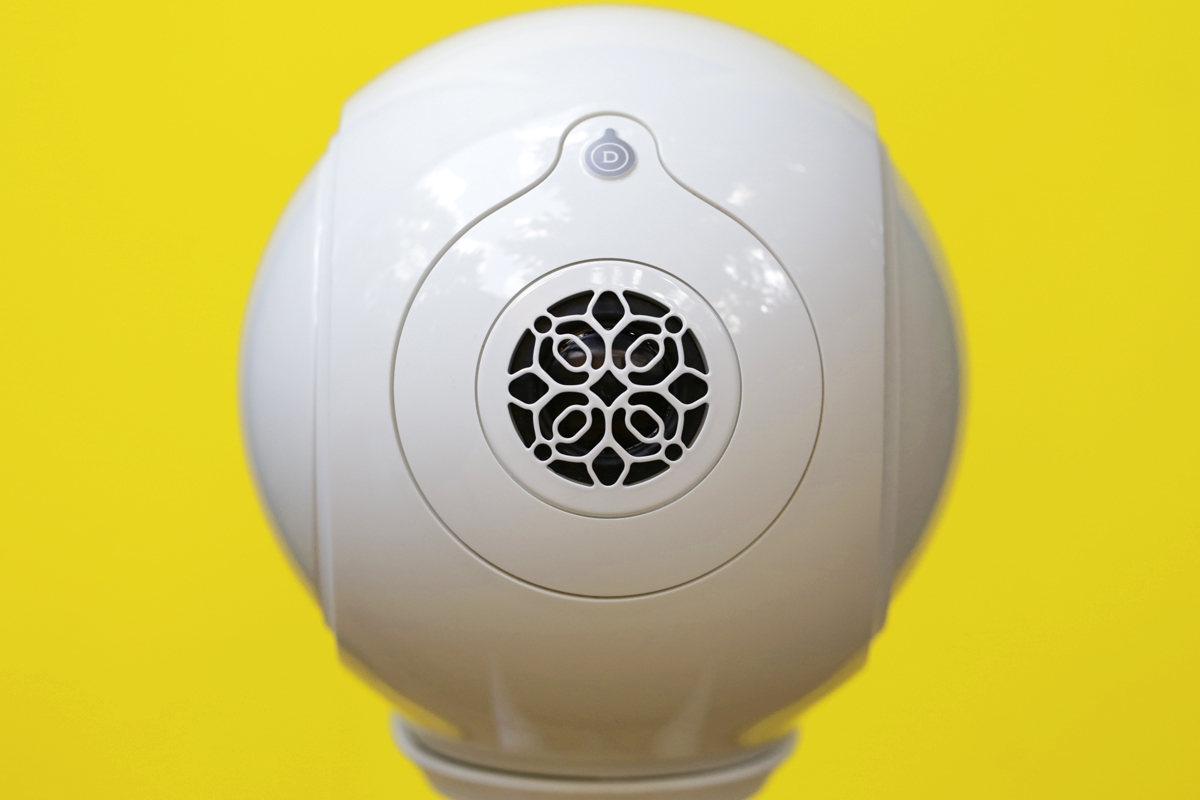 Taking into account the drivers' electrical, mechanical, and acoustical characteristics, SAM applies both phase and frequency correction, to match the drivers' output as closely as possible to the music signal. It also considers the drivers' thermal and excursion limitations, so that they can be driven hard without risk of damage. If you wonder how so small a speaker can play so loud and go so deep, a key ingredient is SAM.
Other ingredients are the Reactor's compact, powerful amplifiers. These employ Devialet's Analog Digital Hybrid (ADH) amplifier technology, in which a class-A output stage operates in parallel with several class-D amps. The class-A amp supplies the voltage to the driver, while the class-Ds do the heavy lifting. Operating under control of the class-A amp, the class-Ds supply current to the driver, maintaining the required voltage regardless of output level. According to Devialet, ADH combines the musicality of class-A designs with the force, efficiency, and compactness of class-D.
For its Phantom models, Devialet has shrunk the ADH amplifier to a single application-specific integrated circuit (ASIC), which also incorporates a DAC with maximum resolution of 24-bit/192kHz, whose output directly feeds the class-A amp.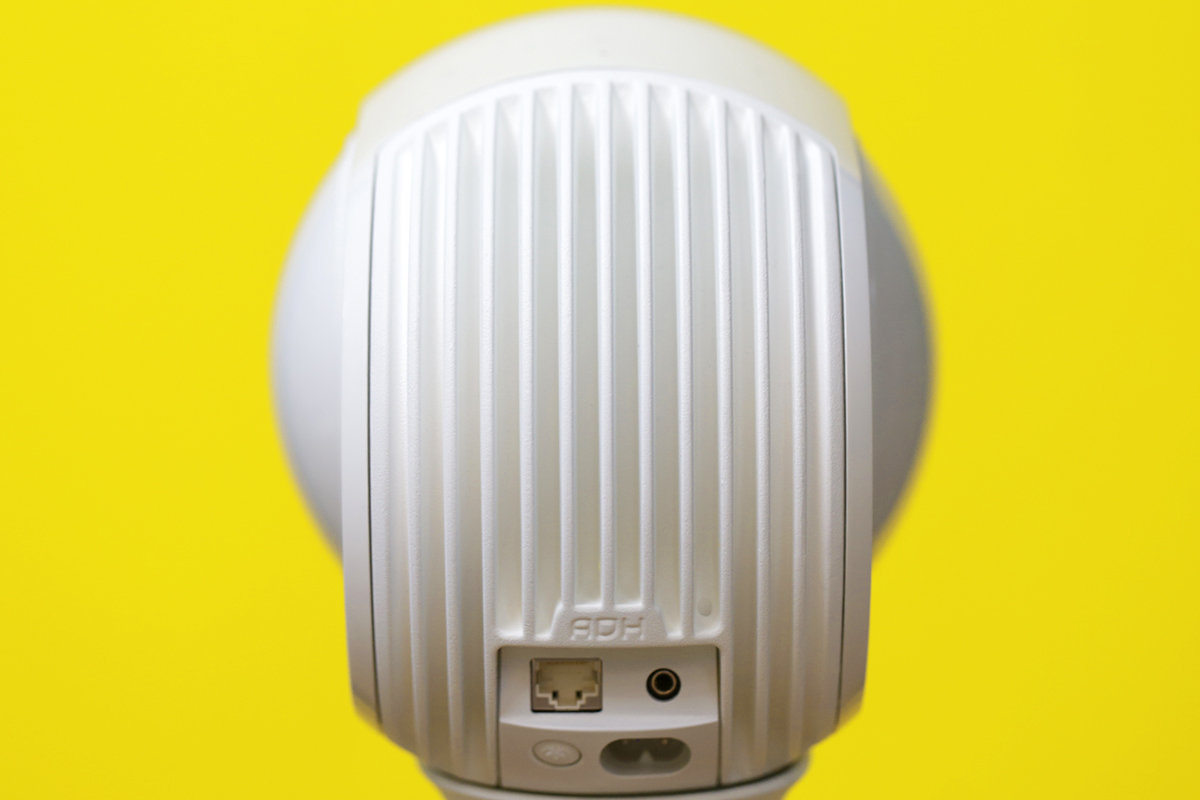 Finished in warm white, the Reactors have a composite body with an external thermoplastic skin, an internal skin of glass-fiber-filled polycarbonate, and an aluminum central core. The sides are made of matte-finished stainless steel. The bottom of the speaker is flat, so that it can sit on a table. In that position, the front baffle is tilted upward by about 12°.
The Reactors can also be installed on optional tripod stands that Devialet calls Legs ($169 per speaker). Each set of Legs comprises three steel rods that screw into the bottom of a single base, which in turn is screwed into the bottom of a Reactor. The baffle of a Reactor standing on Legs is also angled upward 12°, just as it would be if set Leglessly atop a table.
At the back of each Reactor are a Gigabit Ethernet port, an AC connector, a combined 3.5mm analog/TosLink input jack, and a button that can be used to put the Reactor in standby mode, turn it on, indicate status, initiate setup mode, and perform a hard reset. The TosLink input can accept PCM streams up to 24/96.
On the top of each Reactor are five touch controls: play/pause, volume up, volume down, a Link control used in setting up a network, and one that toggles between Bluetooth operation and the optical/auxiliary input and initiates Bluetooth pairing. The only complaint I have about the Reactor's appearance is that, from across the room, these controls look like flaws in the finish.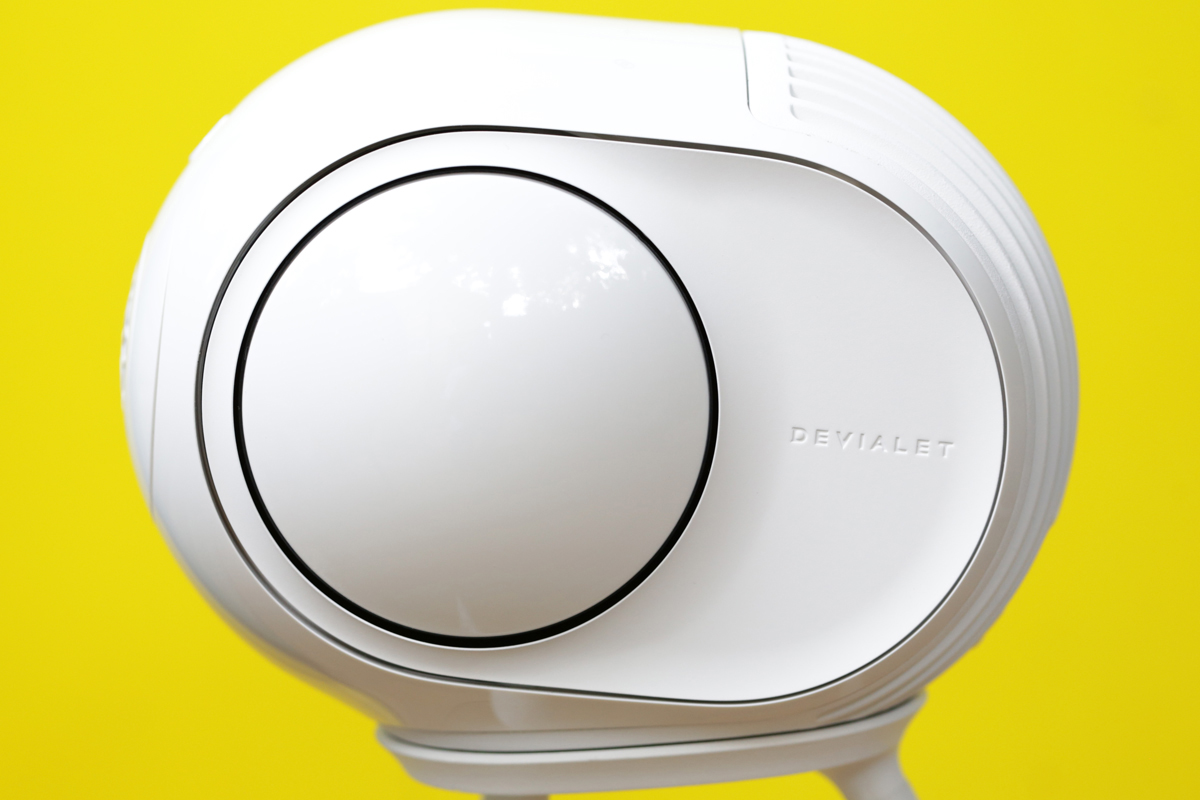 In addition to Ethernet, the Reactor has dual-band Wi-Fi that supports 802.11ac, Bluetooth 4.1, and HomePlug AV2 networking. HomePlug, which sends data over household AC wiring, is used for sending audio from Reactor to Reactor, either when two are paired for stereo, or when multiple Reactors are grouped for multiroom audio.
For network playback, the Reactors support Apple AirPlay (but not AirPlay 2), for streaming from iOS devices and Macs; and Spotify Connect, for streaming direct from the Spotify app. With AirPlay and Spotify Connect, you can control playback volume from controls on your device. The speakers also include Universal Plug-and-Play (UPnP), for streaming audio from Android devices and Windows PCs.
Software and setup
For this review, Devialet supplied a pair of Phantom Reactor 900s and two sets of Legs. After unpacking the speakers, assembling the Legs and setting the speakers atop them, and plugging the Reactors into the wall, the next step was to download the Devialet app, available in iOS and Android versions.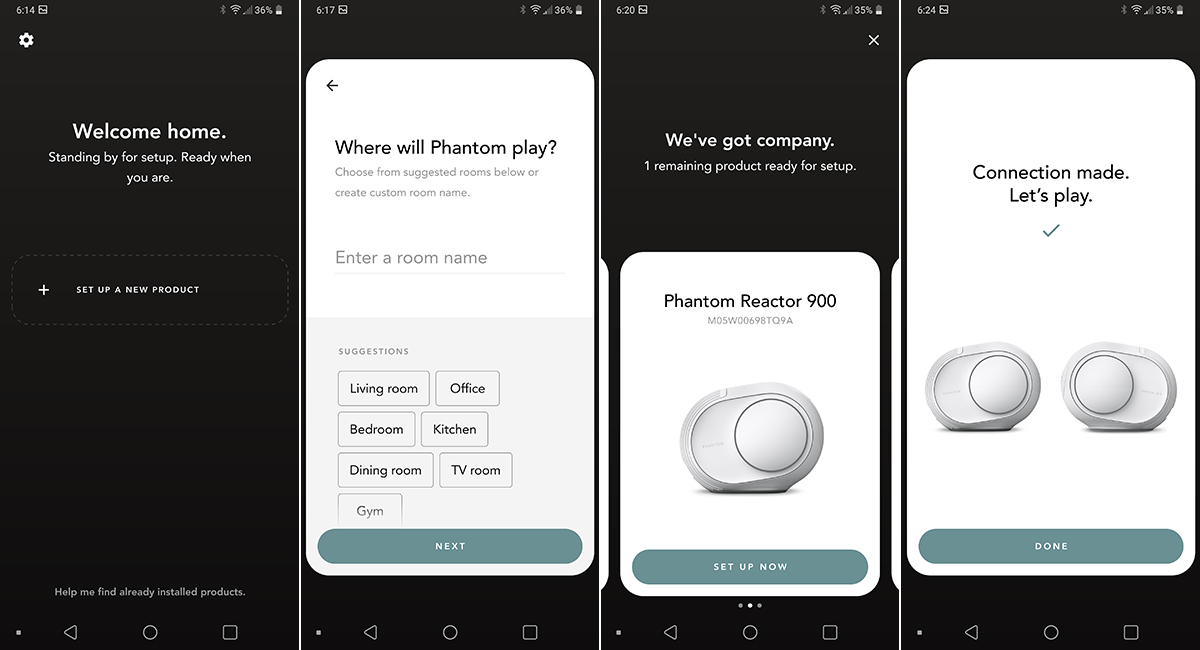 I downloaded the app to my LG G7 ThinQ smartphone from Google Play. After I'd launched the app and given it permission to access my device's location, it immediately found both speakers and asked me to specify their location (Media Room, Den, etc.). In the next screen, the Devialet app identified my home network and prompted me to enter my password. A minute later, the first Reactor 900 was connected to my network. The app then asked to set up the second speaker, and gave me the option of creating a stereo pair, which I selected. The last step was to specify whether the second speaker would be sent the left- or right-channel signal. Pretty easy.
The Devialet app then asked if I wanted to install Bubble UPnP, a free, ad-supported app that lets you stream music from Android devices to the Reactors via UPnP. In addition to music stored on your device, Bubble UPnP can play music from some streaming services, including Tidal and Qobuz, both of which I use. You have to enter your login information in the Bubble UPnP app, even if you've already entered this information in those services' apps.
I found Bubble UPnP a little kludgy, but for the most part it worked well. After installing it, I was able to send music to the Phantoms from my LG phone. I used the app with locally stored music, and with Tidal and Qobuz. Occasionally, Bubble UPnP refused to find the Reactors. Restarting the phone, unplugging the Reactors, then plugging them back in again solved that problem.
I preferred the polish and reliability of AirPlay, and so used my iPhone SE for most of my listening. After selecting music on my phone, I tapped the AirPlay icon, then in the following screen scrolled through the list of available AirPlay devices, and selected the Reactors. I could do this with music stored on my phone, as well as with the apps for streaming services running on my phone. Occasionally, if I paused and then resumed playback, I'd get an error message: "Unable to connect to Phantom Reactors." When that happened, I tapped the AirPlay icon in the Now Playing screen, then reselected the Reactors.
To stream music from the Mac Mini in my second-floor office, I enabled the Reactors as AirPlay devices in Roon, then used the Roon app on the Mini to control playback.
Besides setup, you can use the Devialet app to adjust volume and select sources. In the Settings screen, you can swap the Reactors' channel configurations, and control their latency (time delay) when using the optical input.
Listening
I placed the Phantom Reactor 900s, on Legs, to either side of the faux fireplace in the living room of my Toronto home, 7' apart, 16" from the front wall, and toed in toward the primary listening position. Could these little cuties kick as much ass as Devialet claims? Nothing like playing a high-energy number from my favorite power-jazz trio to find out.
From the Tidal app on my iPhone SE to the Reactors via AirPlay, I streamed the cover of Vangelis's "(Theme from) Chariots of Fire" that appears on The Bad Plus's Suspicious Activity? (16-bit/44.1kHz FLAC, Columbia/Tidal). The track begins with Reid Anderson's loud, snappy double-bass line on the right, as Dave King pounds the floor tom and kick drum on the left, and pianist Ethan Iverson plays a little two-note motif at center left.
The Reactor 900s look adorable, but they sounded HUGE as they rendered this intro with a drive and energy that completely belied their tininess. Their side-mounted woofers pulsated impressively, filling my living room, dining room, and adjoining hallway with big, glorious bass. While there was no sense of distress or strain, the double bass sounded a touch woolier, the drums a touch thuddier, than I'm accustomed to. Soundstaging was excellent, with good depth, and breadth that extended well beyond the speaker plane. Image specificity was good but not outstanding.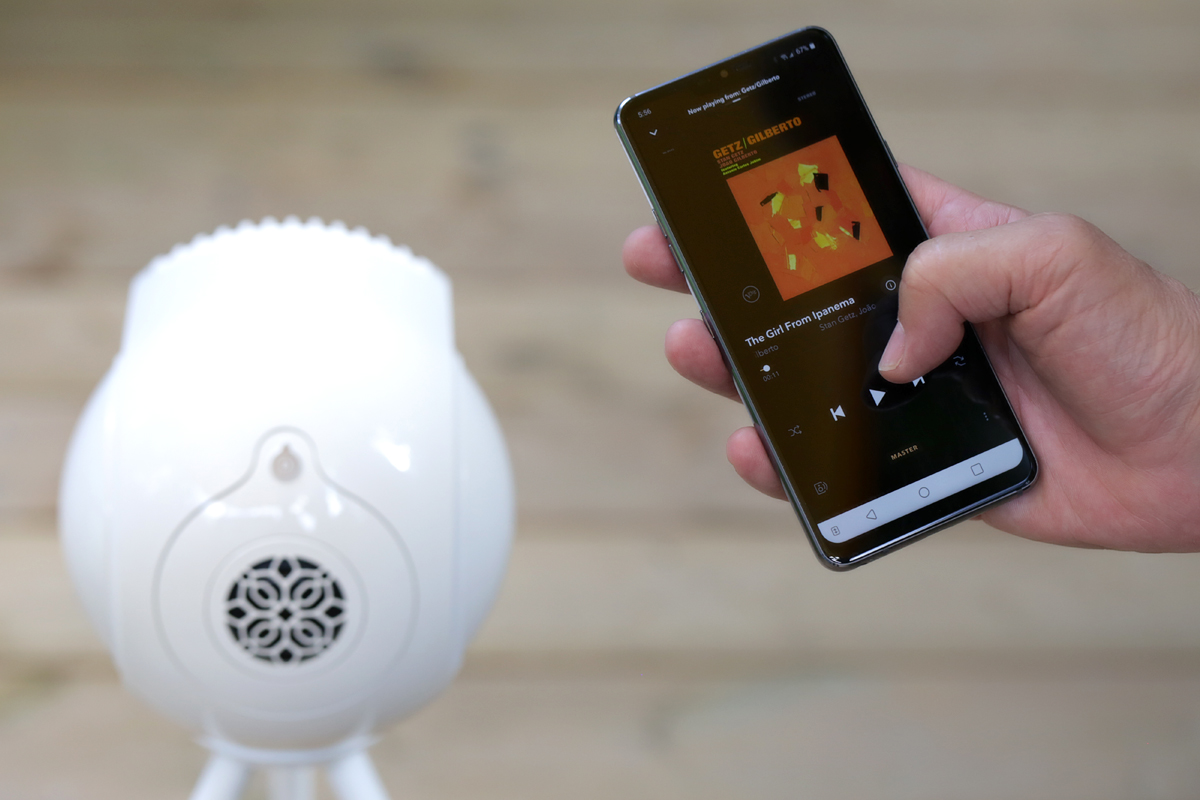 A minute in, Iverson pounds out the main theme on piano, and the energy ramps up several notches. The Reactors kept up, maintaining their composure and high-energy delivery, and resolving the musicians' individual contributions well.
The little Reactor 900s could definitely kick ass, but they had their limits. In the frenetic middle section, where the three players improvise freely (and chaotically), the sound became slightly muddled. This is a very dense passage -- King hits his floor tom and kick drum mercilessly, Iverson moves up and down the scales with impossible rapidity, and Anderson slaps his bass with frenzied abandon. The track is a torture test for bass output and bass definition. For such tiny speakers, the Devialets' bass output was truly impressive, their bass definition more than satisfactory.
It's hard to imagine anything mellower than "The Girl from Ipanema," from the classic 1964 album Getz/Gilberto (16/44.1 FLAC, Verve/Tidal). This landmark release, in which the Brazilian guitarist and singer João Gilberto and pianist Antonio Carlos Jobim join the great tenor saxophonist Stan Getz, was the album that brought bossa nova into the mainstream.
As he sings in Portuguese, Gilberto's light baritone is rich and expressive in its upper range, a bit chesty in its lower range. Having heard this track through my reference loudspeakers and headphones, I know that this coloration is a quality of the recording itself -- but the Reactors accentuated it. On the left, Astrud Gilberto's soprano, as she sings in English, sounded gorgeous, simultaneously innocent and seductive.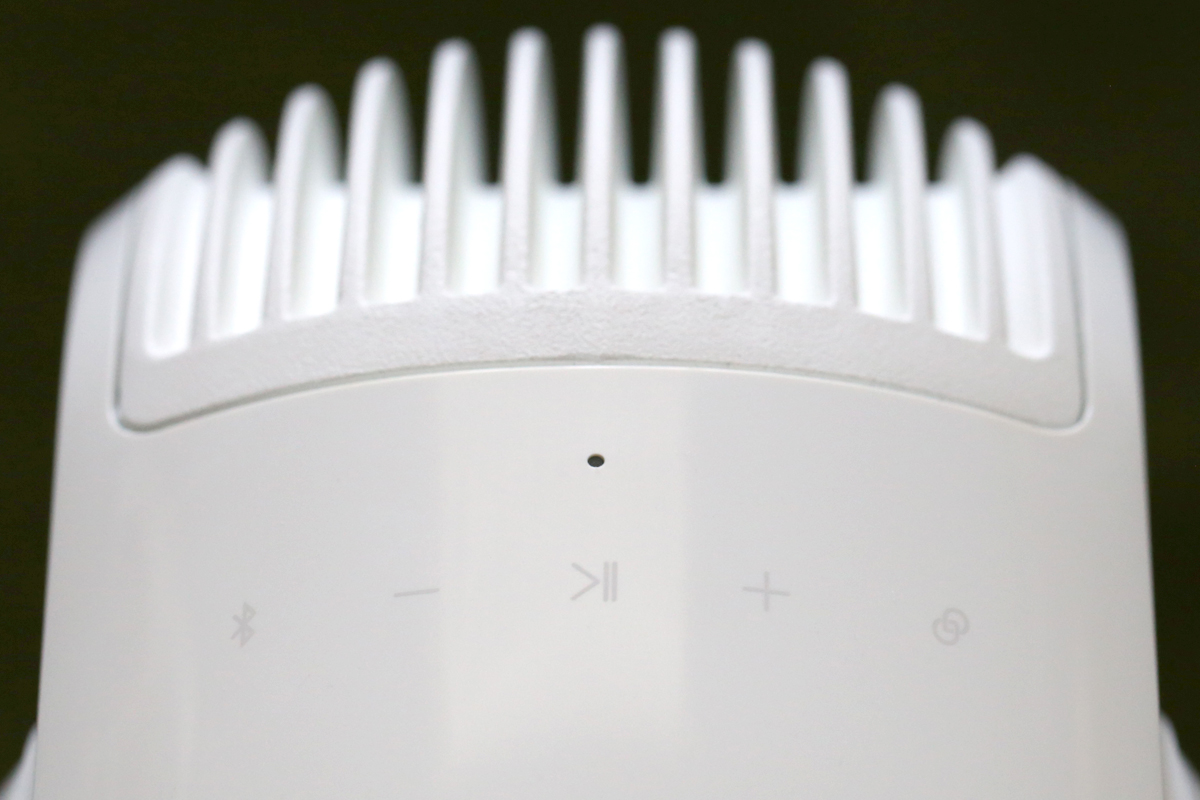 The same pattern played out with the instruments. Tommy Williams's double bass, on the right, sounded a little boomy. Again, as recorded, the instrument isn't particularly well defined, but the Reactors accentuated the deficiency. João Gilberto's acoustic guitar had nice woody body, however, and Getz's tenor sax was just lovely -- rich and reedy.
The impressively big soundstage the Reactor 900s created with this track was reminiscent of a jazz club, and the whole piece swung irresistibly. While the sound lacked a little in terms of nuance and accuracy, the Reactors delivered what counted: musical joy.
To hear how these tiny speakers would fare with a demanding orchestral recording, I streamed a 2013 performance of Ravel's orchestration of Mussorgsky's Pictures at an Exhibition, played by Anima Eterna Brugge under the direction of Jos van Immerseel (24/48 FLAC, Outhere/Qobuz). The Reactor 900s did a really fine job of conveying Mussorgsky and Ravel's aural impressions of Viktor Hartmann's paintings, and of reproducing the sounds of the period instruments played in this recording. The brass choir in the opening Promenade, meant to portray a leisurely stroll through the gallery, sounded beautifully burnished, and the solo saxophone in The Old Castle was appropriately ripe and reedy. In Byldo, which portrays the passage of an oxcart, the bass drum was big and powerful, the bass viols deep and breathy. However, as the drama and volume build late in this movement, the sound became a little compressed.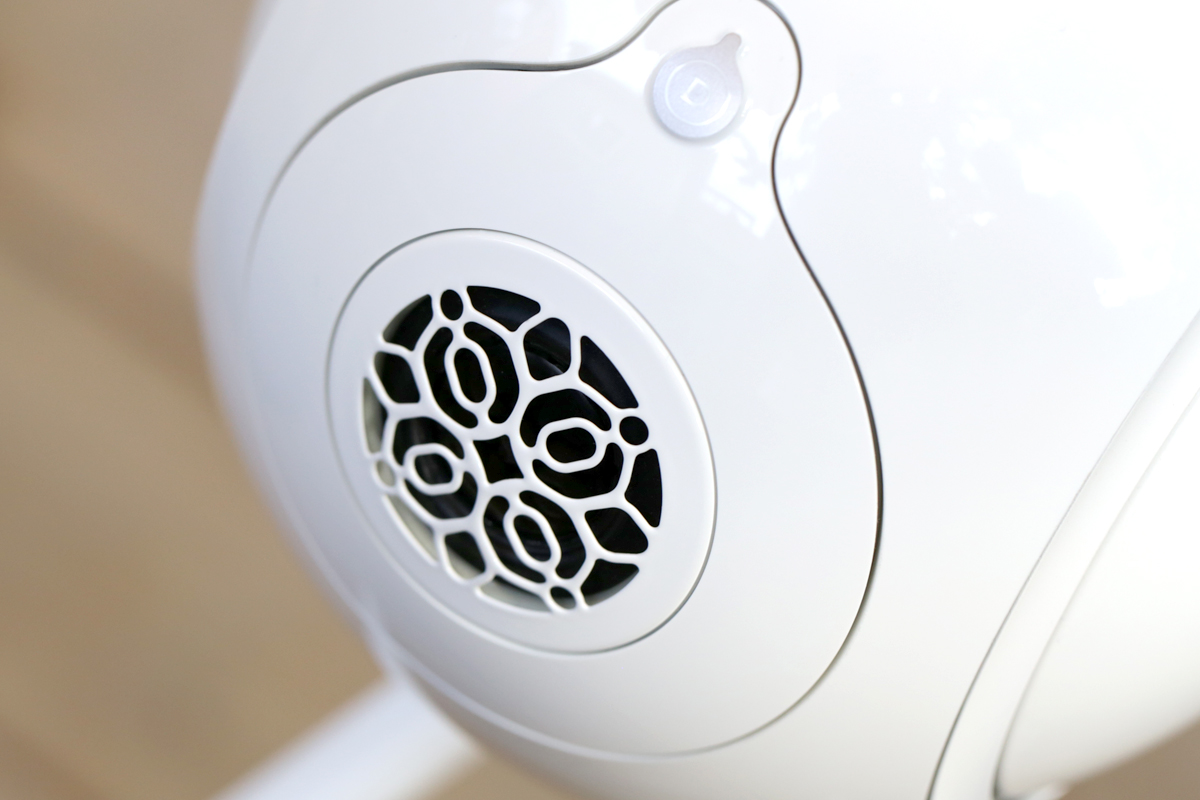 Throughout this recording, the Reactor 900s created an expansive soundstage that extended well to left and right of the speakers, with a real sense of depth. The placements of the images of individual instruments, though, was slightly vague. Overall, I found really impressive -- mind-blowing, actually -- the degree to which these little speakers could simulate a concert-hall listening experience.
To hear what the Reactor 900s could do with well-recorded rock, I streamed from my Mac Mini, via Roon and AirPlay, "Romeo and Juliet" from Dire Straits' Sultans of Swing (16/44.1 ALAC, Warner Bros.). This classic track begins with Mark Knopfler playing finger-picked resonator guitar, and the Reactors beautifully reproduced its deep, metallic tone. Pick Withers's deft stick work on hi-hat sounded suitably crisp in the intro, and as the music builds, his kick drum, snare, and tom had satisfying body and impact. I particularly admired how the Reactors presented Knopfler's singing. His voice sounded warm, expressive, and embodied -- at times, I could almost feel his heartache. Although the sound became a little congested in the loudest passages, overall, I found the Reactor 900s' reproduction of this great recording completely involving.
To hear how the Phantom Reactor 900s handled video entertainment, I connected the optical output of my 55" Samsung Frame TV's One Connect set-top box to the analog/optical input of the right speaker, then cued up from Netflix Episode 1 of Season 3 of Stranger Things. Right from the opening scene, inside a mysterious Soviet laboratory, the Reactor 900s showed how they could enhance my enjoyment of big sci-fi flicks. The special effects had loads of impact and energy, and the bass-heavy, synth-laden musical score sounded rich and dramatic. Bass didn't hit me in the chest the way a system with a dedicated subwoofer would, but considering the Reactors' size, the sound was amazing. Later in the episode, I greatly enjoyed what the Reactor 900s did with such 1980s hits as Corey Hart's "Never Surrender."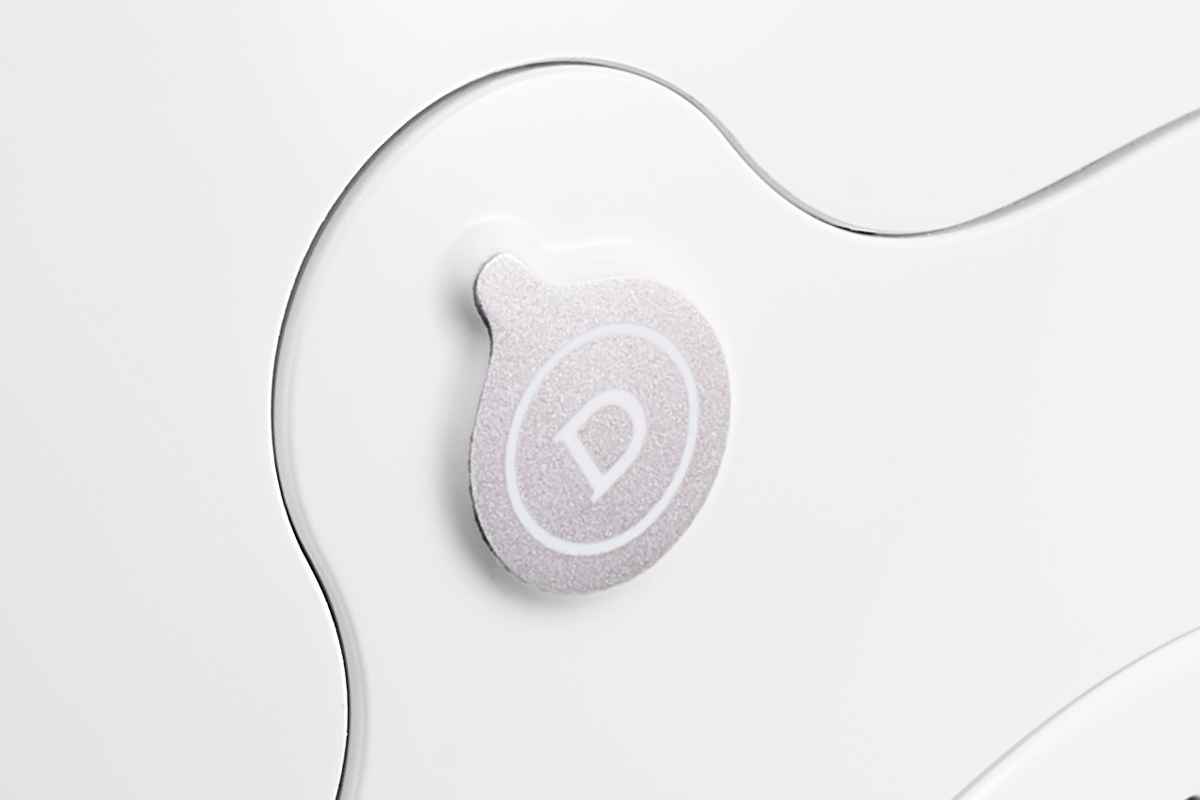 Dialog was reproduced with excellent intelligibility, though with a bit of latency. Even with the latency control in the Devialet app set to minimum, image and sound were slightly out of sync, though not enough to be bothersome. To minimize latency with two Reactors paired for stereo operation, Devialet recommends plugging both speakers into the same power strip, presumably because they use HomePlug networking to communicate with each other. That's not possible in my living room, but the two wall outlets into which I plugged the Reactors are on the same circuit.
For video, I was more bothered by the lack of a remote control. To adjust the volume, I either had to use the onscreen control in the Devialet app or one of the speakers' touch controls. When you're streaming music, the lack of a remote isn't a big deal -- you probably already have an app open in which you can adjust volume. But if you're using the Reactors to watch movies and TV, the lack of a remote control can be annoying when you want to change or mute the volume.
Comparison
At first, Elac's Navis ARB-51 active loudspeaker ($1999.98/pair) might seem an odd choice for comparison with Devialet's Phantom Reactor 900. The Elac is an attractive but conventional-looking stand-mounted speaker that's not nearly as out there as the Reactors. More conventional in design, it has a front-firing 5.25" aluminum woofer powered by a built-in 160W BASH amplifier, and a coaxial driver comprising a 1" soft-dome tweeter powered by a 40W class-AB amp and concentrically mounted in a 4" aluminum midrange powered by a 100W BASH amplifier.
Elac's Navis models are all-analog, from their line-level inputs (unbalanced RCA and balanced XLR) to their active crossovers. Each model also includes a wireless receiver that can accept CD-resolution digital streams from Elac's optional Discovery Connect wireless module ($399.99), but those streams are converted inside the speaker to analog. The Discovery Connect also has analog (RCA) and digital S/PDIF (optical and coaxial) outputs.
The Phantom Reactor 900 has everything you need to start streaming music. Elac's Navis speakers require an external source, such as the Discovery Connect, or the Bluesound Node 2i streaming preamp ($499.99) I used for my comparison.
The total retail price for two Reactor 900s and two sets of Legs is $3038 -- pretty much what you'd pay for a pair of Navis ARB-51s and a Bluesound Node 2i, plus decent stands and interconnects. Price-wise, this is definitely an apples-vs.-apples comparison.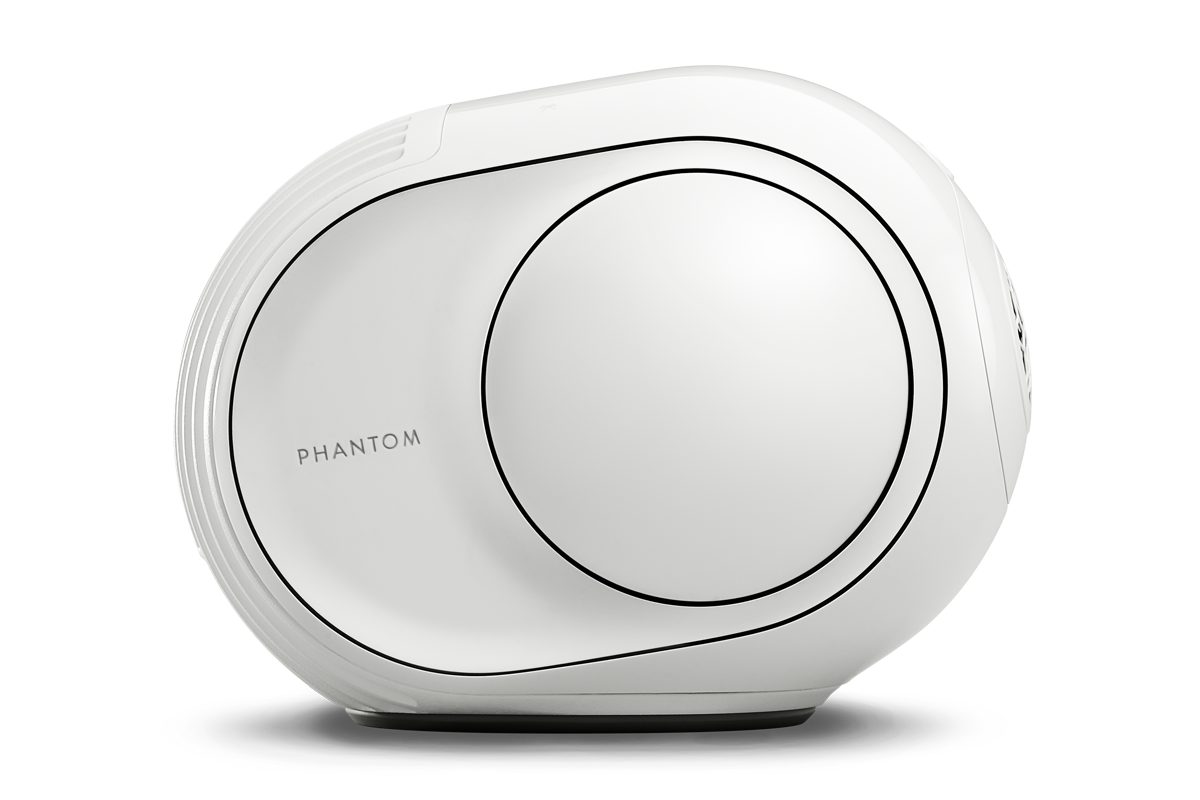 I connected the analog outputs of my Bluesound Node 2i to the Navis ARB-51s' RCA inputs using AudioQuest Mackenzie interconnects, then streamed music to the Node 2i from my iPhone SE via AirPlay, and from the music library on my Mac Mini via Roon.
Streaming the Bad Plus's cover of "(Theme from) Chariots of Fire" from the Tidal app on my iPhone SE, I found the kick drum, floor toms, and double bass more impactful and better controlled through the Elacs. The kick drum hit harder, the bass had more snap. The Elacs threw an even bigger soundstage than the Reactors, and the images of the piano and double bass were positioned more precisely on that stage. And the Elacs maintained better composure during the insane improvising mid-track -- it was easier to follow individual instruments and improvisational threads.
Streaming "The Girl from Ipanema" to the Bluesound Node 2i, and from there to the Elacs, I noticed the same chesty coloration in the lower range of João Gilberto's voice that I'd heard through the Reactor 900s -- but it was less pronounced, and his upper range was better defined, with clearer consonants. I found the Elacs' reproduction of microdynamics superior -- Astrud Gilberto's soprano seemed more expressive, Tommy Williams's double bass deeper and more impactful. Through the Elacs the sound was more spacious and transparent, with slightly better image specificity, and every element more clearly differentiated. But in terms of pure musical enjoyment, I was impressed with how close the Reactors came to the Elacs -- pretty amazing, given the differences in size and shape.
In Dire Straits' "Romeo and Juliet," the subtle inflections of Mark Knopfler's singing came through more clearly over the Elacs, and his resonator guitar had more metallic twang; the impacts of Pick Withers's stick on his hi-hat sounded crisper; and his snare, floor tom, and kick drum had greater impact. The soundstage was bigger, and, in the louder sections, the Elacs didn't compress the sound.
Conclusion
As the above comparison establishes, you can get more refined sound for what the Reactor 900s cost, but in a larger, more cumbersome package, involving multiple components and cables. The Reactors are essentially plug-and-play -- run the Devialet app, and you're good to go. However, in terms of functionality, the Devialet app is pretty basic.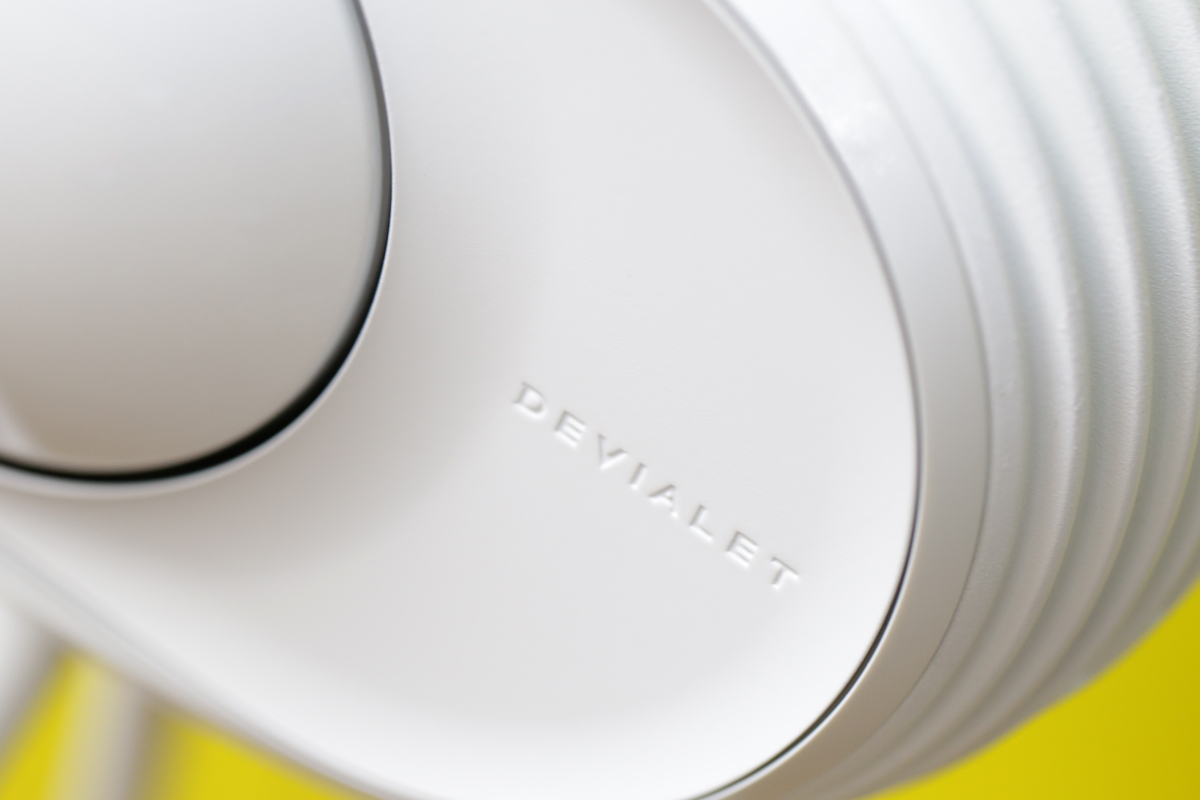 Devialet's Phantom Reactor 900 isn't flawless -- no speaker is. Its upper bass was sometimes a bit too prominent, and loud passages sometimes sounded slightly congested. But throughout my listening, the Reactor 900s never sounded the least bit harsh or strident, and never failed to deliver real musical pleasure. This tiny speaker is a marvel, an engineering tour de force.
I think a lot of people will fall in love with the Reactors at first sight, but wonder if the love affair will continue when they get the speakers home. I think it almost certainly will. Maybe they'll wonder if the Reactor 900s can play as loud and go as deep as Devialet claims. Yes, they can. Maybe they'll wonder if these little speakers can deliver transportive musical experiences. They can do that, too.
. . . Gordon Brockhouse
This email address is being protected from spambots. You need JavaScript enabled to view it.
Associated Equipment
Sources -- Apple iPad Mini; Apple iPhone SE, LG G7 ThinQ smartphones; Bluesound Node 2i, Apple Mac Mini running Roon Core 1.6
Active loudspeakers -- Elac Navis ARB-51
Display -- Samsung UN55LS003 55" The Frame UHD TV
Network -- Google Wifi three-node mesh network
Devialet Phantom Reactor 900 Active Loudspeakers
Price: $1350 USD each; Legs stand, $169 each.
Warranty: Two years parts and labor (extended warranty available).
Devialet
SAS 10, Place Vendôme
Paris 1ER
France
Phone: (33) 502-155-682
Website: www.devialet.com