Peachtree Audio is a company I usually think of as being "new." But as I began work on a review of Peachtree's most recent integrated amplifier, the decco125 Sky, I was reminded that they've been around for more than ten years. That made my head spin. Has it really been almost a decade since I reviewed the company's iDecco, an integrated amplifier that embraced new ways people accessed music by incorporating a digital dock input for an iPhone/iPod and a USB port for a computer? This inclusiveness was reinforced by the iDecco's low price: $999 USD.
To judge from the decco125 Sky, which sells for $1199, Peachtree hasn't strayed far from its mission of making affordable hi-fi gear. It also hasn't skimped on innovation: the new integrated amp supports integrated wireless streaming of Tidal, Spotify, and TuneIn, and its Sky Direct feature lets it stream tracks from other apps on your smartphone, such as Apple Music and Pandora.
The Peachtree's built-in DAC supports files with resolutions up to 24-bit/96kHz, and it has an onboard moving-magnet phono preamplifier and a headphone amplifier. Its class-D power-amp stage puts out 120Wpc into 8 ohms (<1% THD+noise), and its headphone output power is specified as 17mW RMS into 32 ohms.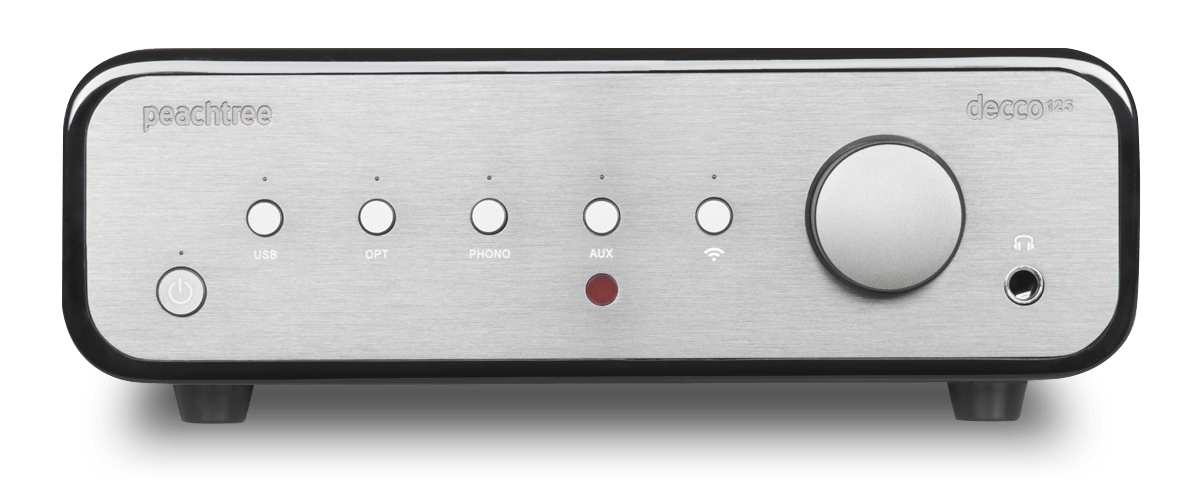 Most Peachtree products have a unique look, and the decco125 Sky is no exception. Clad in piano black and measuring 9.9"W x 3.5"H x 14.3"D, it has a narrow case of standard component depth. On the front panel are power on/off and input select buttons, and a large volume-control knob. LEDs directly above the buttons provide visual feedback when selecting sources and adjusting volume, and there's a 1/4" headphone output jack in the lower-right corner.
The decco125 Sky's rear panel is divided into halves. The left panel includes optical digital, analog stereo RCA, and phono inputs, a USB Type-B port for a computer, and antenna terminals for boosting wireless signal strength. On the removable right panel are RCA preamp outputs and two pairs of high-quality, five-way speaker terminals. Why removable? When the decco125 Sky is paired with Peachtree's forthcoming duet speakers, the output section is replaced with an active DSP crossover module and custom speaker interconnects that allows the amplifier to separately power the duets' tweeter, midrange, and bass drivers.
The decco125 Sky is accompanied by a small, high-quality remote-control handset that mirrors the brushed-metal look of the front panel. The remote's thick, rubbery buttons let you select sources, adjust volume, and tweak the treble and bass settings. It also provides a row of four buttons to select presets configured in the iOS/Android control app for Muzo Player. These let you conveniently call up a favorite Internet Radio station or Spotify playlist without having to reach for your phone or tablet.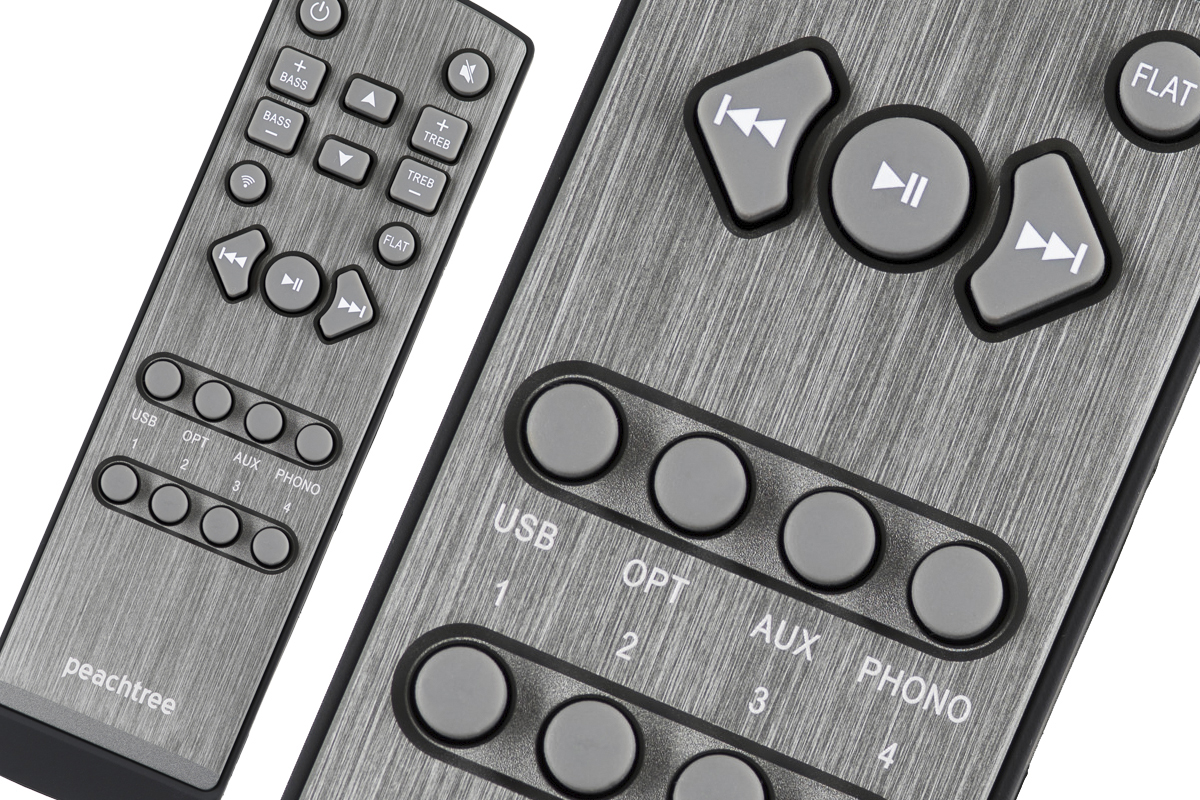 Setup and use
Setting up the decco125 Sky was made a bit difficult due to the presence of my teenage daughter, who was home from school for spring break. The first hiccup came when she complained about the "sad church music" I'd been playing all day. "It's Bach, it's not all sad, and I'm using it to break in audio gear," I responded. "Also, this is a house of audiophile worship, so sacred music is okay." She gaped blankly at me.
The second hiccup came when I unsuccessfully tried to link the Peachtree to my Wi-Fi network as my daughter, in the same room, siphoned up most of our Internet bandwidth with an iPad. I commanded her to put down the tablet, and then was able to link with the decco125 Sky in my phone's Wi-Fi setup panel. I typed an IP address in a browser app and entered a network password. Link established; mission accomplished.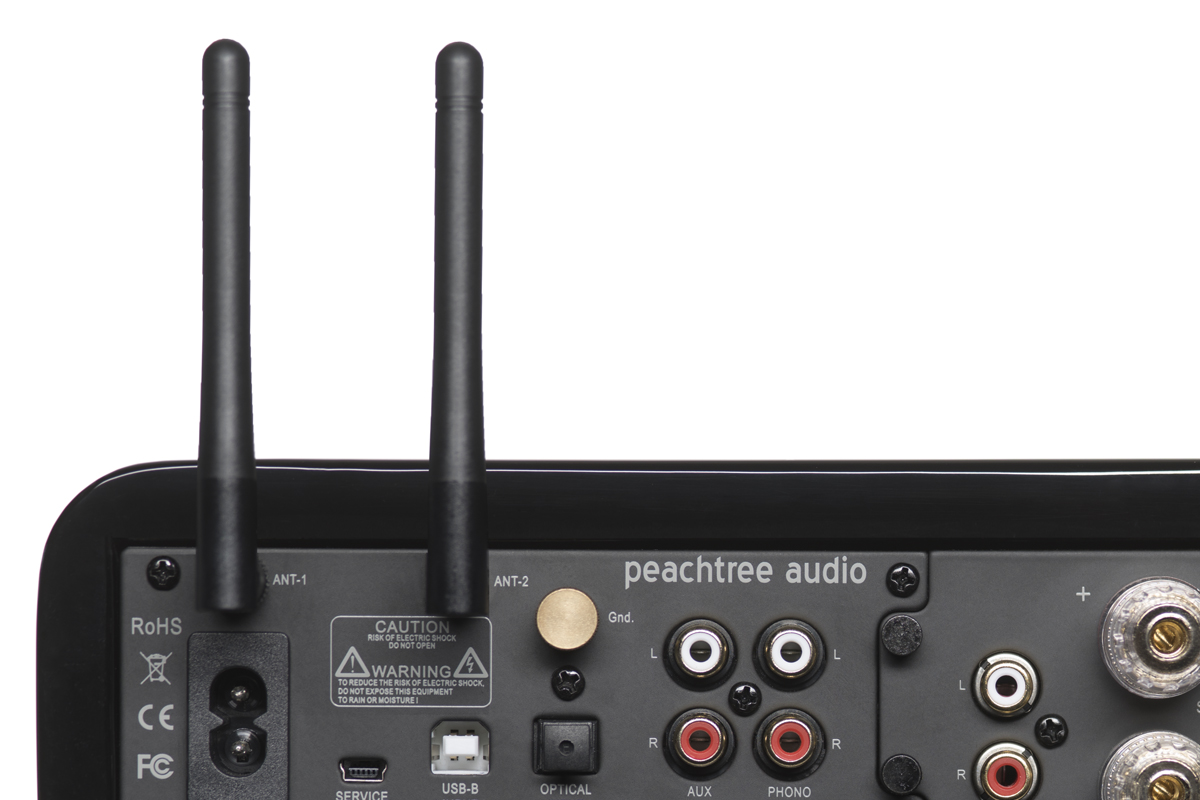 The Muzo Player app, used for setup and streaming from Tidal, Spotify, TuneIn, Napster, and other services, is simple to use and, with the decco125 Sky, lets you perform such tasks as switching inputs. My one complaint was that I could sort albums in my Tidal library only alphabetically, instead of by date added, which is how I typically browse Tidal content. However, that's a limitation that Muzo shares with other third-party control apps, and it can be circumvented by using the Sky Direct (Wi-Fi direct) feature. This not only lets you wirelessly stream audio from a phone or tablet without first connecting to a Wi-Fi network, it also lets you use a wider range of apps, including ones not integrated within Muzo, such as Apple Music and Pandora.
Sound
I began critically listening to the decco125 Sky by spinning a favorite Bill Frisell disc, With Dave Holland and Elvin Jones (CD, Nonesuch/Elektra 7599 79624 2). In "Moon River," Frisell's nylon-string acoustic guitar had a clear tone with rich harmonics. Jones's brushed snare drum had a similar effect, sounding detailed and crisp, not flat and papery. Bass extension and definition were excellent, Holland's double bass sounding full and controlled. Switching between the Peachtree's optical and analog inputs, I heard little difference between the decco125's DAC and the one in the Oppo UDP-203 universal BD player I used for testing -- both offered similarly high-quality conversion of digital signals to analog.
Playing a DSD version of "The Space Between," from Roxy Music's Avalon (SACD/CD, Virgin ROXYSACD 9) through the GoldenEar Technology Triton Five tower speakers I use for testing gave me another good example of the decco125 Sky's bass handling. There was clear separation between the kick drum and bass guitar, and both sounded clean and dynamic. The characteristic smoothness of Bryan Ferry's voice came across. I also heard good rendering of ambience in this remix, which original engineer Bob Clearmountain created for Avalon's release on SACD: detached-sounding keyboards and saxophone floated palpably through space with a depth I don't hear in the album's original mix.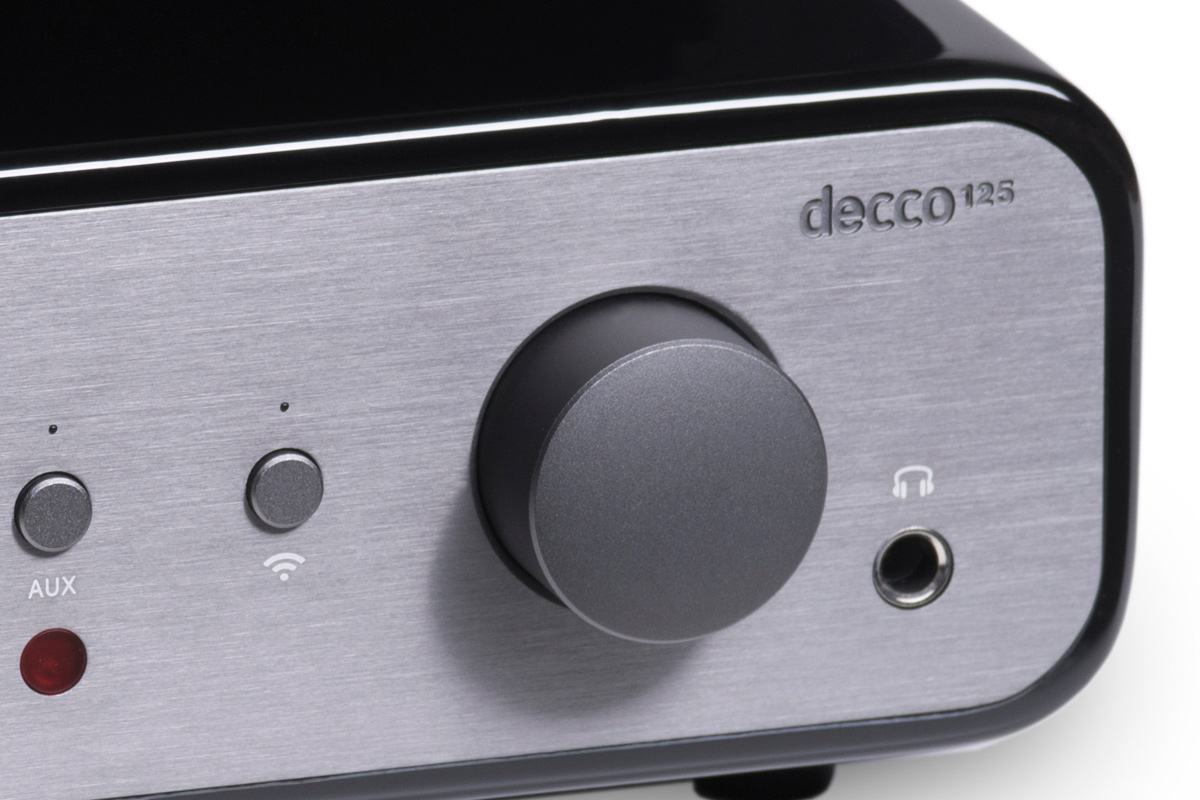 Switching to Tidal streaming via the Muzo app, I played another spacious-sounding track, "Morning Myth," from Myths 003, an album by Swedish psychedelic group Dungen and some like-minded American friends, the band Woods (16-bit/44.1kHz FLAC, Mexican Summer/Tidal). The decco125 Sky's soundstage was impressively wide, the flute, electric guitar, and drums cutting clearly through the dense, atmospheric mix. It also retained a good sense of layering when I pushed the volume up high.
Speaking of volume, one gripe I had with the decco125 Sky was that its level jumped several dB whenever I adjusted the volume using the remote-control handset. I've seen this sort of thing with iOS control apps for streaming amplifiers, but switching to a hardware remote usually brings more precision. Fortunately, the volume knob on the Peachtree's front panel was capable of adjusting volume in finer increments, so I mainly used that during my listening.
Having recently expanded the shelves in my listening room to accommodate more crates of LPs, I had loads of vinyl at hand to evaluate the Peachtree's phono stage. In "Back-Woods Song," from Gateway, by a jazz trio comprising Dave Holland, Jack DeJohnette, and the late John Abercrombie (LP, ECM 1061), both Abercrombie's guitar and Holland's double bass had raw, energetic presences. Overtones from DeJohnette's cymbals floated vividly across the soundstage, creating a strong three-dimensional effect.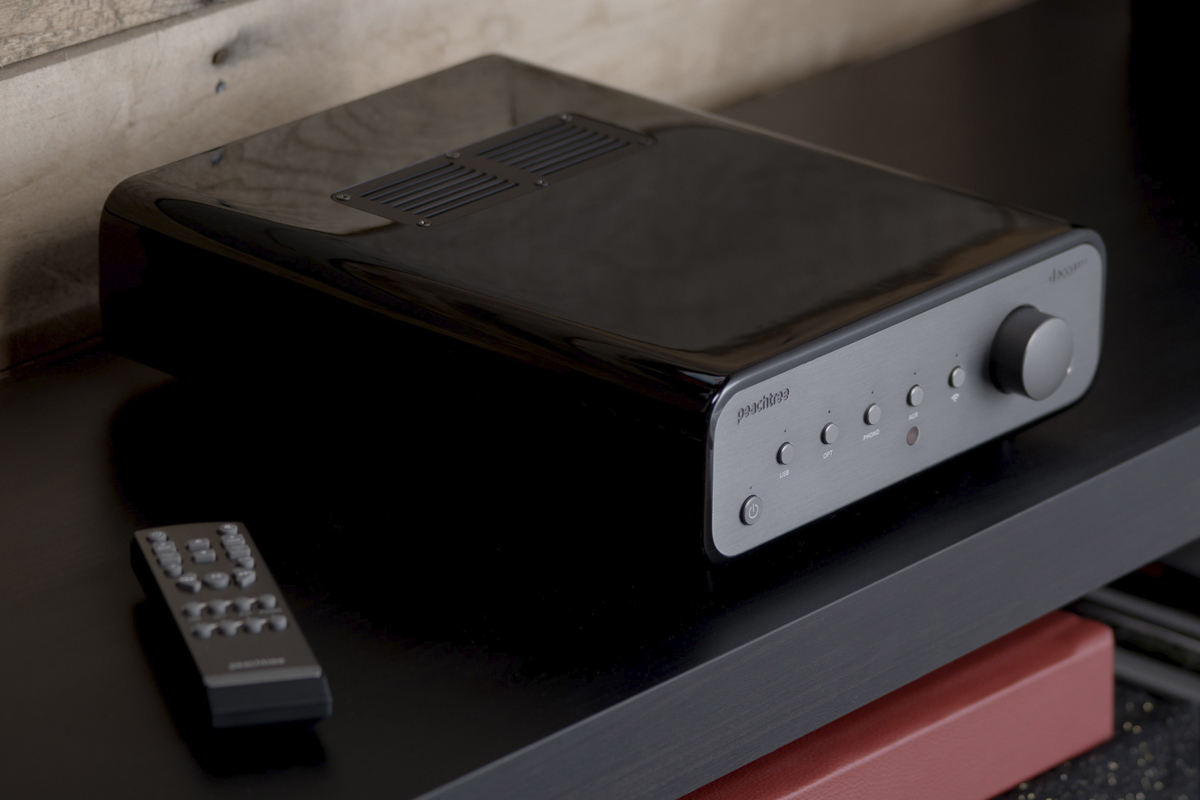 Playing vinyl turned up another operational quirk: The decco125 Sky's Wi-Fi receiver must first be disabled by simultaneously pressing the front panel Phono and On/Standby buttons. Otherwise, you'll have to contend with audible clicking, which the Troubleshooting section of Peachtree's manual attributes to RF noise from the wireless network input.
I then retrieved my burn-in CD, The Great Organ Works, a compilation of compositions by J.S. Bach performed by Wolfgang Rübsam (2 CDs, Philips 464-988-2), for late-night listening through a set of Sennheiser HD 598 over-ear headphones. Playing Ich ruf zu dir, Herr Jesu Christ, BWV 525, the decco125 Sky was able to drive the Sennheiser cans to loud levels with ease. There was good texture and clear contrast between the high- and low-pitched organs, and I also got a sense of the spacious environment the track was recorded in.
Comparison
I listened to most of the same tracks through a Hegel Music Systems Röst integrated amplifier-DAC ($3000). With "Moon River" from Gateway, I noted a slightly mellower, more refined rendering of Frisell's guitar tone with the Röst. The Peachtree's overall sound was a bit crisper, though both amps sounded equally muscular during Holland's double-bass solo.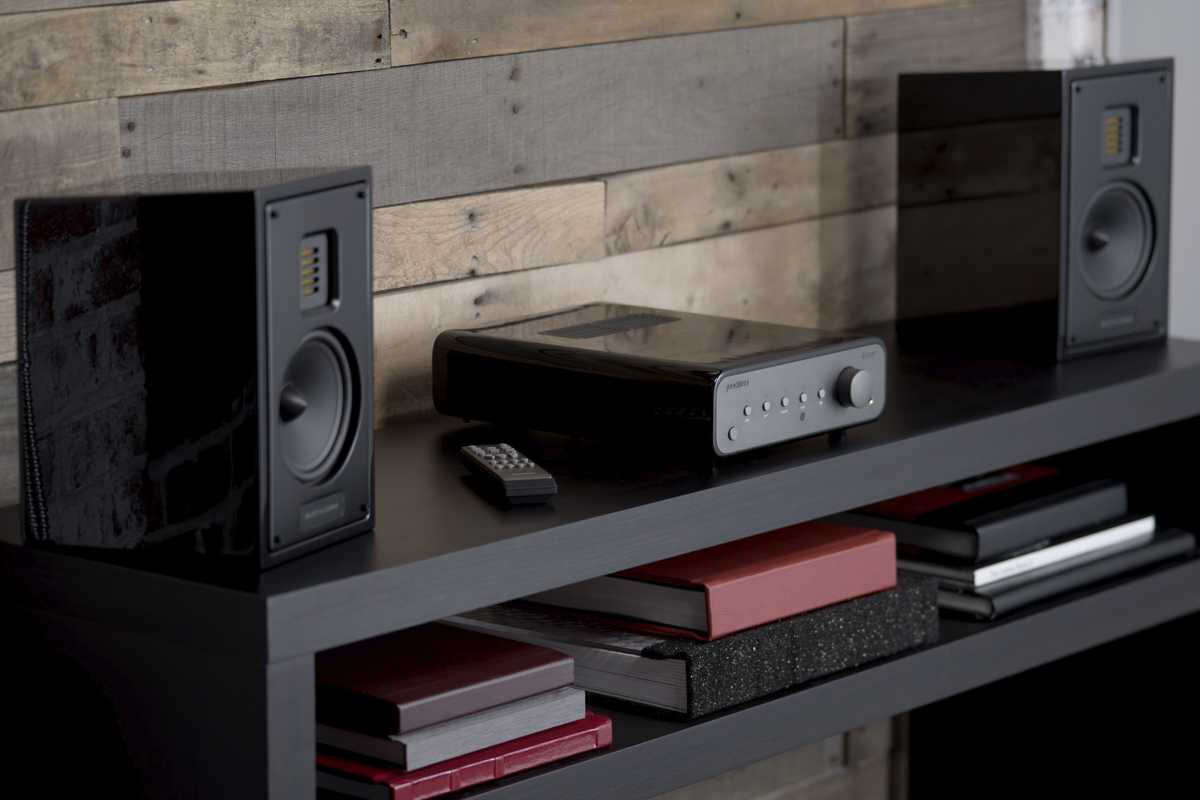 I had a similar experience with Roxy Music's Avalon: slightly crisper sound with the Peachtree, but equally good bass handling from both. The streamed Dungen-Woods track also made for an illuminating comparison: The Hegel delivered a more lush and layered sense of ambience, along with better dynamics from drums and guitars. But considering how much less the Peachtree decco125 Sky costs, it came across very favorably in the comparison.
Conclusion
Peachtree Audio's decco125 Sky is packed with useful features, including a built-in phono stage and Wi-Fi streaming. It also offers impressive sound quality for an $1199 integrated amplifier-DAC, sounding great with everything I played, from LPs and streamed playlists to "sad church music" on CD. The only things that damp my enthusiasm are its few operational quirks, especially the coarseness of its remote control's volume adjustment. That seems like something that could be fixed with a firmware update; when it is, the decco125 Sky will be a serious contender in its price category.
. . . Al Griffin
This email address is being protected from spambots. You need JavaScript enabled to view it.
Associated Equipment
Sources -- iPhone 6, Tidal HiFi, Apple Music, Oppo UDP-203 universal BD player, Pro-Ject Debut turntable and tonearm with Clearaudio Aurum Beta/S MM cartridge
Integrated amp-DAC -- Hegel Music Systems Röst
Speakers -- GoldenEar Technology Triton Five
Headphones -- Sennheiser HD 598
Peachtree Audio decco125 Sky Integrated Amplifier-DAC
Price: $1199 USD.
Warranty: Two years parts and labor (three years with online registration).
Peachtree Audio
12777 E. Independence Boulevard, Suite B
Matthews, NC 28105
USA
Phone: (704) 391-9337
Website: www.peachtreeaudio.com