The PW 300, the latest addition to Paradigm's family of wireless speakers, joins the PW Soundbar and the PW 800 and PW 600 all-in-one speakers. Vince Hanada recently reviewed the PW 600, in a system that included the PW Soundbar, for SoundStage! Xperience. "Configured as a stereo pair," he wrote, "the PW 600s sounded outstanding, easily rivaling separate speakers and electronics costing many times their $1198/pair price." That's seriously high praise for a Wi-Fi speaker -- high enough to make me wonder if the PW 300 ($329 each) would be equally impressive.
Like Paradigm's other Wi-Fi speakers, the PW 300 uses the DTS Play-Fi platform to stream signals of resolutions up to 24-bit/192kHz, and can also connect directly with devices via Bluetooth. Play-Fi lets you wirelessly link multiple speakers -- even Play-Fi-compatible models made by different brands -- for synchronized multiroom playback. The Play-Fi app integrates a range of streaming services, including Tidal, Spotify, Pandora, and Deezer, along with DLNA streaming from a media server. It can also configure speaker pairs for stereo playback, which is how I mainly used the PW 300 for my listening.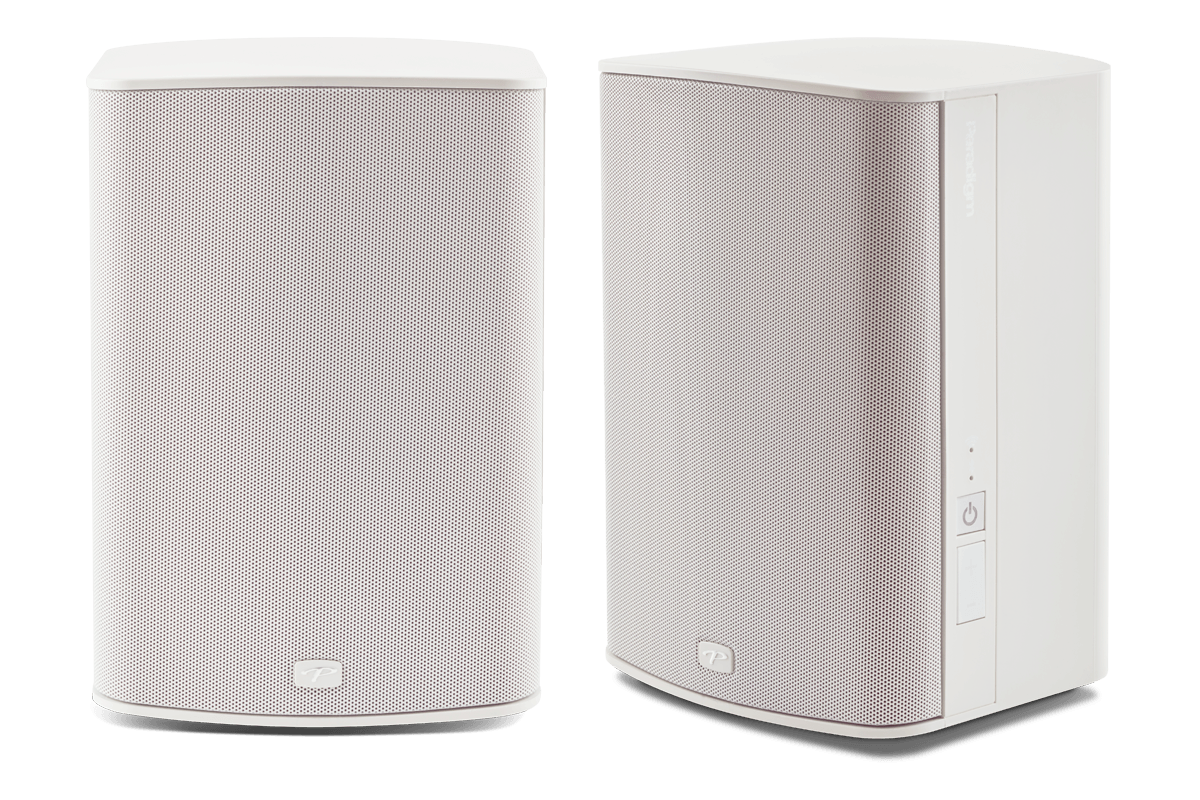 The key differences between this and the other speakers in the PW family are the PW 300's omission of an analog input, subwoofer output, and Anthem Room Correction (ARC) processing. This was likely done to meet a specific price, and to provide PW Soundbar owners a surround-speaker option less expensive than the PW 600. (Although the PW 300 doesn't include ARC, the Soundbar's room-correction processing can be configured to include surround-speaker output when used in a system that includes a PW 300.)
At 8.25"H x 5.75"W x 5"D and weighing 4.5 pounds, the PW 300 is about the size of a typical mini bookshelf or surround speaker, and there's nothing unique about its look: a cabinet of black or white plastic with rounded edges and a metal grille that conceals a 0.75" polymer-dome tweeter and a 4" polypropylene-cone midrange driver. The speaker's class-D amplifier puts out 40W RMS (80W dynamic peak), with a digital fourth-order crossover specified at 3.5kHz. Paradigm specifies the PW 300's low-frequency extension as 48Hz and its sensitivity as 85dB anechoic.
It may have a basic look, but the PW 300's build is notably solid. One slick design touch is the speaker's side-mounted power on/off and volume-control buttons, which are inset, backlit, and emit an audible, satisfying click when pressed. Four rubber feet stabilize the speaker and reduce vibrations, and a 5.8" threaded insert on the back makes it compatible with most speaker stands and wall-mount brackets. Other features around back include a LAN port, a USB port (for firmware updates), an AC power input, and a Wi-Fi setup button.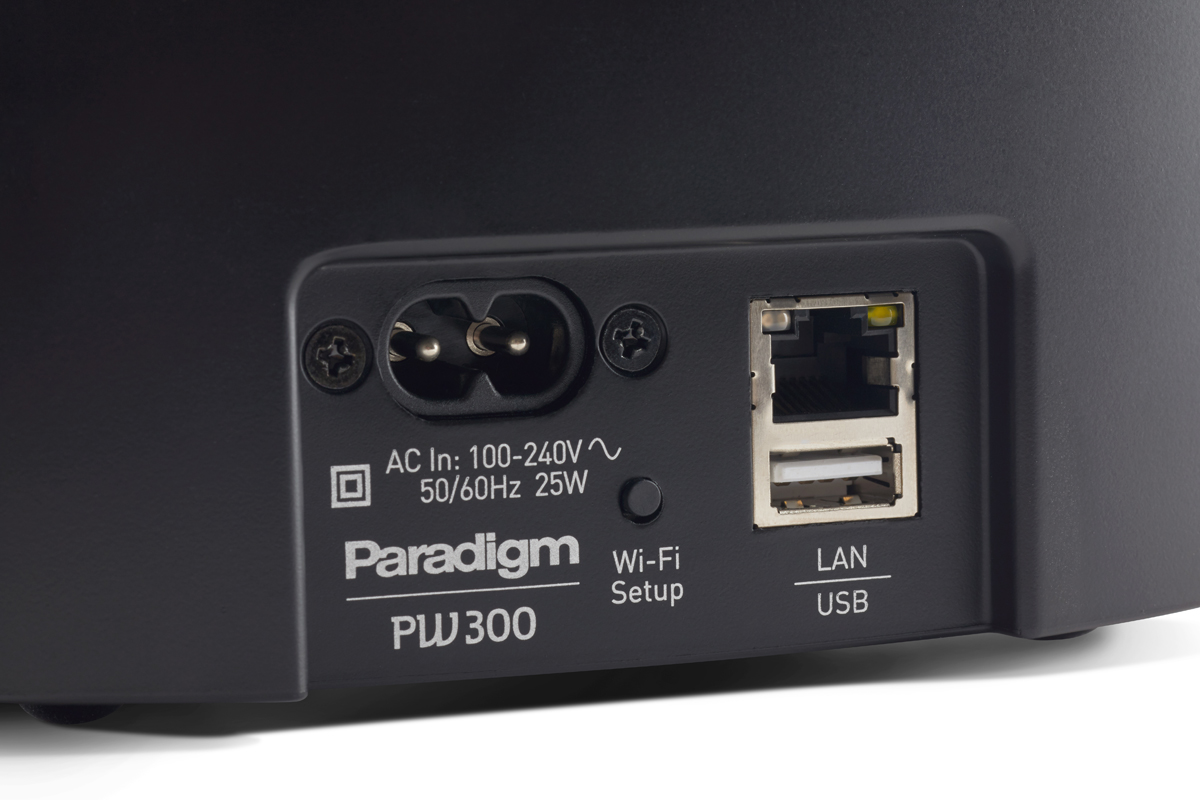 Setup and use
Setup of the PW 300 is made easy by Paradigm's detailed owner's manual and the onscreen instructions in the Play-Fi app. After powering on the speaker, you select it in your device's Wi-Fi control panel, then enter your network password. As with other Play-Fi speakers I've tested, your best chance of making the process go smoothly is to plug in the speaker near the wireless router for setup, and afterward move it to where you want it. If your router supports dual-band connections, Paradigm further recommends that you use the 5GHz option.
The next step is to enter your user name and password for the various streaming services in the app's Select Your Music panel. Other Play-Fi setup options let you configure speaker groups for synchronized playback, and to create stereo pairs for left/right channel playback from two PW 300s in the same room. For this review, I set up a pair of PW 300s on speaker stands in my 14'L x 12'W x 9'H bedroom. I also moved one PW 300 briefly to a low bookcase in the same room, to get a sense of how it would perform as a single speaker.
Sound
With two Paradigm PW 300s configured for stereo, I began my listening with Björk's new album, Utopia (16-bit/44.1kHz FLAC, One Little Indian/Tidal). I'm no Björk fan -- her songs always seem to lack such essential things as structure and hooks -- but I'm drawn to her unique voice. With the PW 300s playing "Blissing Me," I felt I was experiencing maximum, uncut Björkness: her voice emerged from a spot precisely centered between the speakers, sounding clear and unstrained. As the sounds of harp and electronic beats entered, and even as the mix became increasingly complex and chaotic, Björk's voice retained its clarity and focus.
Moving on to more traditional music, I played "Goodbye England (Covered in Snow)," from British folkster Laura Marling's I Speak Because I Can (16/44.1 FLAC, Astralwerks/Tidal). Her voice, too, was rendered with striking clarity, sounding detailed but with good measures of body and warmth. The acoustic guitar, piano, and strings also sounded natural and reasonably full through the PW 300s, making them very easy to listen to.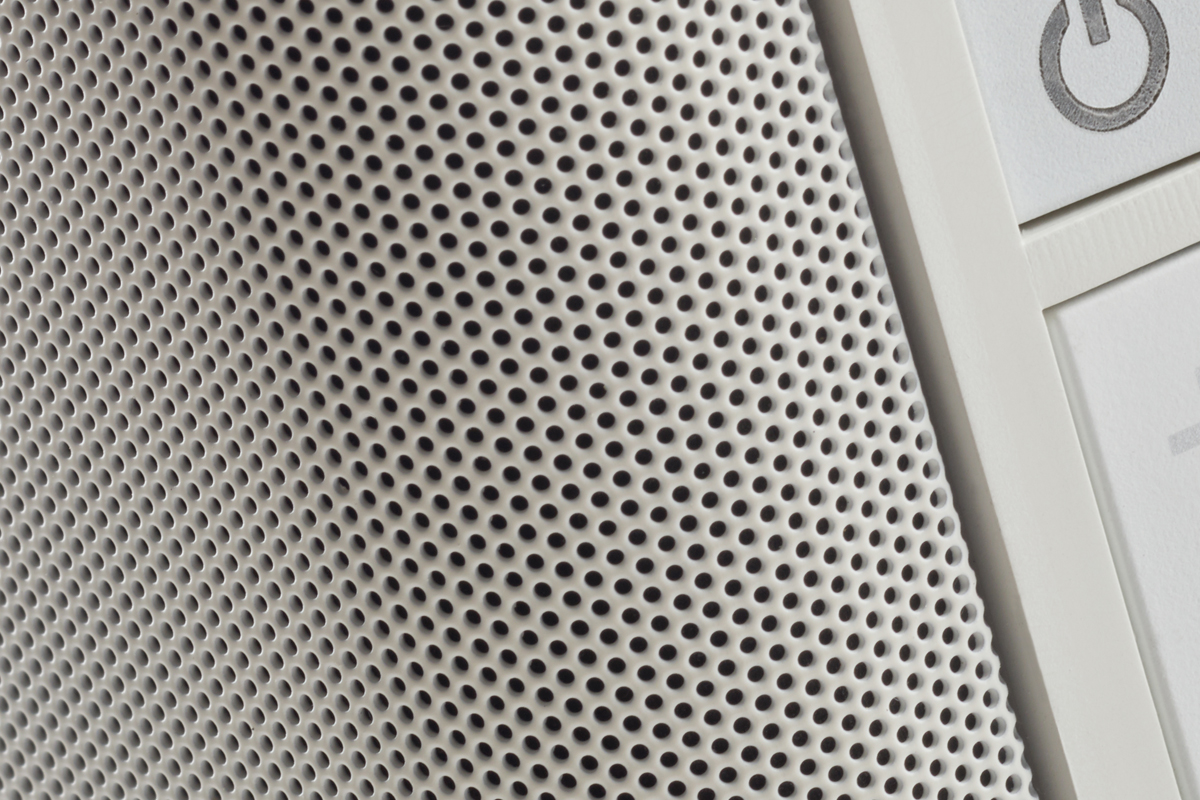 I didn't expect much bass extension from two little speakers, each with only a single 4" woofer. Even so, what bass the PW 300s did deliver was consistently taut and controlled. In "Sugar for the Pill," from Slowdive's Slowdive (16/44.1 FLAC, Dead Oceans/Tidal), the bass guitar and kick drum synced up tightly and powerfully, giving the track a substantial foundation. I also heard impressive spaciousness from the dual delayed guitars and wispy, multitracked vocals. All of these qualities held together when I pushed up the volume, the sound remaining clear and not a bit edgy.
One discovery I've had on repeat play ever since ECM recently opened its catalog to streaming is Blue Maqams, Tunisian composer Anouar Brahem's collaboration with jazz pianist Django Bates, double bassist Dave Holland, and drummer Jack DeJohnette (16/44.1 FLAC, ECM/Tidal). In "Bahia," the little Paradigm pair conveyed the plucked strings of Brahem's oud crisply and quickly, while providing a convincing sense of the spacious environment in which the instrument was recorded -- an ECM signature. When the other instruments eventually joined in, Holland's double bass sounded well defined, and DeJohnette's hi-hat strokes and snare-drum rolls were punchy and dynamic.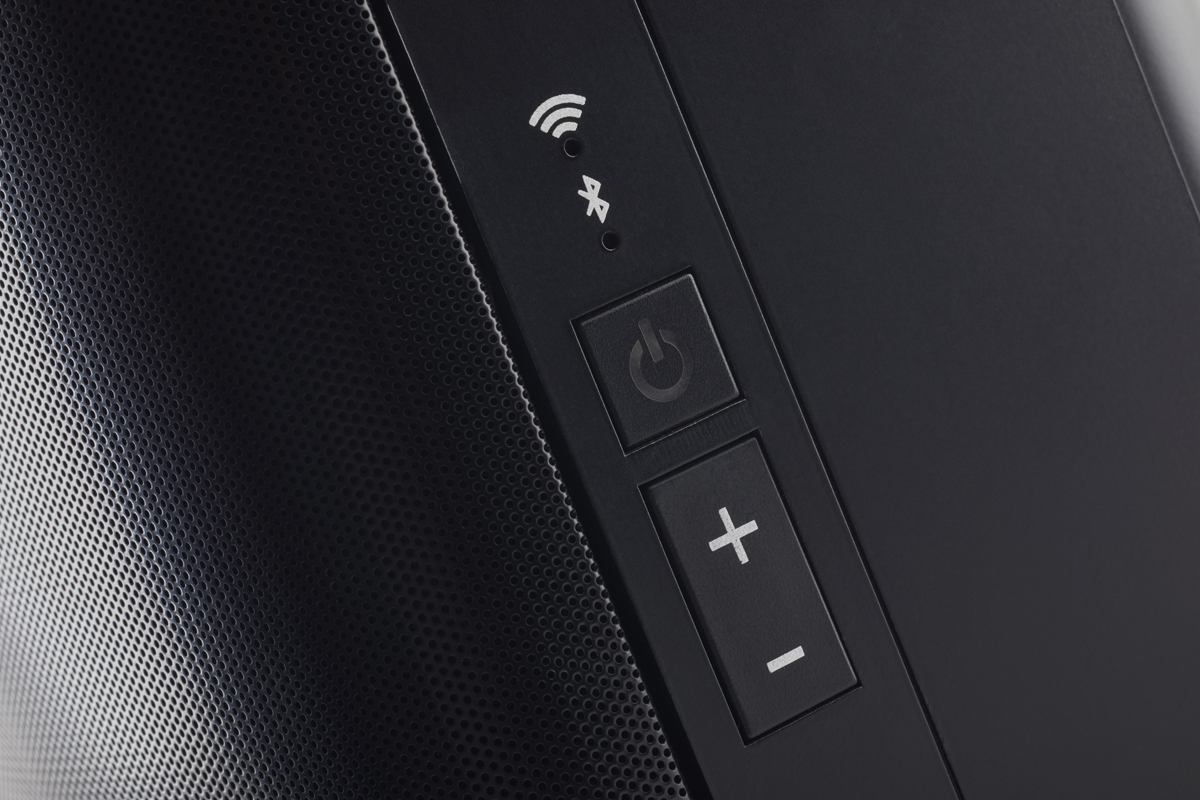 Comparison
The Wi-Fi speaker I would have loved to pit the PW 300 against is Paradigm's own PW 600, but for this comparison I instead used a Denon Heos 1 ($199 each). In previous listening tests, I'd found the Heos 1 a worthy competitor to the Sonos One, another popular $199 Wi-Fi speaker.
While the Heos 1 is no slouch in sound quality, the PW 300 had the edge with almost every track I played. For example, Brahem's oud strings in "Bahia" had a full sound with natural reverberation; through the Heos 1 they had a slight hardness.
The bass and drums in Slowdive's "Sugar for the Pill" had a powerful presence through both speakers, though the Paradigm displayed a better sense of dynamic ease when I raised the volume. The Denon, in contrast, began to sound congested when asked to rock out. I also heard considerably better detail and separation of voices with the Paradigm; the Denon's reproduction of the voices in this track tended to blend them more.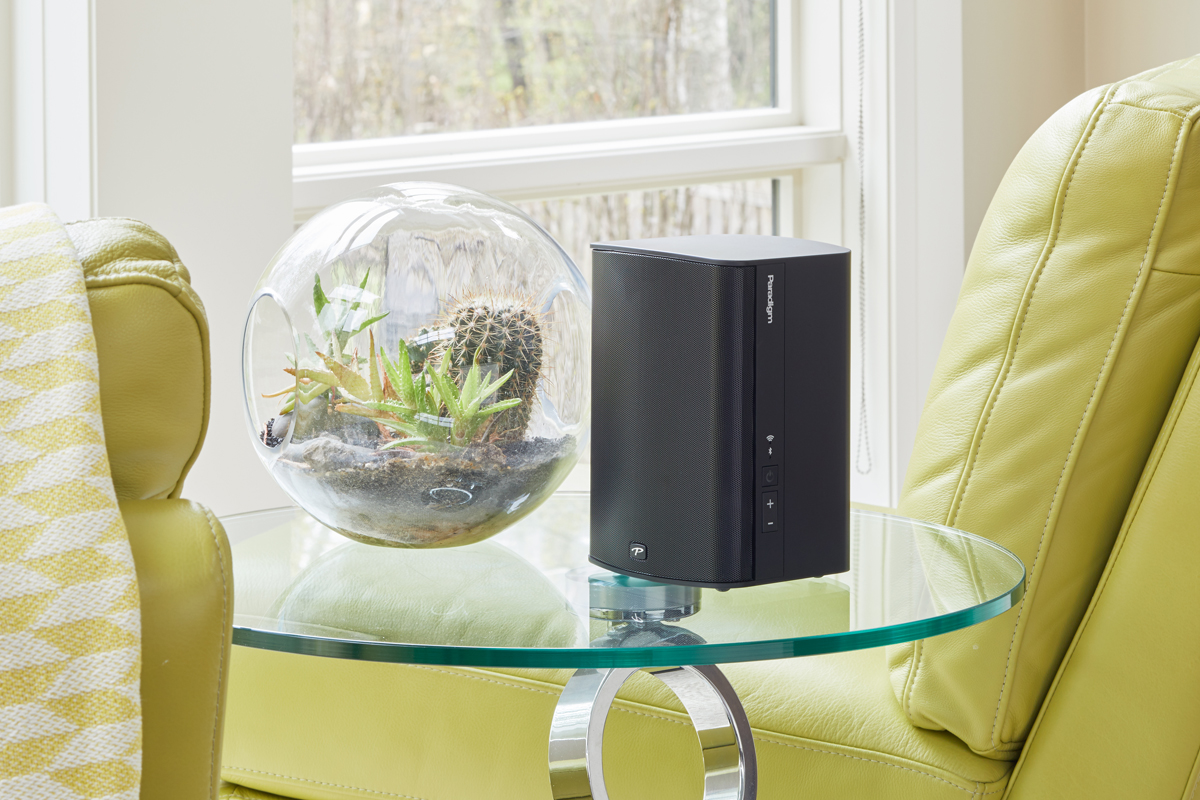 Björk and Laura Marling sounded fine through the Denon speaker, which clearly presents solo voices -- but the Paradigm handled their voices equally well. The PW 300 was also better able to sort out the electronic chaos in Björk's "Blissing Me," as well as the dense layers of acoustic instruments that accumulate in the Marling track. Finally, I found using the DTS Play-Fi app to be more intuitive than the Heos app Denon provides with its wireless speakers -- but that might be because I've reviewed plenty of Play-Fi products, and the app is now very familiar to me.
Conclusion
For a compact, affordable Wi-Fi speaker, Paradigm's PW 300 delivered great sound. The little PW 300 impressed me most when I paired two of them in a stereo configuration, but I also really liked what I heard when listening with a single speaker. You could pay almost twice as much for a pair of Paradigm's PW 600s, which include Anthem Room Correction and produce, presumably, more and better bass, but the PW 300s sounded good enough that I'm not sure most people would need to. In a world awash with compact Wi-Fi speakers, the PW 300 is a standout.
. . . Al Griffin
This email address is being protected from spambots. You need JavaScript enabled to view it.
Associated Equipment
Sources -- Apple MacBook Pro and iPhone 6, Apple Music, Tidal, JRiver Media Center 21
Speakers -- Denon Heos 1
Paradigm PW 300 Wi-Fi Loudspeakers
Price: $329 USD each.
Warranty: Three years parts and labor.
Paradigm Electronics, Inc.
205 Annagem Blvd.
Mississauga, Ontario L5T 2V1
Canada
Phone: (905) 564-1994
Fax: (905) 564-8726
Website: www.paradigm.com