In February 2017, when I reviewed the Hegel Music Systems Röst integrated amplifier, the experience was revelatory in several ways. The main eye-opener was the Röst's sound, which was notably dynamic for a 75Wpc integrated amp, and presented a strikingly clear window on whatever music I played. Another revelation was that a modestly powered amplifier could comfortably drive any speaker I paired it with.
I was also surprised to find that the Röst's relatively basic feature set served my needs, a topic I wrote about last August in an editorial, "The Röst Reconsidered ." As stated by the company's head software engineer, Joakim Jacobsen, in a recent SoundStage! InSight video, simplicity is a conscious strategy for Hegel: "We don't build our amplifiers around computers . . . because the computer will [become] obsolete very quickly, and so will the features we might have put on there."
The H190 ($4000 USD), the latest integrated amplifier from Hegel, could be characterized as a next-generation Röst. It has many of the same features, including network connectivity via wired Ethernet, AirPlay, and DLNA, as well as support for a Control4 home automation system. (According to Hegel, Spotify Connect will be implemented in the H190 in a future firmware update.) Like the Röst, it provides a USB Type-B port for a computer hookup to its 24-bit/192kHz-capable DAC, and either of its analog inputs can be configured as a fixed, high-level home-theater bypass.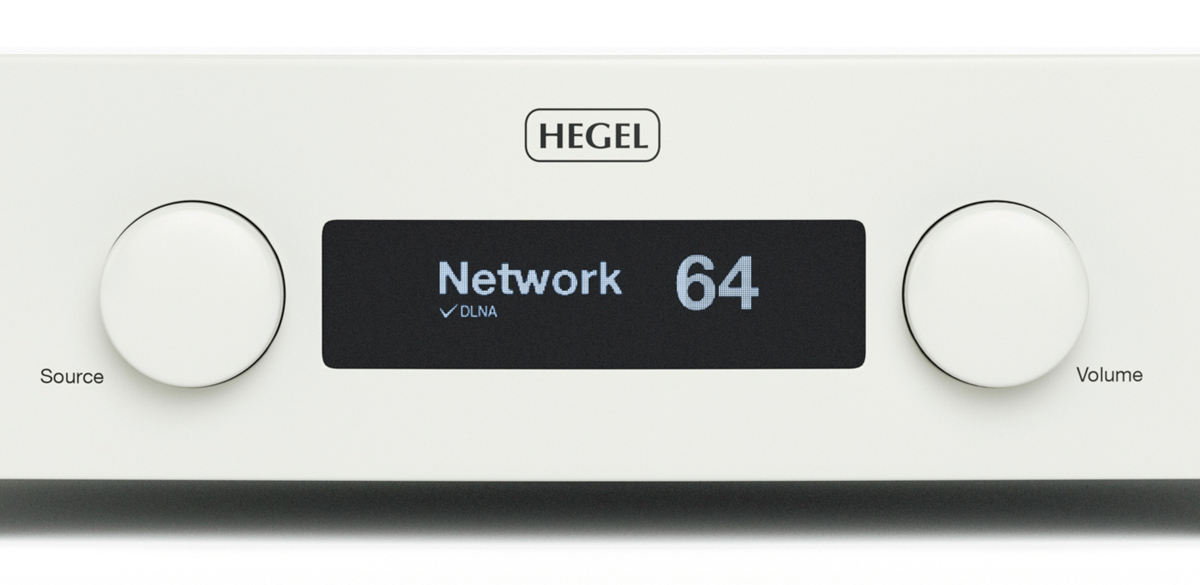 The main difference between the two Hegels is that the H190 can output 150Wpc into 8 ohms -- twice the power of the Röst. Like the Röst, it includes SoundEngine2, an enhanced version of Hegel's "feed-forward" amplifier topology that, according to chief designer Bent Holter, provides increased dynamic range with a lower noise floor. Another benefit of SoundEngine2 is a high damping factor -- important for woofer control -- which in the H190 gets a boost to over 4000.
To make space for a bigger power transformer than the one used in the Röst, the H190's case is taller and deeper: 16.93"W x 7.72"H x 16.15"D. The color options are black and, becoming available around May 2018, white. With just a large OLED display bounded on either side by knobs for input selection and volume control, the H190's front panel retains the simple, elegant design of Hegel's other integrateds. The only other thing on the front panel is a 6.3mm headphone output. The H190 weighs 41.9 pounds.
On the H190's rear panel are audio inputs: analog unbalanced (two RCA) and balanced (two XLR), and four digital (three optical, one coaxial). Also here are USB and Ethernet ports, alongside a set of high-quality speaker outputs that accommodate spade lugs, banana jacks, pins, and bare wire. Last come a power-cord inlet, and fixed and variable analog outputs (RCA).

As with the Röst, Hegel bundles with the H190 its RC8 remote control, made of solid aluminum and with buttons to control track playback on a connected computer, along with standard functions such as source selection and volume adjustment. IR range was good, with enough power for me to bounce signals off the front wall of my room. I particularly liked how the H190 responds to a Mute command from the remote: instead of switching off abruptly, the volume level fades to silence.
Setup and use
I connected the H190 to my home network using a powerline adapter and Ethernet cable. I then connected it to a Pioneer BDP-88FD universal BD player's coaxial digital and analog RCA outputs. The speakers I mostly used were GoldenEar Technology Triton Five towers, with MartinLogan Motion 20 towers briefly swapped in to test the Hegel's handling of speakers with a 4-ohm impedance. For a DLNA input I used JRiver Media Center 21 running on a MacBook Pro. AirPlay sources included Apple Music and Tidal.
Sound
I began my listening by comparing the H190's DAC with the one in the Pioneer universal BD player I use as a reference for CD playback. With "Barfly," from Ray LaMontagne's Till the Sun Turns Black (CD, RCA 83328), the Hegel easily revealed the detail in the singer's breathy voice, and I heard a clear separation between his voice and that of the female backing singer. With the Pioneer handling the decoding, both voices sounded a bit flatter and less distinct. The Hegel also brought the brushed snare forward, making this track more appealing than the Pioneer's more recessed presentation of the drum.
Streaming "Four Cypresses," from Grizzly Bear's Painted Ruins (16-bit/44.1kHz FLAC, RCA/Tidal), gave me a good demonstration of the H190's dynamic capabilities. The martial snare-drum rhythm that opens this track was crisp and finely textured, and towered hugely in the mix. Other times I've listened to this song recently, the arrangement seemed too dense, but the Hegel drew out its various elements -- voices, synths, an arpeggiated guitar riff -- in an orderly manner. Loud washes of electric guitar in the song's mid-section also had a powerful presence, sounding clean and unstrained as they slashed through the mix.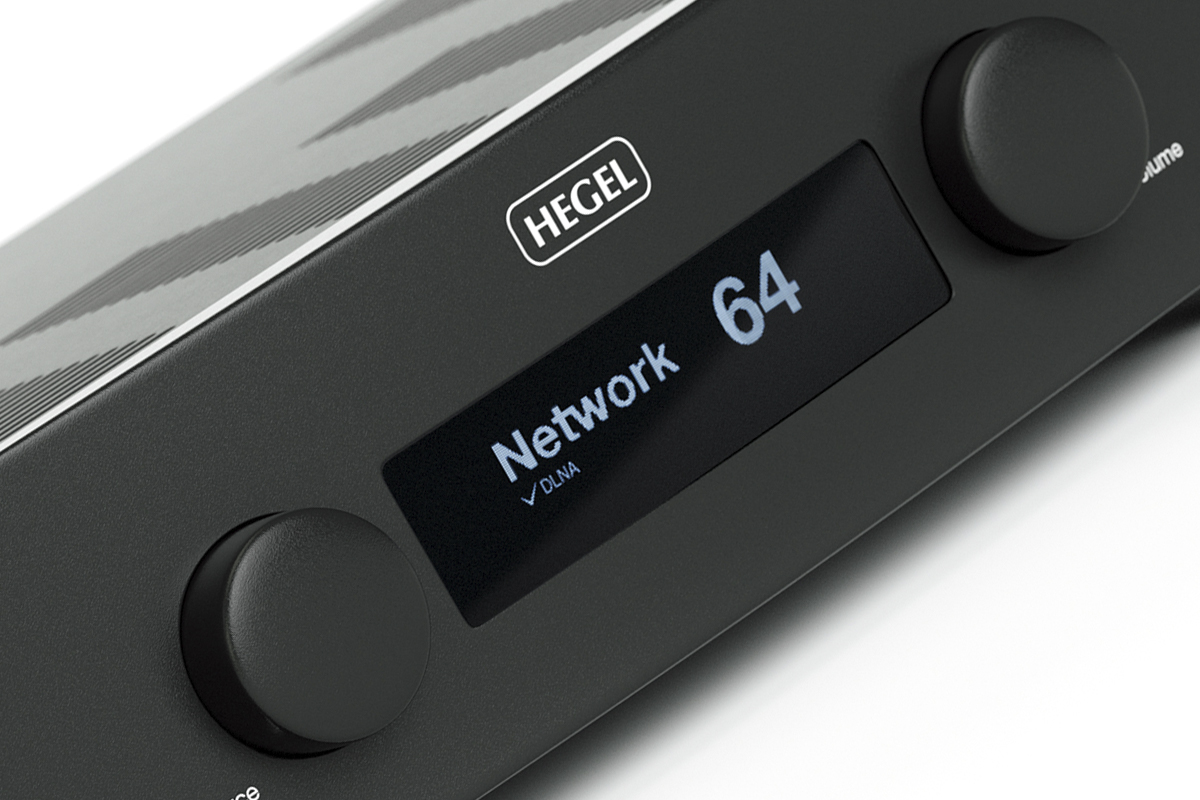 The H190's power and precision were also on display with the title track of Traffic's Low Spark of High Heeled Boys (16/44.1 FLAC, Island/Tidal). The piano and bass guitar sounded effortlessly smooth, as did Steve Winwood's soulful lead vocal. Against this background, subtle percussive elements such as conga drums and handclaps vividly stood out, creating a 3D-like layering. Similar to the guitars in the Grizzly Bear track, the keyboard solo about six minutes in had a strikingly resonant quality, and I could push the volume up without hearing strain or harshness.
To get a sense of the Hegel's handling of bass, I next played War Anthem, from Max Richter's Three Worlds: Music from Woolf Works (16/44.1 FLAC, Deutsche Grammophon/Tidal). The H190's presentation of the movement's low, rumbling percussion was deep and authoritative. Against this, the strings sounded textured and expansive, with a distinct sense of air around a solo cello that isolated it in space and drew it forward in the mix. Here, again, I heard no hint of strain, even as the track drew to its loud, somewhat explosive climax.
Comparison
Hegel's own Röst has served as a reference for other integrated amplifier reviews on Simplifi, so it seemed natural to compare the H190 with it. While both models have a similar sonic signature, I felt that the H190 delivered more headroom and control. For example, in Ray LaMontagne's "Barfly," the bass guitar had slightly more extension and definition. The drums in the intro of "Four Cypresses" had an expanded presence, with more subtle detail in the snare-drum rolls. The foundation laid down by the low percussion in Richter's War Anthem seemed more solid through the H190, the sense of air around the cello even more vivid.
Did I prefer the H190 to the Röst? Both sounded great in my room, though the effortlessness of the H190's sound was compelling. I'd also choose it for use with difficult-to-drive speakers. The H190 proved a better match for the MartinLogan Motion 20s, for instance, which seemed to spark to life when fed extra power. However, with a sensitive speaker like the GoldenEar Triton Fives, or my Triton Twos with their powered subwoofer sections, the Röst would be more than adequate.
Conclusion
With its new H190, Hegel Music Systems gives you more and better: twice the Röst's power and, with SoundEngine2, wider dynamic range and a higher damping factor. The H190's inclusion of AirPlay, DLNA, and soon Spotify Connect will make it sufficient to meet most streaming needs, while its support of Control4 makes it a great option for environments with a home control system.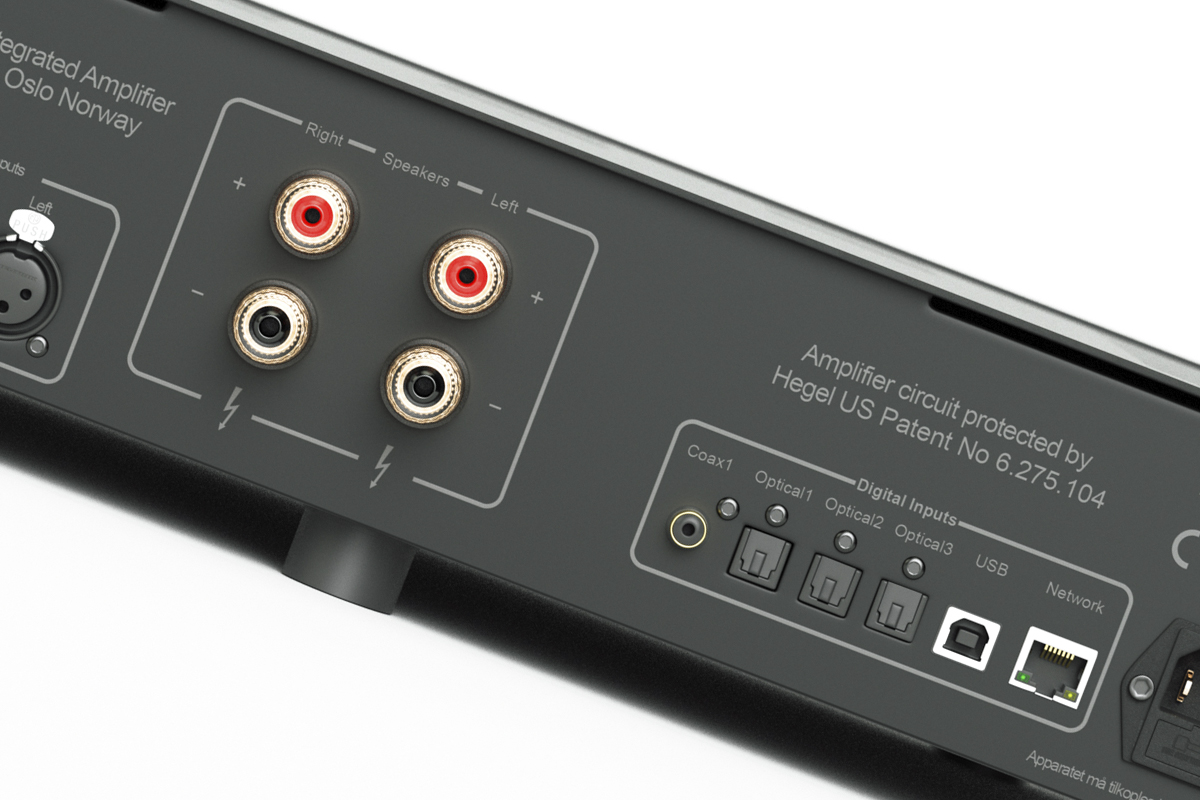 But the clincher is the sound. Listening with the H190 was an absolute pleasure, and it drew out qualities in recordings I'd previously overlooked. I'd certainly want to own one, and recommend it highly to anyone looking for a powerful, network-capable integrated amplifier. The H190 is just one more example of a revelation I've had with Hegel.
. . . Al Griffin
This email address is being protected from spambots. You need JavaScript enabled to view it.
Associated Equipment
Sources -- Pioneer BDP-88FD universal BD player, Apple MacBook Pro, JRiver Media Center 21, Apple Music, Tidal
Speakers -- GoldenEar Technology Triton Five, MartinLogan Motion 20
Integrated amplifier -- Hegel Music Systems Röst
Speaker cables -- Nordost Purple Flare
Analog interconnects -- Nordost Purple Flare (RCA)
Hegel Music Systems H190 DAC-Integrated Amplifier
Price: $4000 USD.
Warranty: Three years parts and labor.
Hegel Music Systems AS
PO Box 2, Torshov
NO-0412 Oslo
Norway
Phone: +47 22-60-56-60
Fax: +47 22-69-91-56
E-mail: This email address is being protected from spambots. You need JavaScript enabled to view it.
Website: www.hegel.com