As I was taking a second pass through my rough draft of the intro for this review, it occurred to me that I was effectively aping the theme song for Cheers. It seems to me that the hardest part of making your way in today's world of connected, streaming, networked, Bluetoothed, AirPlayed, Chromecasted audio—especially for a traditional hi-fi company—is figuring out how to spin what makes your thing different from any number of other things that do the same thing, not to mention how to compete with the Sonoses, BluOSes, and HEOSes of the world.
So, how is Rotel going about it with the new S14 Integrated Network Streamer ($2499.99, all prices in USD)? By playing a slightly different game. The S14 is a streaming integrated amp that relies on a combination of established audio protocols (ones that practically all smartphones and computers already support) and the sort of audio engineering for which Rotel is renowned. It has AirPlay 2. It has Chromecast. It has Bluetooth. It's Roon Ready, supports Qobuz, and features Spotify Connect and Tidal Connect.
In other words, it does all the sorts of things a modern, connected integrated amplifier with built-in streaming ought to do, without reinventing the wheel in terms of app interfaces. But its audio architecture is unapologetically old-school. It features a custom-designed toroidal transformer feeding class-AB amps that provide a hefty 80Wpc of output into 8-ohm loads, and nearly double that—150Wpc—into 4 ohms.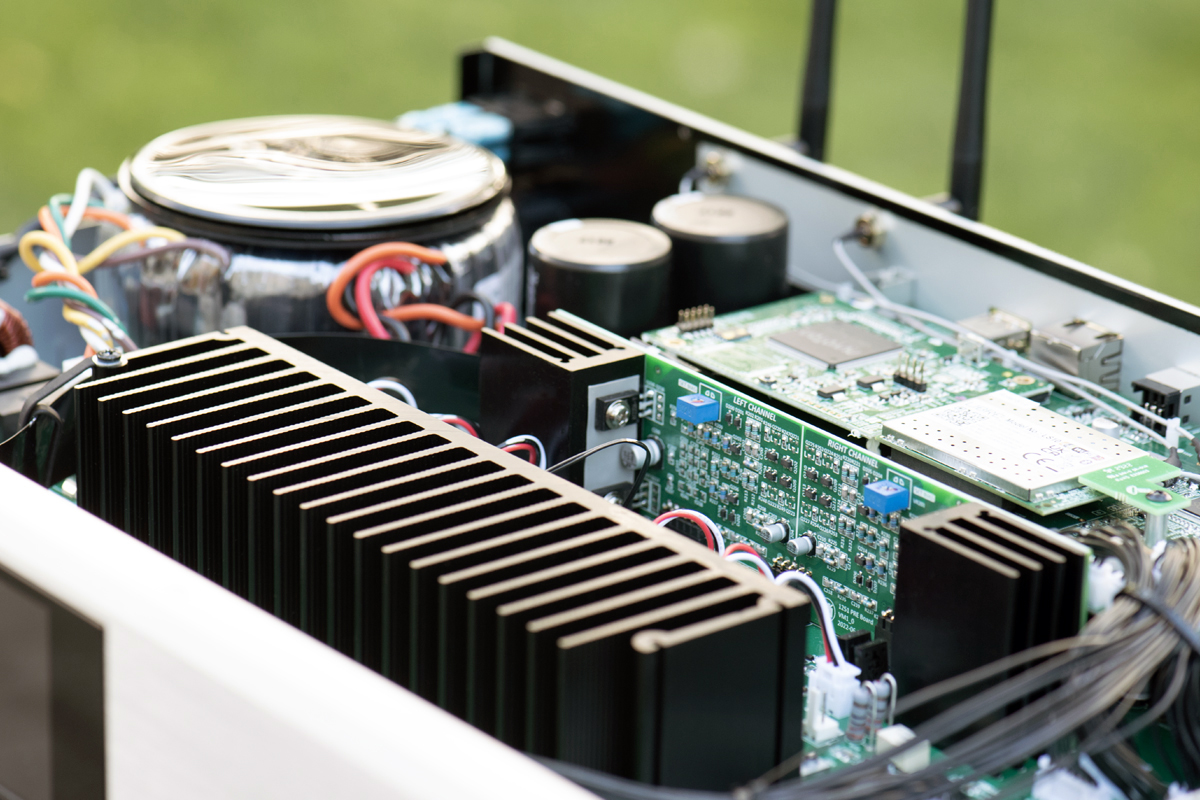 While I don't have any particular preference for class-AB topologies over class D, I do find it heartening that Rotel has packed the S14 with this much oomph. Far too often, all-in-one "just add speakers" amplifiers in this price range are claimed to have ample peak wattage, but can't back it up with enough current to drive challenging loads. That shouldn't be a problem with the S14.
Inside and out
It's also worth noting that Rotel couldn't entirely abandon its roots, as the integrated amp/streamer also makes some provisions for legacy source components. There are coaxial (RCA) and optical (TosLink) digital inputs, and although the included remote control makes it seem like the digital inputs are shared, they're actually independent. You simply use the OPT/COAX button on the remote or the COAX/OPT button on the front panel to toggle between them. There's also a stereo line-level RCA input, a USB Type-B PC connection, and a USB Type-A port that supports flash drives up to 32GB.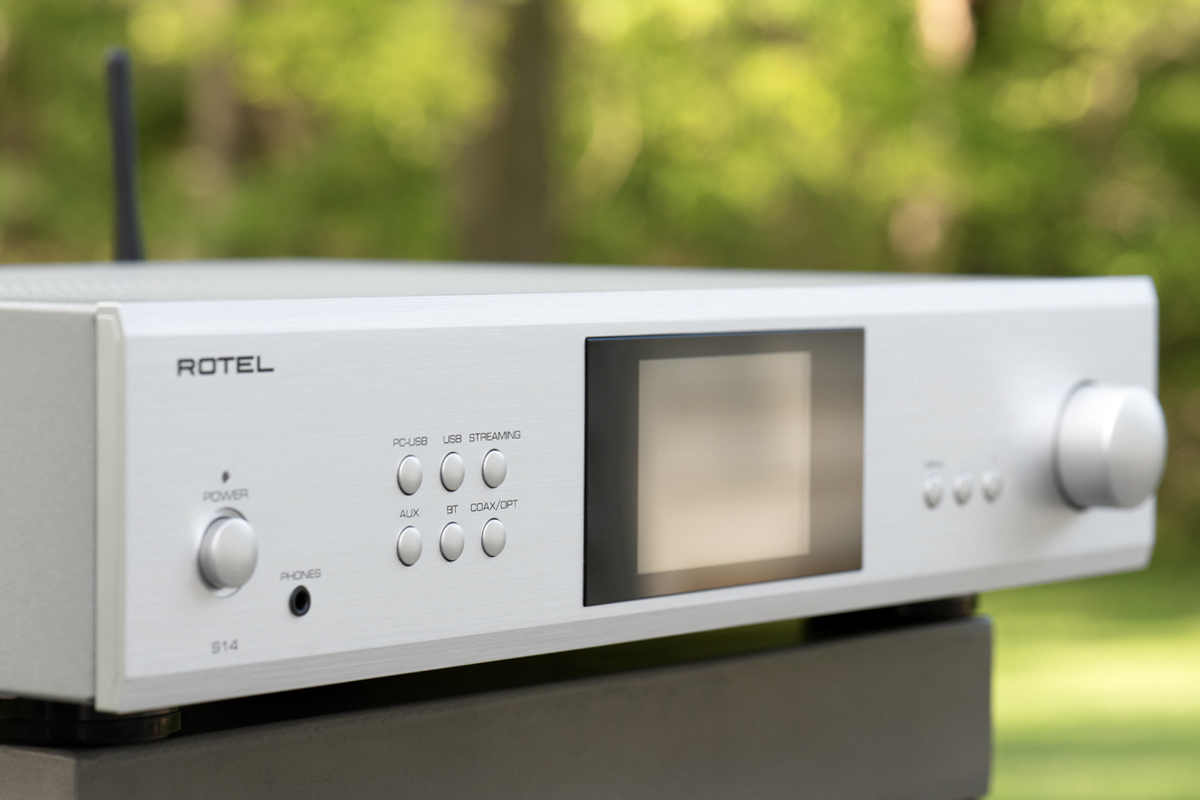 Outputs include speaker-level connections (in the form of nice five-way binding posts), stereo pre-outs (line-level RCA), and a subwoofer out. The latter is a full-range summed mono output, so if you are planning on using a sub, make sure it has a low-pass filter—which most powered subs do.
All of this is housed in a chassis that's about the size of a Blu-ray player (17″W × 3.6″H × 13.5″D), but a good bit weightier—just over 20 pounds, thanks to the power supply and heat sinks. The front panel is well laid out, with a 3.25″ color display flanked by six source-selection buttons on one side and navigation controls on the other. Rounding out the front-panel controls and connections are a nice-feeling volume-control knob, a 3.5mm headphone jack, and a standby button.
Setup and software
As I've mentioned, Rotel relies mostly on industry-standard streaming protocols for the S14, and therefore there isn't much to talk about in terms of setup—or software. Get it on your home network, add some speakers, and it's ready to rock.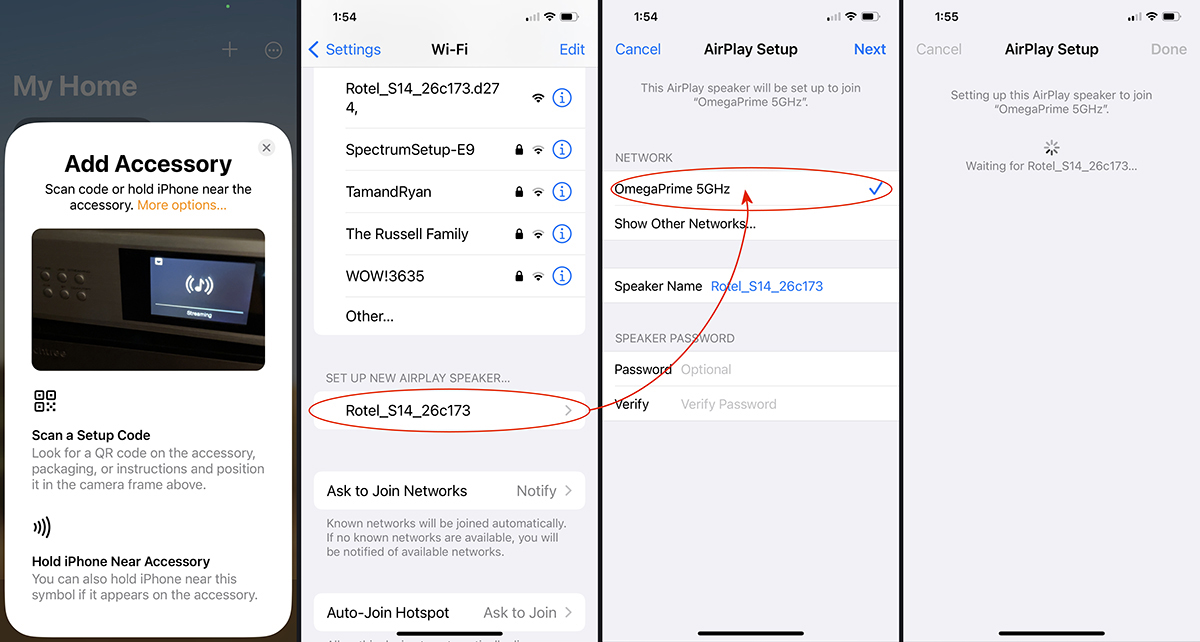 If you're on iOS, there are two ways to add the streaming integrated amp to your network: the Home app, or the standard AirPlay speaker setup on the Wi-Fi tab in Settings. I'm not an Android user, but the setup instructions for that OS look just as straightforward.
Of course, you could skip all of this by simply plugging in an ethernet cable from your router, which I did after trying the Wi-Fi setup. The only other setup required involves Bluetooth, if you have any interest in that connection.
It's worth noting that Rotel somewhat undersells the S14's Bluetooth capabilities by trumpeting its support for the aptX HD codec, but not much else. Even the back panel features an aptX HD logo. Being primarily an Apple user, I really don't have much use for any of the Qualcomm codecs, no matter how much I may wish my iPhone would support them.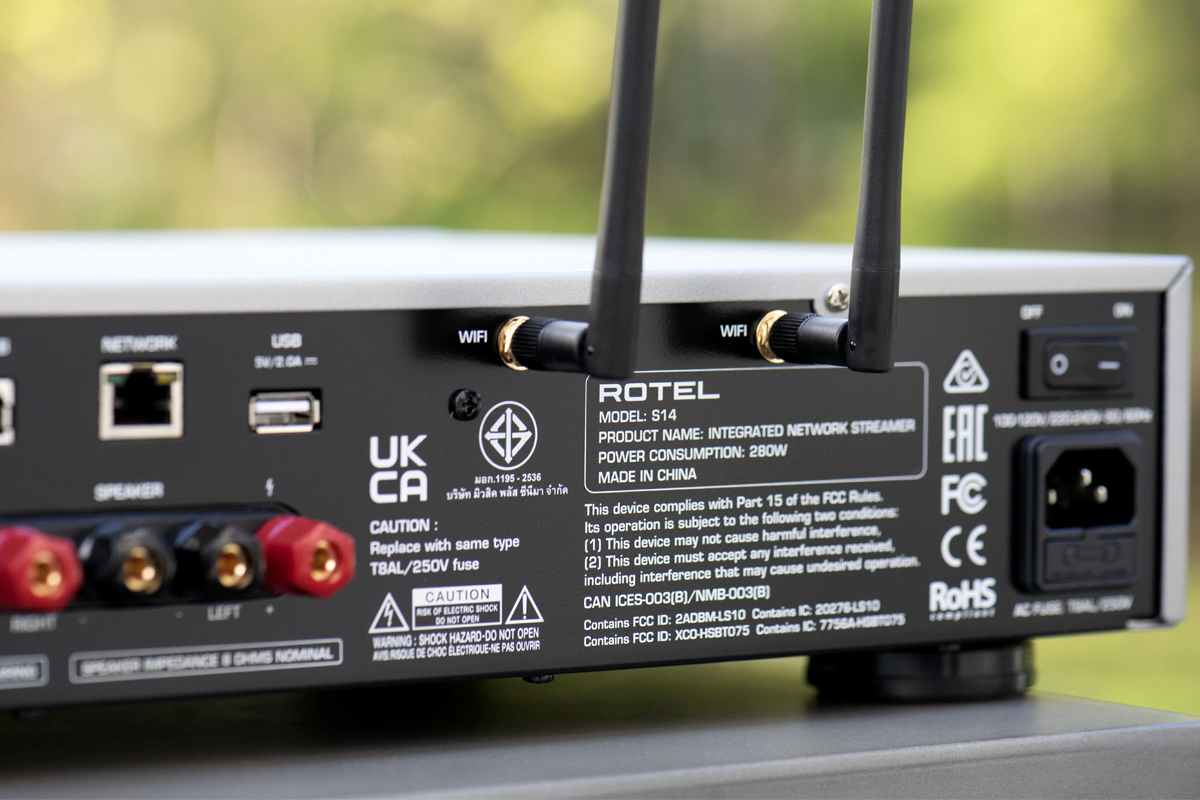 But as I discovered almost by accident, the S14 also supports AAC over Bluetooth. Once I was connected via BT and started a stream from Spotify, I noticed that the icon on the front-panel display showed me the codec being used. That's something I've always appreciated about Rotel gear that supports more than one flavor of Bluetooth. Far too few manufacturers do this, and the ones that do often indicate the codec by way of different-colored LEDs or some such.
It's worth noting here that the S14 also supports Rotel's own smartphone app, which gives you direct access to Tidal, Qobuz, internet radio, and a somewhat limited podcatcher. Frankly, the app is so rudimentary and the built-in support for other streaming protocols is so strong that I can't imagine anyone using the Rotel app much. You're far better off using Roon, Chromecast, AirPlay, Tidal Connect, Spotify Connect, or even Bluetooth.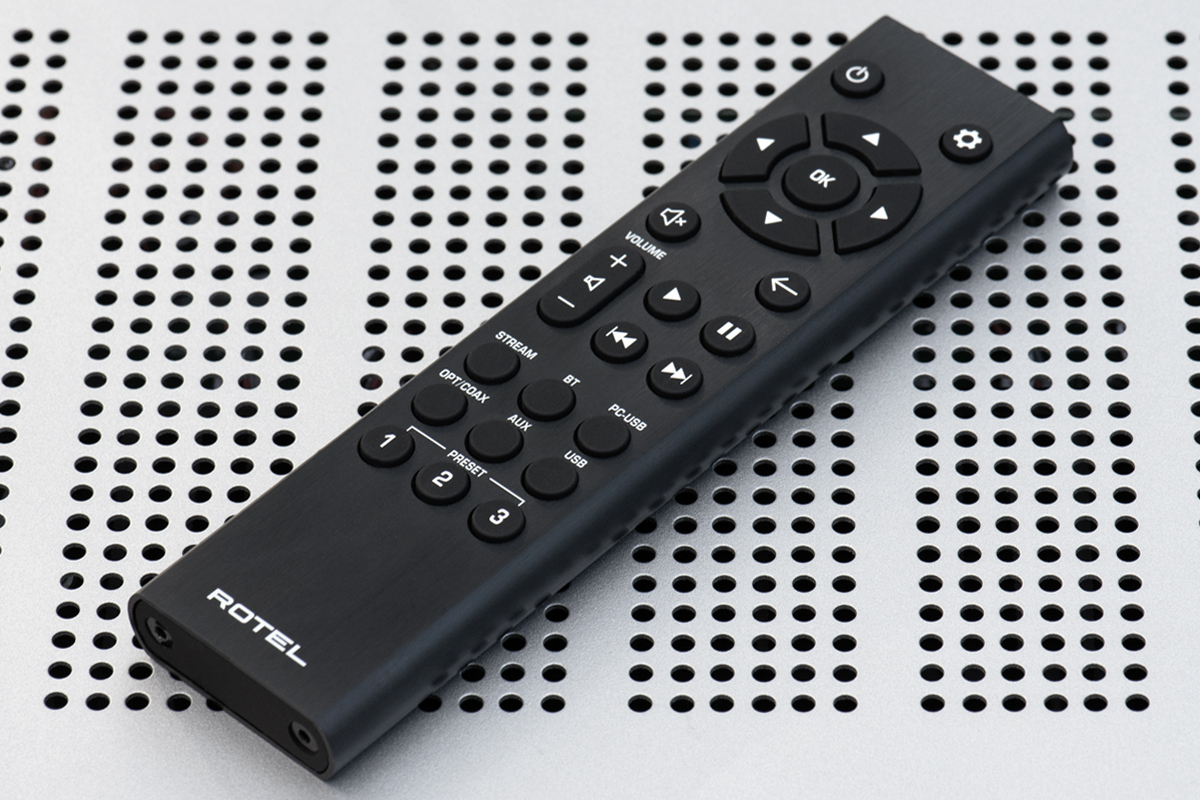 Aside from the network and BT connectivity, there are a few other configuration options accessible via the S14's handy remote control. In addition to bass, treble, and balance controls, it provides access to the S14's onscreen menus to independently adjust the illumination of the front-panel screen and the LED indicator light, set a maximum power-on volume, adjust the auto-off function (with settings from 20 minutes to 12 hours), and toggle the display timeout on or off (it's off by default). Overall, I was quite impressed by the all-metal construction of the remote, as well as its responsiveness from nearly any reasonable angle. My only beef is that putting the unit to sleep and waking it up again via the remote requires you to press and hold the standby button for two seconds or so.
To peg the S14's performance purely as an integrated amp, I connected my iFi Audio Zen One Signature DAC ($349) to a line-level input on the S14 via iFi's included RCA interconnects and plugging my Maingear Vybe media PC into the Zen DAC's USB input. I ran another USB Type-B cable (a Monoprice Monolith #33464 USB Type-A to USB Type-B, to be exact) from the Vybe PC to the PC-USB input of the S14.
Since the Rotel doesn't feature bass management of any form, I decided there really wasn't much use in testing a 2.1-channel speaker system—that would tell me more about the performance of the sub than the amp. Therefore, I used my reference Paradigm Studio 100 v5 tower speakers, connected via preterminated Elac Sensible Speaker Cables, throughout my listening.
Listening impressions
I started my critical evaluation of the Rotel S14 in a way that might seem inadvisable. I was casually streaming some music via AirPlay 2 from my iPhone when one track grabbed my attention and would not let go. The song in question was Randy Scruggs's instrumental cover of Joni Mitchell's "Both Sides Now" from the Nitty Gritty Dirt Band's Will the Circle Be Unbroken: 40th Anniversary Edition (24-bit/96kHz FLAC, Capitol Nashville / Qobuz).
You may be asking why that's a problematic place to start. The answer boils down to the fact that, as far as I'm aware, AirPlay transcodes everything to 16/44.1 ALAC unless you're playing to one of Apple's second-gen HomePod smart speakers. I probably should have stopped and switched over to a proper audiophile-approved connection—which I might have done had it occurred to me. But I was so smitten with the amp's delivery of a song that I know oh-so-well that I couldn't help but drop what I was doing and give the music my full attention.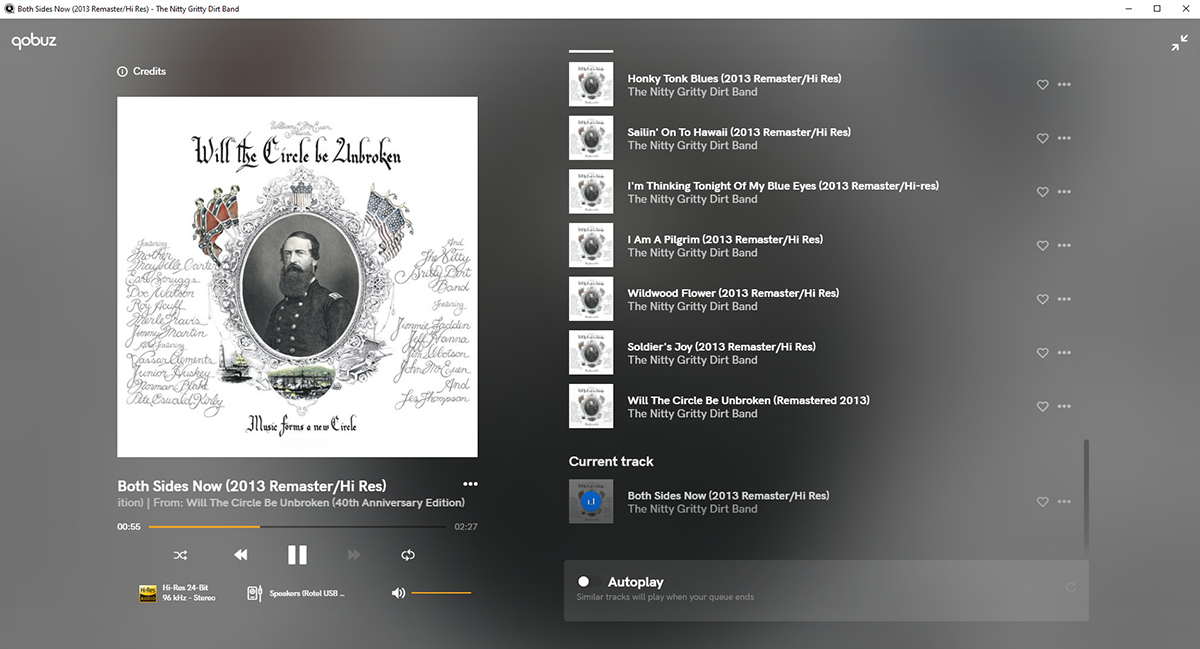 Everything I love about this intimate mix was delivered impeccably, from the textures of Scruggs's guitar strings to the little harmonic squawks as his fingers slide across them, from the stray fret noise to the full-bodied timbre of the tonewood of what I believe is a vintage Gibson Advanced Jumbo (please write in and tell me if you know otherwise).
Scruggs plays with an open tuning, so there are a lot of sympathetic resonances, but what really stands out on this recording is the high-end sparkle. That came through beautifully—yes, even transcoded and downsampled. As you might imagine given the vintage of the song (1972), there's a healthy amount of tape hiss, and a bit of wow and flutter to boot, but, frankly, they're part of the charm of the recording.
Most audiophiles would probably have switched from that transcoded stream to a connection that supported lossless high-resolution playback, but I felt compelled to go in the opposite direction and switch over to the Bluetooth input. That did mean using the remote to change inputs, since the S14 will autosense anything appropriate for the Stream input (AirPlay, Chromecast, etc.), but doesn't autosense BT or PC-USB inputs, or signals going into any of the physical connections.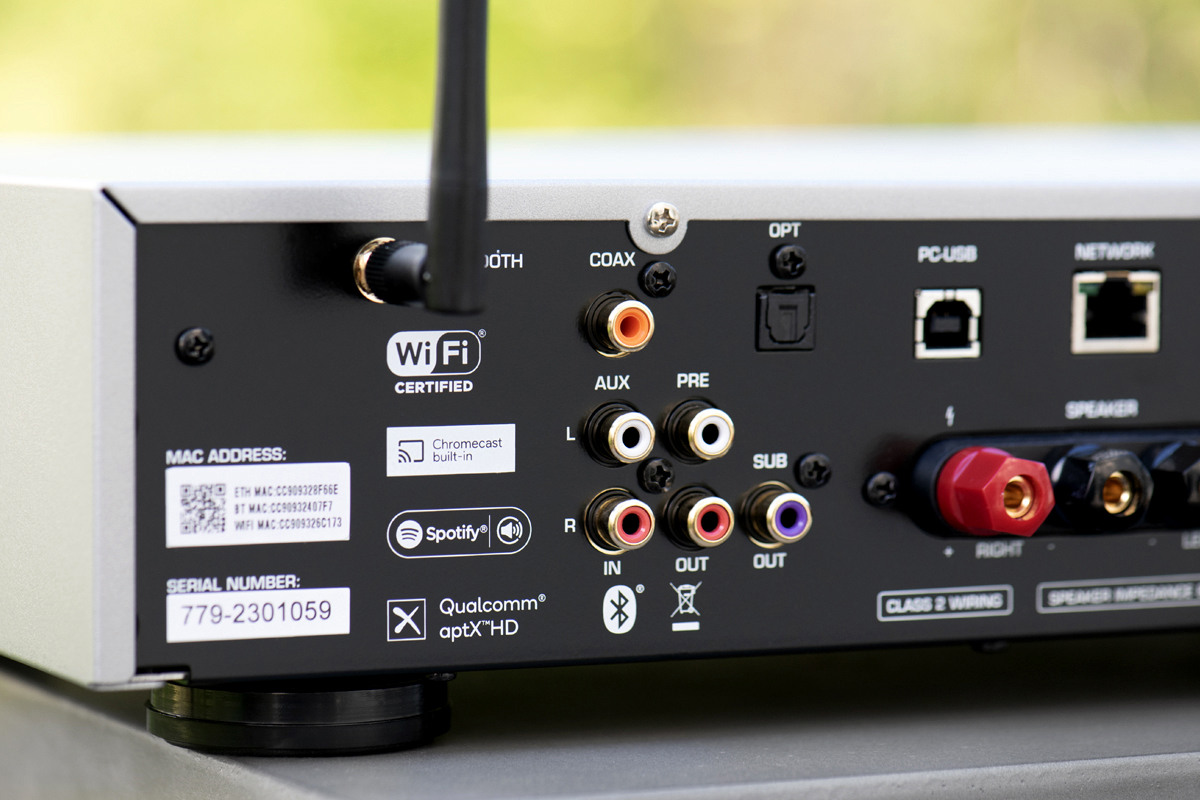 Comparing the Bluetooth to the AirPlay, I did feel that something was lost in the process, but I was shocked by how little. The nuances of the tonewood's timbre weren't conveyed quite as richly; some of the sense of air in the room was diminished; a weensy bit was lost in terms of attack. But other than that, I found the Bluetooth connection (AAC, remember, since I don't have any aptX-compatible devices) to be quite pleasing to the ear.
Switching over to the PC-USB connection, I turned my attentions to an album I've been obsessed with since its release in February this year: Hania Rani's On Giacometti (24/96 FLAC, Gondwana Records / Qobuz). The track "Struggle" is one I return to again and again, and I think it's because I find the interplay between Rani's intricate piano-playing and the deep, resonant cello of Dobrawa Czocher so fascinating.
Excellent transient response is a must for Rani's piano to be rendered effectively, as so much of the character of her playing comes from the fact that she uses the whole piano as her instrument, not merely the keys and the strings. The hammers and dampers are her percussion here, lending the entire recording a sort of clicky-clacky quality that feels tactile, palpable, organic, perfectly imperfect. The S14 also did a wonderful job with the decay of each note, and especially the lush reverb that ties everything together.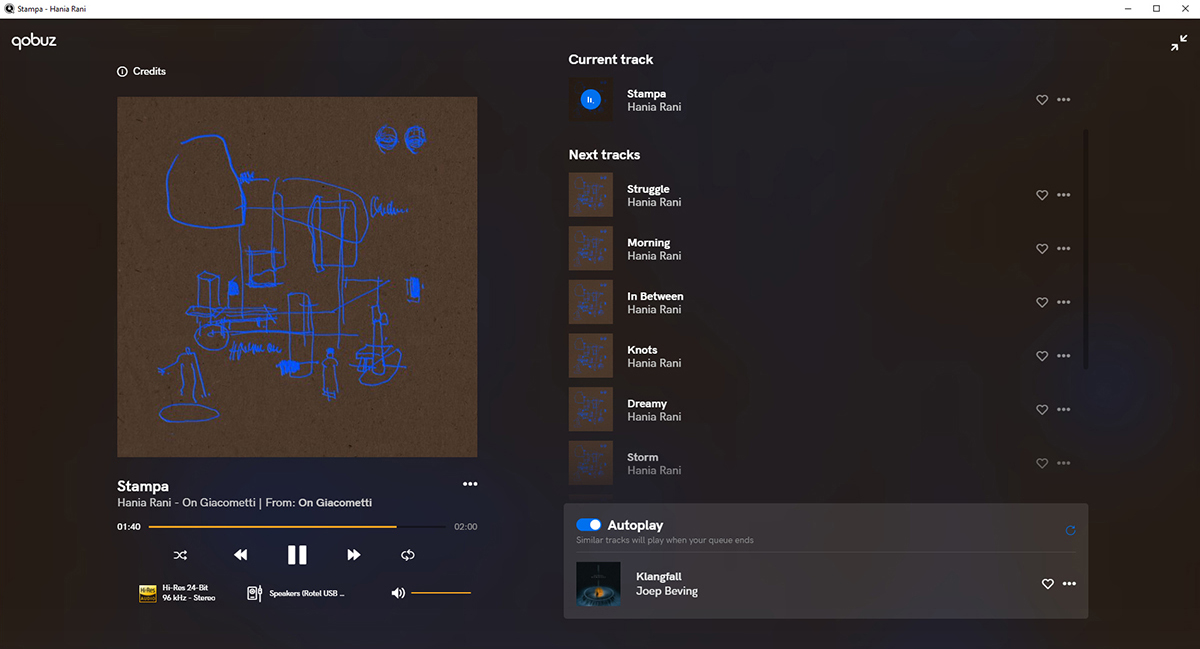 Czocher, on the other hand, spends a lot of time slowly bowing the C string of her cello, resulting in a strong, swelling bottom end that spends a lot of time hanging around in the territory where my big Paradigm towers have a couple of sizable impedance dips. Connect those speakers to an amp that can't provide enough current and the cello's sound can thin out, leaving the overall mix a bit unbalanced, a little top heavy. But via the S14, the overall tonal balance was spot on. The Rotel also rendered a soundstage that I wanted to crawl into and wallow around in.
Comparisons
The two streaming integrated amps I've auditioned recently that are on the most even footing with the Rotel S14 have unfortunately been boxed up and returned, so I couldn't do direct listening comparisons. But my experiences with them are fresh enough that I still think I can weigh their relative merits.
Selling for 99 cents less than the S14 at $2499, the Marantz Model 40n is one of the best-built streaming integrated amplifiers I've ever encountered. It too is a class-AB design, with a little less specified power—70Wpc into 8 ohms. But that specification doesn't tell the whole story. While the Rotel S14 delivers 80Wpc into 8 ohms, it can muster enough current to deliver 150Wpc into 4 ohms, whereas the Marantz can only cough up 100Wpc into the same load. Mind you, that's more than sufficient for most speakers in most rooms, but if you have particularly thirsty transducers, it's something to be aware of.
On the other hand, the Model 40n features robust bass management, with your choice of a 40, 60, 80, 100, or 120Hz crossover between the sub and speakers. It also has an HDMI ARC input and supports the HEOS multiroom streaming platform.
Then there was the NAD C 399 with the optional MDC2 BluOS-D module, the price of which has recently crept up to $2599. In addition to supporting BluOS, which I think is simply the best multiroom network streaming ecosystem around right now, the C 399 BluOS-D also has an HDMI eARC input, a lot more analog connectivity, dual subwoofer outputs, advanced bass management, and Dirac Live room correction. Its Hypex Ncore class-D amp modules are capable of delivering over 180Wpc continuous power into 8 or 4 ohms. Dirac Live room correction gives the C 399 BluOS-D a serious performance edge, although the lack of a USB Type-B input might be an eyebrow-raiser for some users.
If I were shopping for a "just add speakers" system for myself, picking between the Marantz and the NAD would be tough. If I were doing the same shopping for my dad, though, there's no question I'd opt for anything other than the Rotel S14. Its ridiculously straightforward setup and streamlined operation make it a no-brainer for those who simply want to stream straight from a smartphone and not fuss with yet another app.
Conclusion
As I said in the intro, I can only imagine how difficult it is for traditional hi-fi companies to find their space in an increasingly connected audio marketplace, but I think Rotel has done a good job with the S14. Unlike offerings from many of its competitors, the thing practically sets itself up, and its power supply is a step up from what you'd expect at this price point.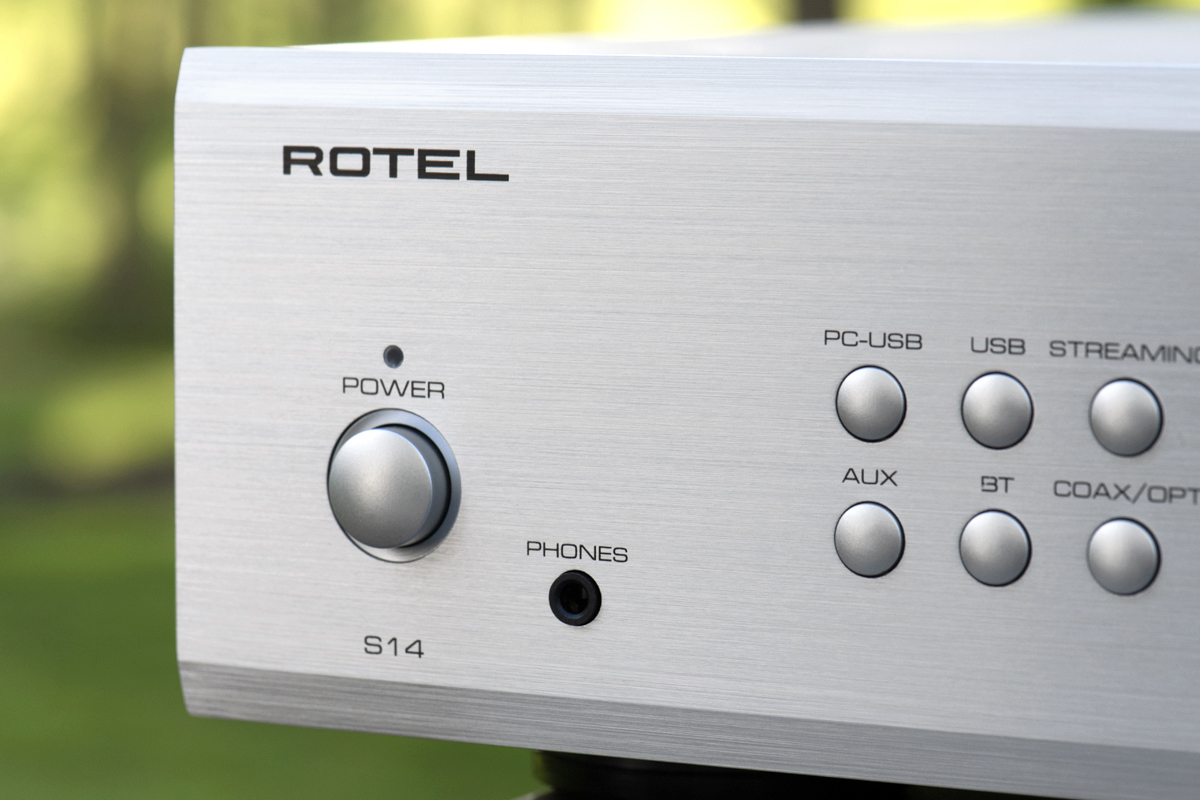 It doesn't have a built-in multiroom streaming platform like HEOS or BluOS and the like—although you can combine it with other AirPlay 2 or Chromecast devices for multiroom audio. And it doesn't have bass-management capabilities. But if you're looking for an easy-to-use streaming integrated amp that can drive just about any-damned-thing in terms of speakers, and especially if your primary sources are either Roon or the apps on your smartphone or tablet, the S14 makes a lot of the right noises.
. . .. Dennis Burger
This email address is being protected from spambots. You need JavaScript enabled to view it.
Associated Equipment
Speakers: Paradigm Studio 100 v5.
Speaker-level connections: Elac Sensible Speaker Cables.
Interconnects: Monoprice Monolith #33464 USB Type-A to USB Type-B cables.
Sources: Maingear Vybe PC; iPhone 12 Pro Max; iFi Audio Zen One Signature DAC.
Power protection: SurgeX XR115 Surge Eliminator/Power Conditioner.
Rotel S14 Streaming Integrated Amplifier
Price: $2499.99.
Warranty: Five years, parts and labor.
Rotel America
6655 Wedgwood Road North, Suite 115
Maple Grove, Minnesota 55311
Phone: (510) 843-4500
Website: rotel.com