When he visited my home last summer, SoundStage! founder and publisher Doug Schneider asked what I thought was a strange question. Which am I into more, music or sound? Am I first and foremost an audiophile or a music lover?
"I can't separate the two," I answered. "Music is a sensory experience. Anything that improves the sound improves that experience."
But I understand what Doug was getting at. When I sit down between my two speakers, am I more interested in the music I'm hearing, or how it sounds?
This duality is summarized by iFi's new Neo iDSD ($699, all prices USD) and their Pro iDSD streaming DAC-preamp-headphone amp ($2499). (I reviewed the latter in April 2020.) The Pro iDSD makes possible all kinds of adjustments—you can tailor its output to the rest of your system, and to the music you're playing. It has solid-state and tubed output stages, and the tube stage itself has two operating modes. A DSD Remastering option lets you resample audio to DSD512 or 1024, and you can apply your choice of three oversampling filters, or none.
None of these options is available on the Neo iDSD. You just cue up the music you want and listen to it. The Neo iDSD is the minimal complement to the maximal Pro iDSD.
There are also more basic differences between the two. The biggest is network streaming: the Pro iDSD has a built-in streamer, the Neo iDSD doesn't. You have to connect the latter to a digital source component, such as a computer, streamer, or disc player; or stream from a mobile device via Bluetooth.
Inside and out
Like the Pro iDSD, the Neo iDSD has a bright aluminum case with a slightly granulated finish. It can be laid on its side, using four supplied adhesive pads that attach to what is then the bottom panel—or it can be stood on end, using a supplied stand that grips the lower portions of what are then the side panels. In its horizontal orientation—which I assume for this review's descriptions—the Neo iDSD measures 8.4″W x 1.6″H x 5.7″D; either way, it weighs 2.14 pounds.
From left to right on the front panel are: an OLED screen that displays input, volume level, and resolution; a large Volume/Mute knob that can also be used to dim the display; a small button for cycling through sources; an on/off button; and two headphone jacks—4.4mm Pentaconn balanced and 1/4″ unbalanced. Like a smartphone's, the display automatically flips to match its orientation to the Neo iDSD's. The volume knob operates in increments of 1dB, and its action has a nice, silky feel. Overall, the fit and finish are better than I'd expect for $699.
On the left side of the rear panel is a pair of balanced (XLR) preamplifier outputs, and between them a pair of unbalanced (RCA) pre-outs. Users can set the Neo iDSD to fixed-level operation, for connection to a preamp or integrated amp, or to variable-level operation, for connection to a power amp or a pair of powered or active loudspeakers. To the right of these outputs are the three digital inputs—coaxial and optical S/PDIF, and USB 3.0 Type-B—followed by an input for the 5V DC power supply and a connector for the Bluetooth antenna, both of which are included.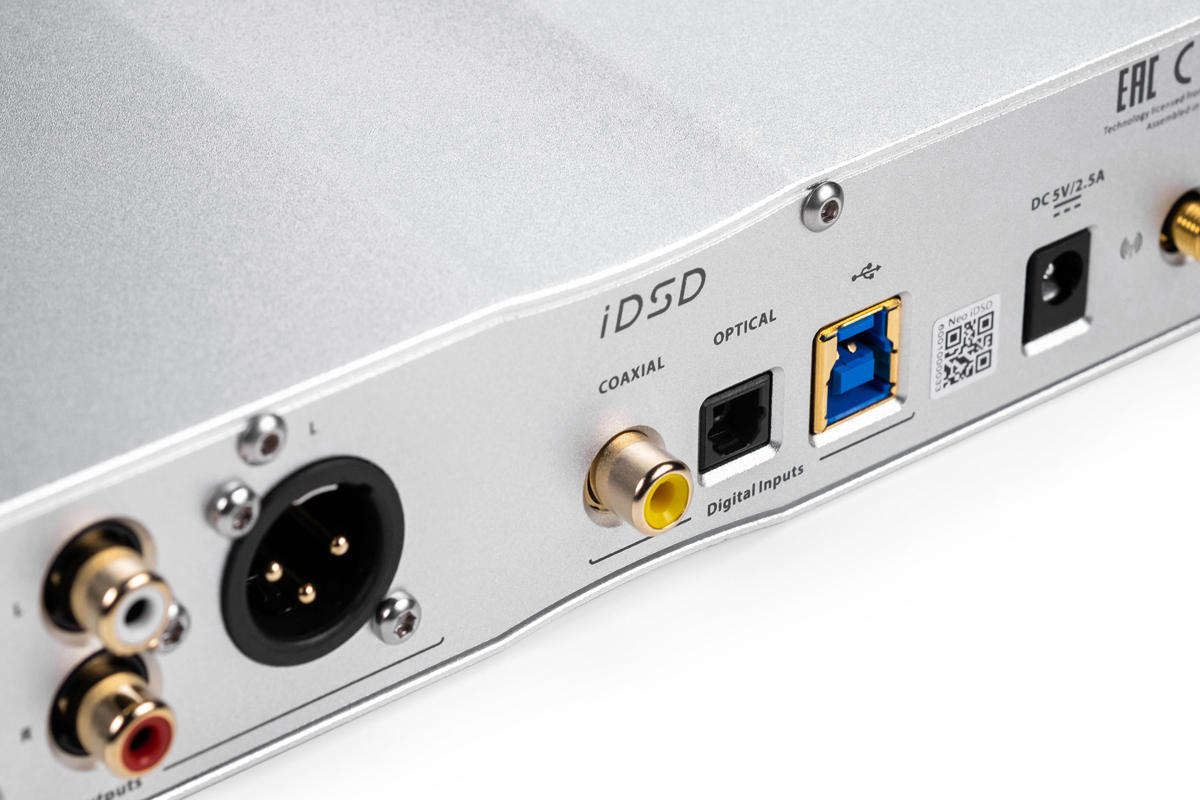 The Neo iDSD supports just about every form of Bluetooth under the sun, including the high-resolution aptX-HD and LDAC codecs. LDAC can transmit 32-bit/96kHz digital audio, while aptX-HD supports audio up to 24/48; but both employ compression, so their sound quality is not as good as with a wired connection. iFi says the Neo iDSD's Bluetooth circuitry can be updated to support future codecs.
Via the Neo iDSD's optical and digital inputs, the maximum resolution is 24/192, while the USB input has maximum resolutions of 32/768 PCM and DSD512. The Neo iDSD also offers full hardware decoding of MQA streams of up to 24/384 that are received through its S/PDIF and USB inputs.
Digital-to-analog conversion is handled by Burr-Brown's four-channel True Native DAC chipset, whose separate pathways for PCM and DSD ensure that both formats remain bit-perfect until they're converted to analog. The Neo iDSD employs the Global Master Timing (GMT) jitter-reduction technology developed by iFi's parent company, Abbingdon Music Research, which, iFi claims, "solves jitter once and for all."
While the Pro iDSD lets users choose among three different digital filters, including the Gibbs Transient Optimized (GTO) filter developed by iFi, the Neo iDSD uses GTO as its standard and only filter. The GTO filter is very short (32 taps), with no pre-ringing. Post-ringing is very short in duration—0.7msec, or brief enough to be masked by the human hearing mechanism, per iFi's technical note; the GTO's post-ringing "cannot be heard," they say. In my review of the Pro iDSD, I experimented with all of its digital filters, and the GTO was my favorite.
The Neo iDSD is a fully balanced dual-mono design with analog volume control. It employs premium parts, including capacitors from TDK and Murata claimed to minimize noise and distortion. Its specified total harmonic distortion plus noise (THD+N) is 0.0015%, and its signal/noise ratio is 112dB through its balanced or unbalanced outputs.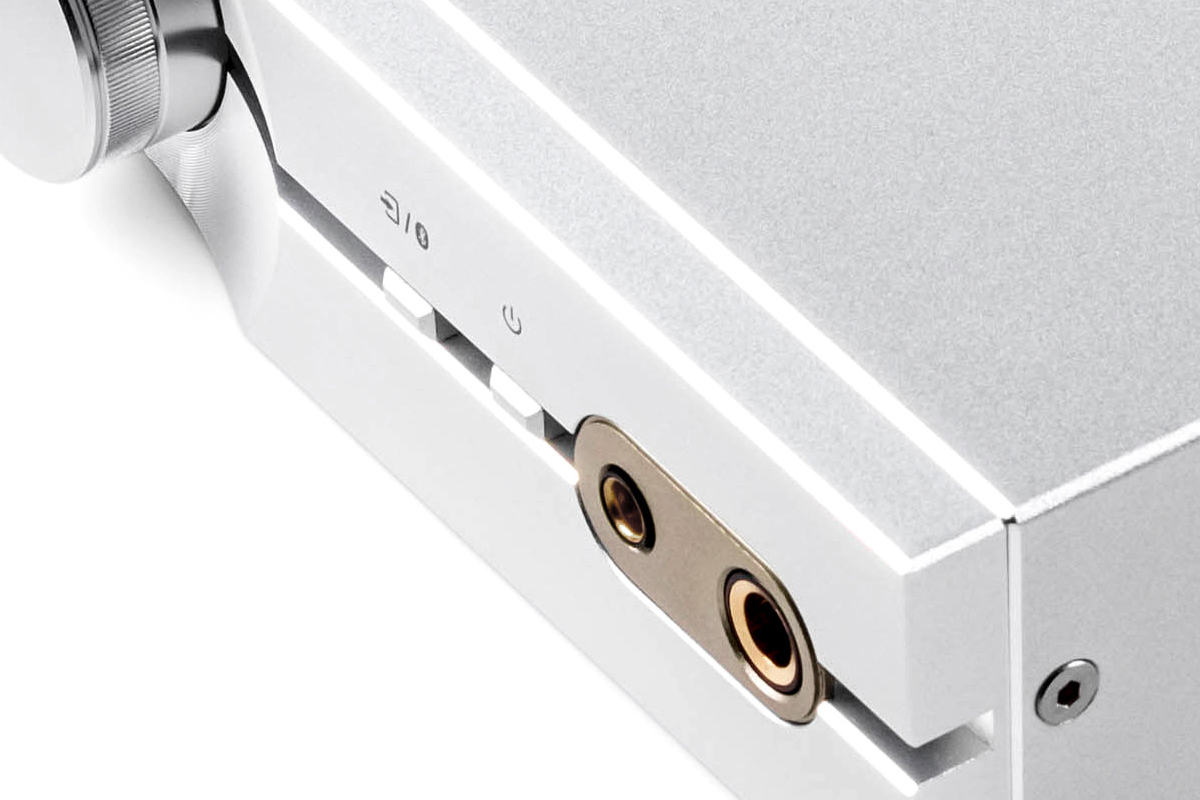 The specified output of the Neo iDSD's headphone amplifier is 1040mW at 32 ohms and 68.6mW at 600 ohms through the balanced output, and 295mW at 32 ohms and 17.6mW at 600 ohms through the unbalanced output.
The Neo iDSD includes a credit-card-sized remote control with membrane keys for cycling through inputs, raising and lowering volume, muting output, and adjusting display brightness. Also included is an admirably clear and concise user manual with all of the information most users will need.
Setup
For my first round of listening, I connected the Neo iDSD to the balanced inputs of my Elac Navis ARF-51 active floorstanding loudspeakers ($4599.96/pair) using a 2m pair of Argentum Acoustics Mythos interconnects (XLR), and to the speakers' unbalanced inputs using AudioQuest MacKenzie interconnects (RCA). The speakers were in their usual positions: on either side of the faux fireplace in our living room, 16″ from the wall behind them, 7′ apart, and 7′ from the sweet spot on the end cushion of our sectional sofa.
I used two sources: my early 2015 MacBook Pro computer running Roon 1.7 and Audirvana 3.20.0, connected to the Neo iDSD with a 2m AudioQuest Cinnamon USB link; and my LG G7 ThinQ smartphone running the Qobuz mobile app, which I paired with the Neo iDSD via Bluetooth.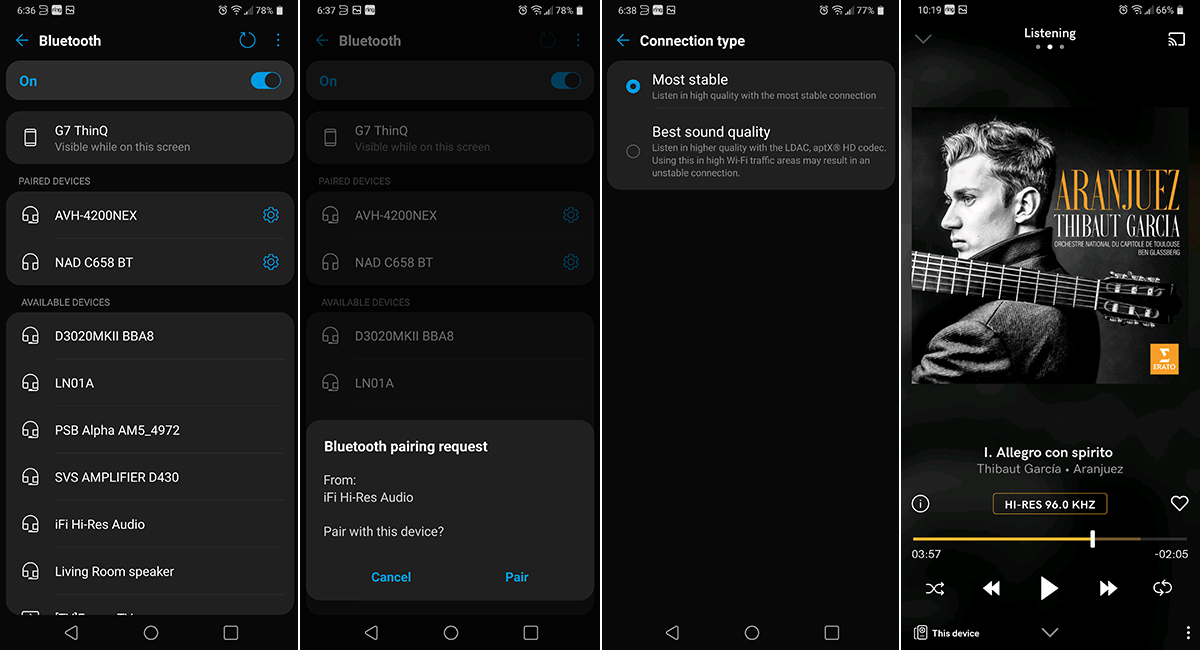 Bluetooth pairing was dead easy. When I selected Bluetooth as the source, a female voice with a British accent announced, "Bluetooth power on." When I opened the Bluetooth settings menu on my LG phone, I saw "iFi Hi Res Audio" as one of the Available Devices. I selected it and confirmed the pairing request. "Pairing," the voice said; then "Your device is connected, AAC," referring to the Bluetooth codec in use. It was time to play music.
Listening through speakers
Even through a compressed wireless connection, the Neo iDSD sounded very good with a recording of Rodrigo's Concierto de Aranjuez by guitarist Thibault Garcia and the Toulouse Capitol National Orchestra conducted by Ben Glassberg (24-bit/96kHz FLAC, Warner Classics/Qobuz). Garcia's attacks on the nylon strings of his classical guitar were crisp but not exaggerated, and the instrument had a nice woody tone. In quiet passages, orchestral textures were commendably transparent, instrumental timbres natural. In louder passages with full orchestra, however, the sound became a little harsh and congested, and orchestral string tone became steely. This is not a criticism of the Neo iDSD, but an observation about the limitations of the compressed Bluetooth codec.
Wanting to hear what difference a higher-rez codec might make, I accessed my phone's Bluetooth Connection Type menu, which offered two options: "Most stable" and "Best sound quality." When I chose the second option, the Neo iDSD's voice said, "LDAC," referring to the higher-resolution Bluetooth codec now engaged.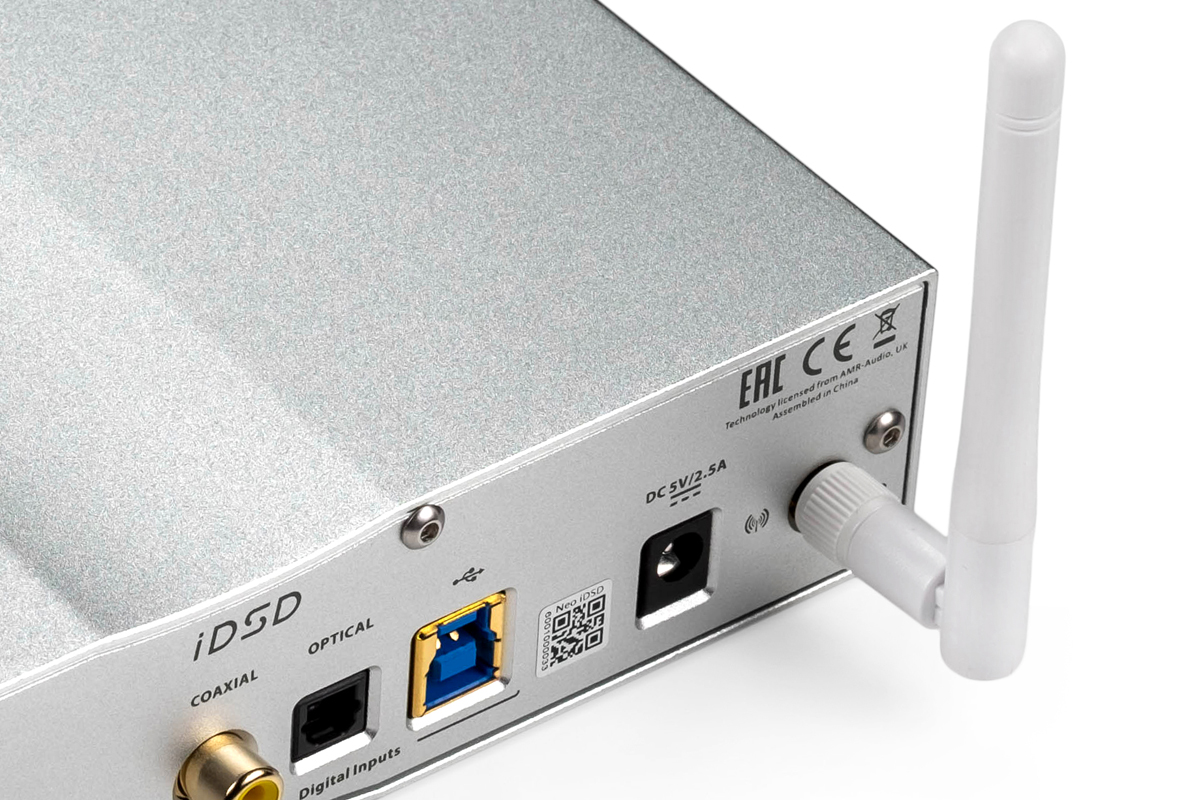 I heard improvements: a little more detail in Garcia's playing, his guitar sounded more rich and woody, and the Toulouse violins were less steely. The harshness and congestion I'd heard in massed passages was markedly reduced. Orchestral textures were more transparent, dynamics more effortless.
Playing the same album from my MacBook Pro via USB wrought even more improvements. The sound was much more spacious, and dynamics were far more exciting. Garcia's runs and chords were more clearly delineated. I was more aware of the movements of his fingers on the strings, and how his attacks segued into the warm, woody glow of the guitar's body. I had a better sense of a symphony orchestra playing in a large hall. This album sounded great with Bluetooth LDAC; with USB, it was borderline magical.
The lesson: Bluetooth is definitely usable for casual listening—a great convenience if you or a guest wants to stream songs from a smartphone. If your device supports a higher-quality codec, use it. But a hardwired connection is the way to go for serious listening, and that's what I used for the rest of mine.
I noticed something right away—the Neo iDSD was really quiet. With an ear a few inches from one of my speakers, the volume set to a moderately high level, and no music playing, I could hear very faint hiss and hum through the unbalanced connection—but this was inaudible from a foot away. The balanced connection was quieter, and became even more so when I reduced the volume setting to compensate for the higher level of balanced operation. There was no hum, and hiss was inaudible at distances greater than 6″. One other thing: Whenever I switched inputs, I heard a soft transient thump through the speakers.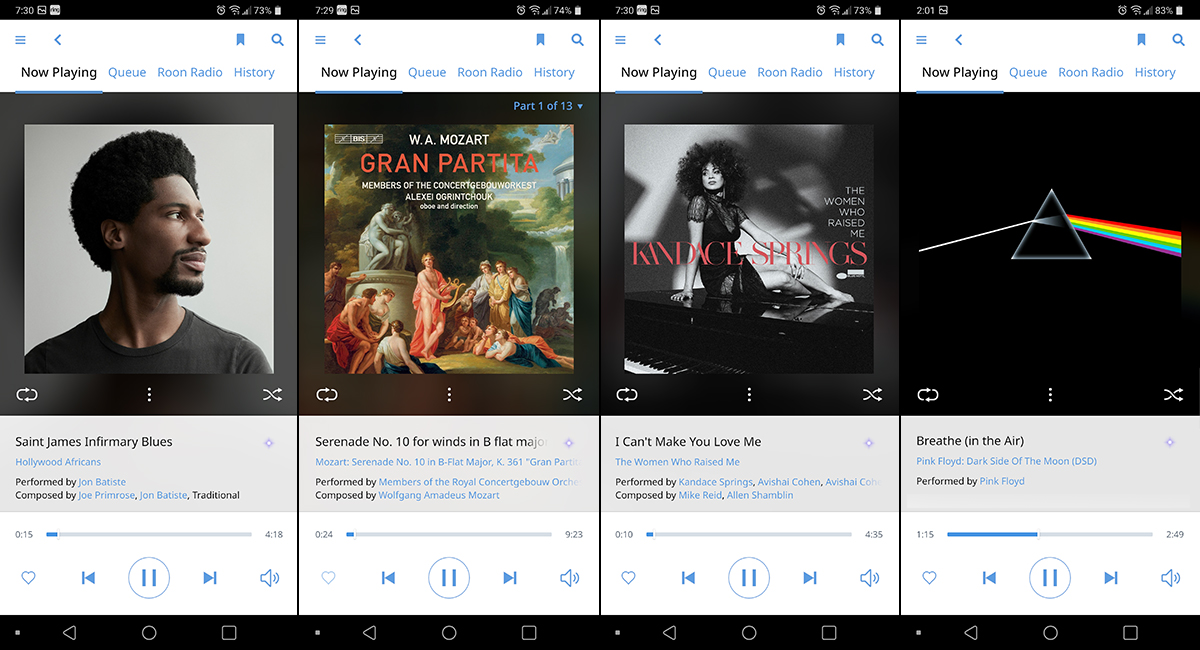 With music, the differences between unbalanced and balanced connection were extremely subtle. Through the XLRs, the Chick Corea Trio's performance of "Blue Monk," from their live album Trilogy (24/96 FLAC, Concord Jazz), was slightly more dynamic and transparent. Brian Blade's rim shots and Corea's staccato piano notes hit just a bit harder, and the soundstage was a tad more spacious. (In this comparison, I made sure to compensate for the higher level of balanced operation by increasing the volume when listening through the RCAs, and reducing it when using the XLRs.)
My takeaway: Use a balanced connection if this is available on your amp or active speakers, as I did for the rest of my listening. But don't sweat this detail too much—the differences weren't that great.
I was hugely impressed by the Neo iDSD's dynamics with "Saint James Infirmary Blues," from Jon Batiste's Hollywood Africans (24/96 FLAC, Verve/Qobuz). Batiste's staccato notes on upright piano, underpinned by Joe Saylor's bass drum beating out a funereal rhythm, jumped out of my speakers without sounding artificially juiced—they were just there. Nor was it only Batiste's piano attacks that impressed me; I also admired the way the combo of Neo iDSD and Navis speakers portrayed the instrument's harmonic richness on sustained notes. And the iFi DAC beautifully tracked Batiste's expressive vocal nuances.
The reproduction of space was wonderful, evoking the warm, reverberant acoustic of the Louisiana church in which this recording was made. The soundstage was wide and deep, with Batiste's voice locked in place at the center, his piano a little to the right. Image specificity was a bit vaguer for the wind trio of Evan Arntzen on clarinet, Jeffery Miller on trombone, and Jon Lampley on trumpet, and for the backing singers singing wordlessly and mournfully.
I was really grabbed by the Neo iDSD's muscular reproduction of a new recording of Mozart's Serenade for Winds No.10 in B-flat, K.361, "Gran Partita," performed by 13 members of the Royal Concertgebouw Orchestra led by oboist Alexei Ogrintchouk (24/96 FLAC, BIS/Qobuz). This little DAC showed off its dynamic chops in the rambunctious Molto allegro section of the first movement, naturally and effortlessly tracking the wind players' sudden swells and diminuendi. In the exquisite third movement, Adagio, I loved the clarity with which the Neo iDSD conveyed the oboe and clarinet trills. The effect was completely natural, never spotlit or etched. While imaging wasn't quite holographic, in ensemble passages, the position of each player was delineated clearly, much as I suspect I would have heard had I listened to this performance in the Kleine Zaal of the Concertgebouw, where it was recorded. The Neo iDSD presented this wonderful performance as an organic whole rather than as a collection of disparate parts, and without sounding at all congested or hemmed in.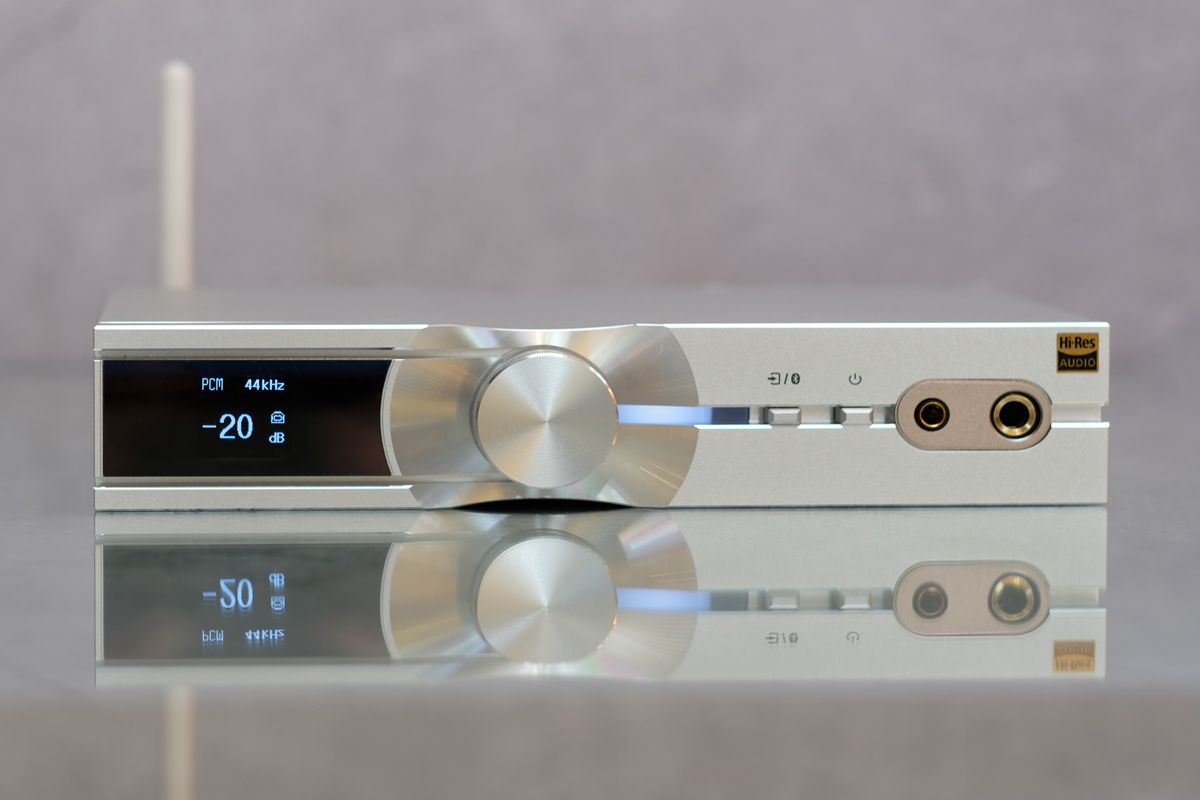 Similarly, the Neo iDSD sounded big, bold, and robust with "I Can't Make You Love Me," from Kandace Springs's The Women Who Raised Me (24/96 FLAC, Blue Note/Qobuz). The lower notes of Springs's piano had wonderful depth and solidity, as did Scott Colley's double bass. Throughout this ballad, the Neo iDSD tracked the dynamics of Springs's expressive singing beautifully, highlighting the sadness and resignation she evokes. This compact DAC also reproduced the beautiful burnished tone of Avishai Cohen's trumpet with disarming naturalness, and clearly presented details, such as the way Cohen blows into his mouthpiece, without spotlighting them. As it had with the Mozart Serenade, the Neo iDSD created a huge soundstage with convincing if not holographic imaging.
Comparisons
As I noted in my introduction, iFi's far pricier Pro iDSD offers many adjustments the Neo iDSD doesn't. How did their sounds compare?
Wanting to make my comparison as fair as possible, I used the Pro iDSD's solid-state output stage and selected its GTO digital filter—the only filter it shares with the Neo iDSD. Using a pink-noise test tone and a sound-pressure app on my iPad Mini, I matched the levels of the two DACs to within 0.5dB. As you'd expect, there was an unmistakable family resemblance between the two DACs—but the Pro iDSD was smoother and more revealing.
The soundstage of Jon Batiste's recording of "Saint James Infirmary Blues" was similarly big through both DACs, but the positions of the clarinet, trombone, trumpet, and backing singers were more specific through the Pro iDSD. As they were through the Neo iDSD, Batiste's staccato notes on upright piano and Joe Saylor's bass-drum beats were ideally hard-hitting, a testament to both components' exciting dynamics. But the sustains and decays of Batiste's piano notes sounded a little richer through the Pro iDSD, and his voice a bit more embodied. The Pro iDSD more clearly conveyed subtleties of his breathing and enunciation, and his expressive modulations of dynamics and pitch.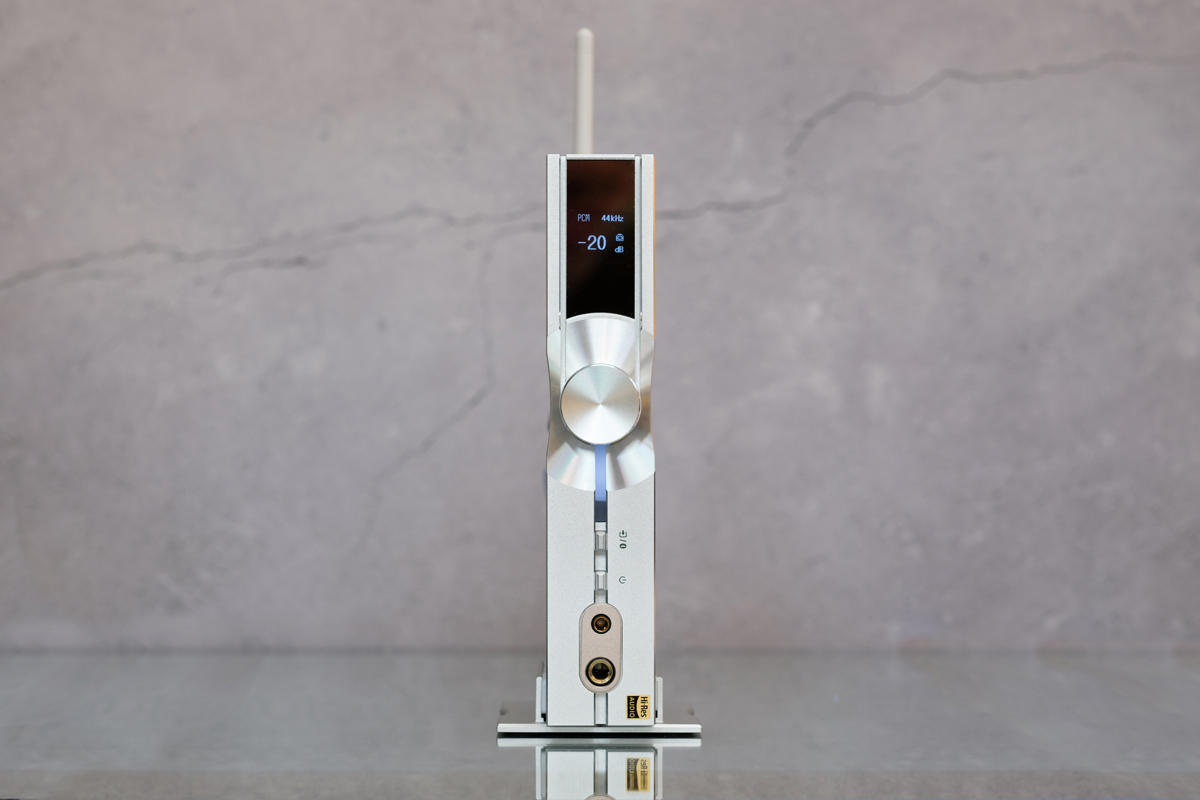 With Mozart's "Gran Partita," the Pro iDSD localized the individual musicians more clearly while maintaining a sense of organic wholeness. Macrodynamics were very impressive through both DACs—sudden swells had similar ease. But microdynamics were superior through the Pro iDSD—I was more aware of nuances in the players' phrasing and technique. The character of each instrument was more clearly audible through the Pro iDSD—the blat of the horns, the high reediness of the oboes, the warm woodiness of the clarinets. With this recording both DACs conveyed the big picture, but the Pro iDSD filled in more of the details—with the costlier DAC, I got the forest and the trees.
I also compared the Neo iDSD with my NAD Classic C 658 streaming DAC-preamp ($1649), to hear how the compact iFi DAC stacked up against a DAC-preamp from another brand. The C 658 has many features not offered on the Neo iDSD, notably a very solid network streamer based on Lenbrook's BluOS platform, a phono preamplifier, and Dirac Live room correction. For this comparison, I turned off Dirac Live and again matched levels to within 0.5dB.
With Kandace Springs's recording of "I Can't Make You Love Me," the Neo iDSD created a slightly bigger soundstage than the C 658, but through the C 658 singer and instruments had more clearly defined locations. Dynamics were a little more exciting through the iFi, which tracked Springs's expressive singing more convincingly. Avishai Cohen's trumpet had a slightly more burnished tone through the Neo iDSD, and more bite.
Listening through headphones
I used my HiFiMan Edition X V2 planar-magnetic open-back headphones. "As the Neo iDSD is a balanced design, we recommend the 4.4mm balanced output," the user manual states. The Edition X V2s have a 2.5mm plug on each earcup, and so can be used with balanced cables, as I'd hoped to do. Unfortunately, I was unable to get a suitable cable in time for this review, so I used the single-ended cable supplied with the HiFiMans.
Given the Edition X V2s' low impedance (25 ohms) and high sensitivity (103dB), the balanced connection would probably have made little difference. With the Neo iDSD's volume control set to -18dB, the sound was as loud as I'd ever want.
There was one mild operational annoyance: When headphones are plugged in to one of the Neo iDSD's jacks, the sound through the pre-outs is not muted. However, activating the mute control silences the headphone and preamp outputs. If you want to listen through headphones and not speakers, you'll have to disconnect the pre-outs, or power off your amplifier or active speakers.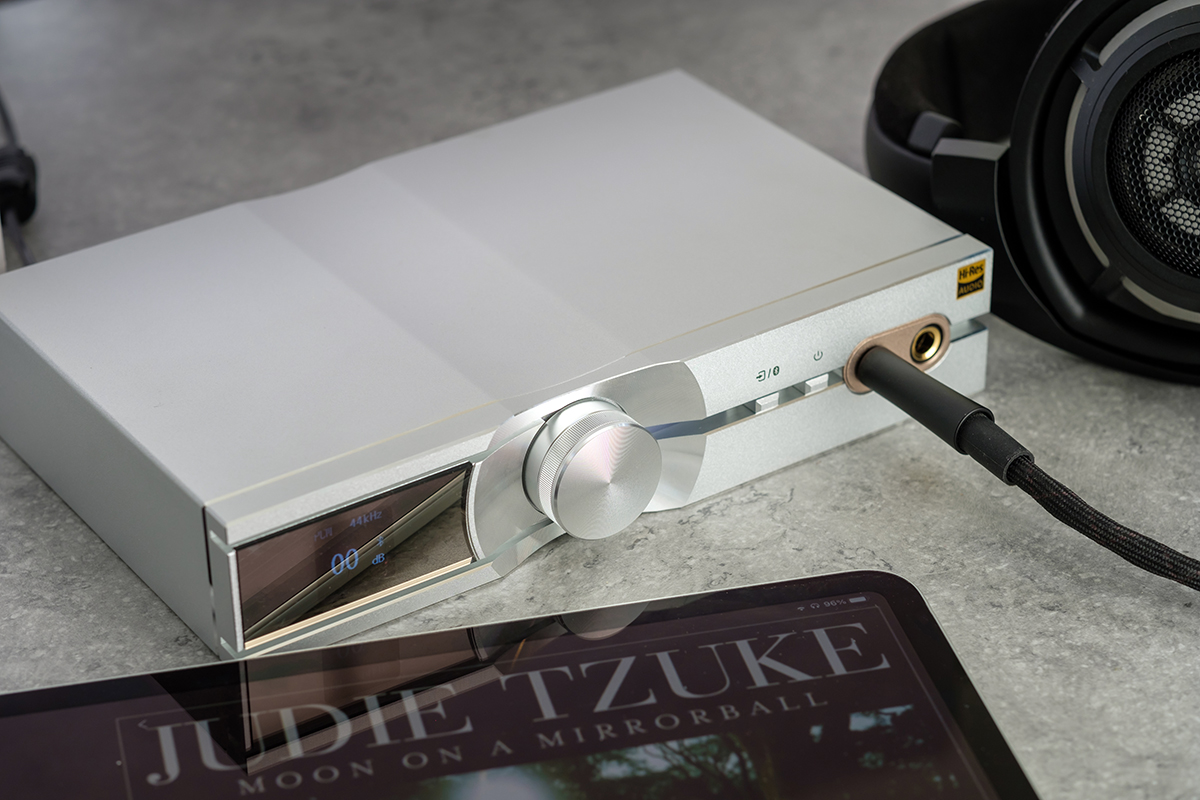 Played through my HiFiMan cans and powered by the Neo iDSD, "Breathe (In the Air)," from the 2013 remastering of Pink Floyd's The Dark Side of the Moon (DSD64 rip from SACD, EMI), sounded big and effortless. Nick Mason's drumming and Roger Waters's electric bass had impressive impact. However, the dense passages at the end of "Brain Damage" sounded a tad congested and closed-in.
Predictably, the Pro iDSD's headphone amplifier sounded better. Waters's bass and Mason's drums hit a little harder, and the dense passages in "Brain Damage" were a bit more transparent. But the differences were even smaller than when I'd listened to these two DAC-preamps through speakers.
Conclusion
iFi Audio's Neo iDSD is a slick little component. Its small size and versatile form factor mean that it can easily serve as the centerpiece of a great desktop system. And, as my experience confirmed, it's very much at home in a serious hi-fi setup.
Of course, the sound of iFi's Pro iDSD is more refined and more revealing—as it should be at a bit more than 3.5 times the price. But I wouldn't say it's more involving. My comparison of these two DACs was illuminating—I can't imagine a clearer illustration in audio of the law of diminishing returns.
This no-nonsense DAC never failed to draw me into the music I played. Time and again, I was wowed by its ballsy, dynamic sound and convincing reproduction of large spaces—a combination of qualities that belied its small size and low price.
iFi Audio's Neo iDSD gets two enthusiastic thumbs up from me. I enjoyed every moment I spent listening to it.
. . . Gordon Brockhouse
This email address is being protected from spambots. You need JavaScript enabled to view it.
Associated Equipment
Active loudspeakers: Elac Navis ARF-51
Headphones: HiFiMan Edition X V2
Streaming DAC-preamps: iFi Audio Pro iDSD, NAD Classic C 658
Interconnects: Argentum Acoustics Mythos (2m, balanced)
Sources: Apple MacBook Pro computer (early 2015) running Roon 1.7 and Audirvana Plus 3.2.20; LG G7 ThinQ smartphone
Digital link: AudioQuest Cinnamon (2m, USB)
Network: Google Wifi four-node mesh network
iFi Audio Neo iDSD DAC-Preamp-Headphone Amplifier
Price: $699 USD.
Warranty: One year parts and labor.
AMR/iFi Audio
Guildford
79 Scarisbrick New Road
Southport, Merseyside PR8 6LJ
England, UK
Phone: +44 (0)1704-543-858
Website: www.ifi-audio.com