Lumin, a brand owned by Pixel Magic Systems Ltd., in Hong Kong, is known for its line of network music players and transports. The M1, their latest product, is a slightly different beast: an elegant, all-in-one component that combines the functionality of a UPnP streamer with a class-D amplifier in a slim housing and selling for $1995 USD. To get up and running, you just connect the M1 to USB storage, or to your home network via Ethernet, download Lumin's iOS/Android control app, and off you go. It couldn't be simpler.
The M1 can handle file formats ranging from PCM and MP3 to high-resolution FLAC (including DXD) and Apple Lossless, and it supports single- and double-rate DSD (DSD64 and DSD128). Lumin's app, meanwhile, integrates Tidal HiFi (with MQA at 24-bit/48kHz resolution; support for even higher-rez "unfolding" is on the way), Qobuz, Spotify Connect, and TuneIn Internet Radio streaming. The M1 is AirPlay compatible and Roon Ready -- users of the subscription-based music-management service can easily connect with a Roon core running on a computer or NAS.
Unlike similar integrated amps that provide network streaming, the M1 has a fully digital signal path. Incoming PCM and DSD signals (the latter via the DSD over PCM format, aka DoP) are converted to a pulse-width modulated (PWM) signal by a Texas Instruments chipset that additionally converts them to a sampling rate of 176.4kHz. From there, the M1's class-D amplifier, also from TI, takes over, to deliver 60Wpc into 8 ohms or 100Wpc into 4 ohms, per Lumin's specs.
The M1's brushed-aluminum case and faceplate give it a striking, hi-tech look. As you'd expect from a component designed for streaming, amplifying, and little else, the stark front panel provides only a volume-control knob and On/Standby button, both made of aluminum, and an LED screen recessed in a beveled frame. The Lumin app can be used to adjust the brightness of the blue-glowing screen, which displays artist, title, and format information for the track currently playing, along with total and elapsed time.

The M1's rear panel is similarly barren. Along with the single LAN (Ethernet) and two USB ports, there are two pairs of high-quality speaker binding posts, an IEC power-cord inlet, the main Power On/Off switch, a ground connector, and a pinhole reset button -- the last something I never had to use during my evaluation. On one hand, the lack of any other connectivity options on the M1 struck me as radical and futuristic. On the other, if you mainly stream from Tidal or Qobuz and play files from a computer, USB drive, or NAS, do you really need anything else?
Setup and use
After connecting the M1 to my home network using a powerline Ethernet adapter, I downloaded Lumin's iOS control app to my iPad and iPhone. At first I used JRiver Media Center 21, running on my Mac as a UPnP server. While that configuration worked -- the app immediately recognized both the M1 and JRMC on the network -- some metadata were scrambled, resulting in amusing mashups of artist and cover art: Holst's The Planets and Daft Punk; the Ventures with the mutant face of Aphex Twin. All app functions worked fine, though the crazed juxtapositions of cover art and text were disorienting.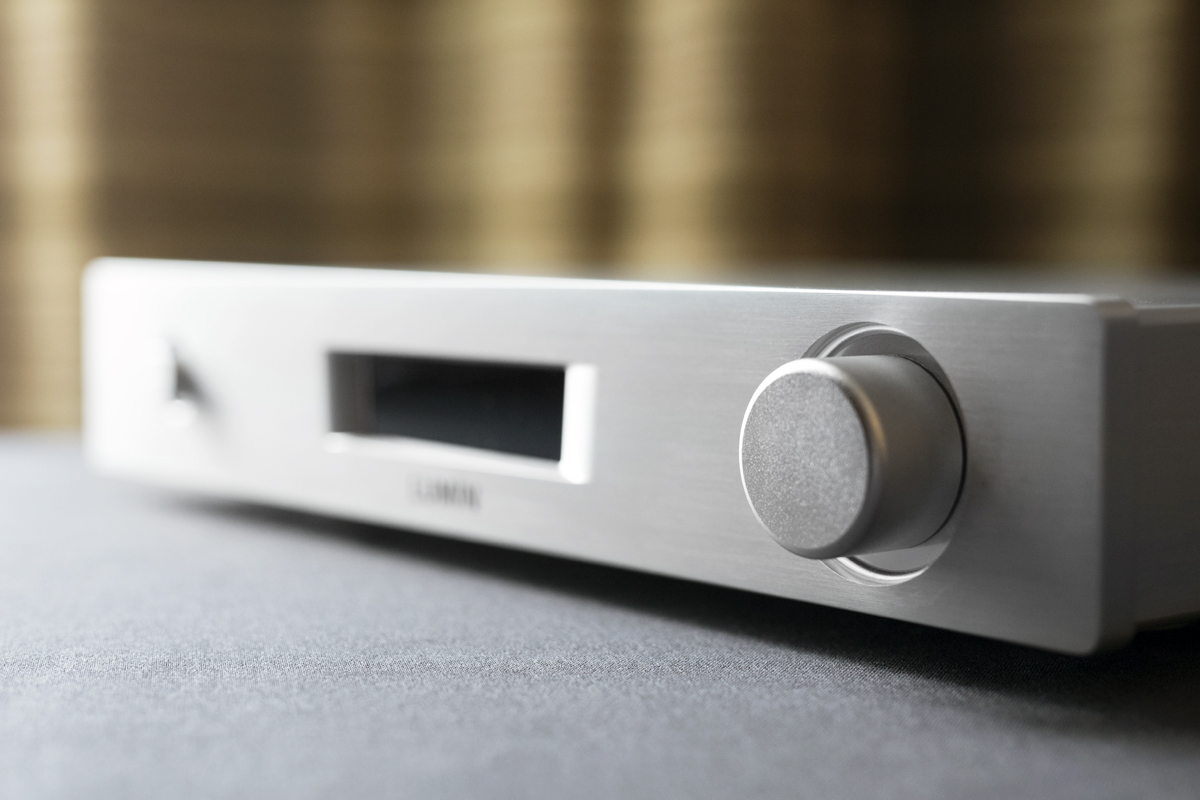 Lumin recommends using MinimServer as a UPnP server, and when I switched over to that, all metadata mashups disappeared. The Lumin app has a simple, clear layout: tabs at the top of the screen let you switch among views of Song, Album, Artist, Genre, and Year, while a second set of tabs enables album-art or text-based layouts in the main display window. A secondary Playlist window on the screen's left side keeps a running tab of your selections, and you can modify how tracks are added -- Play Now, Play Next, Play Last, etc. -- by pressing and holding down on a particular track. Playlists can mix tracks from a library stored on a computer or NAS with selections from Tidal and Qobuz, and you can switch between light and dark themes to modify the app's appearance.
The only real problem I had with Lumin's app was that it wouldn't display artwork for about half the albums in my stored library -- a problem I don't have when using JRMC as a UPnP server. But midway through my listening for this review, Lumin released a software update that made the M1 Roon ready. Naturally, I jumped at the opportunity to use Roon as my server and control app. Problem solved.
Sound
Lumin recommends that the M1 be broken in for 500 hours, which meant three weeks of streaming nonstop, 24/7, before I did any critical listening. For my evaluation, I mostly paired the M1 with GoldenEar Technology's Triton Five speakers; I also briefly listened with a set of MartinLogan ElectroMotion EM-ESL X towers, to get a sense of how the M1 would handle more challenging speaker loads.
My immediate impression of the M1's sound was one of precision, with a clear definition of space and crisp rendering of transients. In "Riders on the Storm," from the Doors' L.A. Woman (24-bit/48kHz FLAC, Warner Music/Tidal), these qualities were demonstrated by the silky guitar tone and somewhat grittier-sounding keyboards -- things in line with what I expect to hear from this recording, which I've listened to countless times on formats ranging from vinyl to hi-rez FLAC. Drums had good dynamic punch as John Densmore tracked the ebb and flow of Jim Morrison's singing. Morrison's voice retained its familiar full yet disembodied sound, though the separation between his voice and the phasey "halo" following it was a bit less distinct than I'm used to hearing from this track.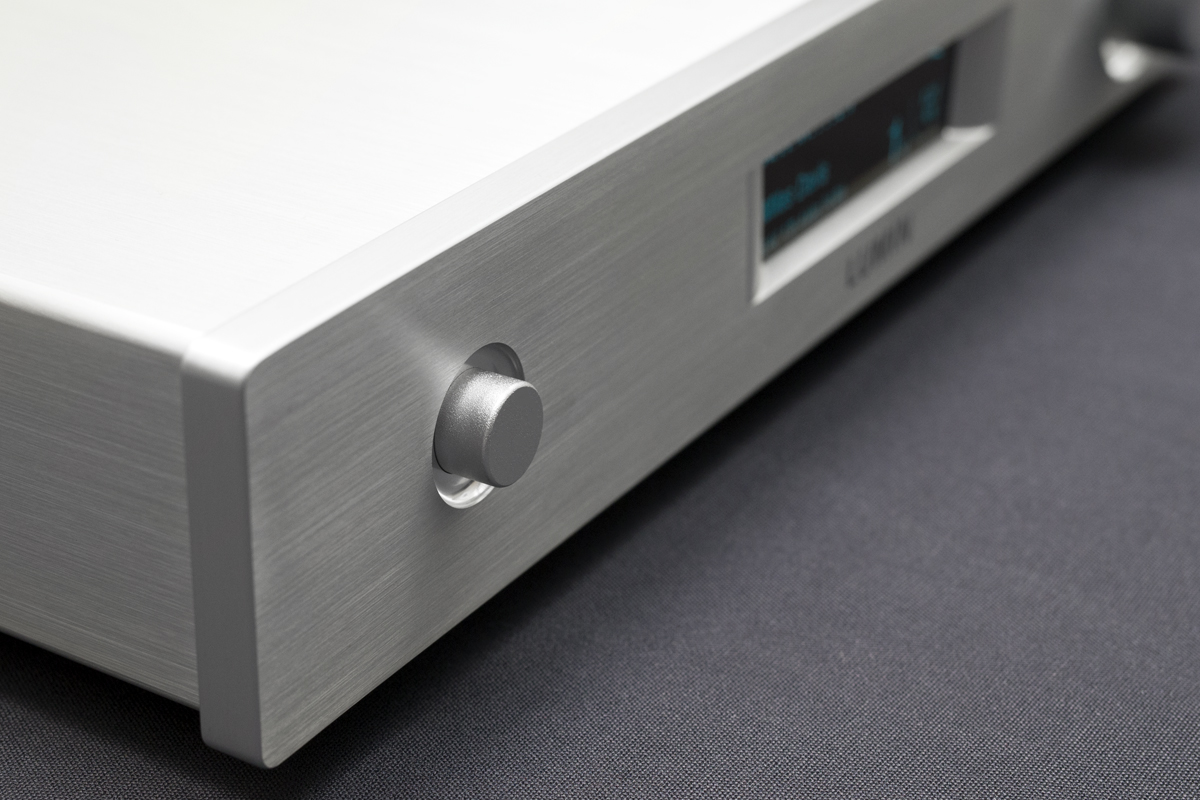 "The Lost Sky," from Jesca Hoop's Memories Are Now (16/44.1 FLAC, Sub Pop/Tidal), also displayed the M1's precision to advantage. This track's mix spreads acoustic guitars wide across the soundstage, and their palm-muted strings had a crisp, quick quality. The double bass was similarly sprightly and taut, with notes in the instrument's lower range sounding as well defined as higher ones.
Lumin's ad copy emphasizes the M1's performance with DSD, and the few DSD tracks I listened to did nothing to dispute that. In "Some Other Time," from Bill Evans's Some Other Time: The Lost Session from the Black Forest (DSD128, Resonance/Native DSD), Jack DeJohnette's lightly brushed cymbals and bassist Eddie Gomez's trebly runs created pillars of sound on the left and right sides of the stage as the fluid notes of Evans's piano cascaded between. The sound was warm, detailed, and remarkably lifelike for a recording made in 1968.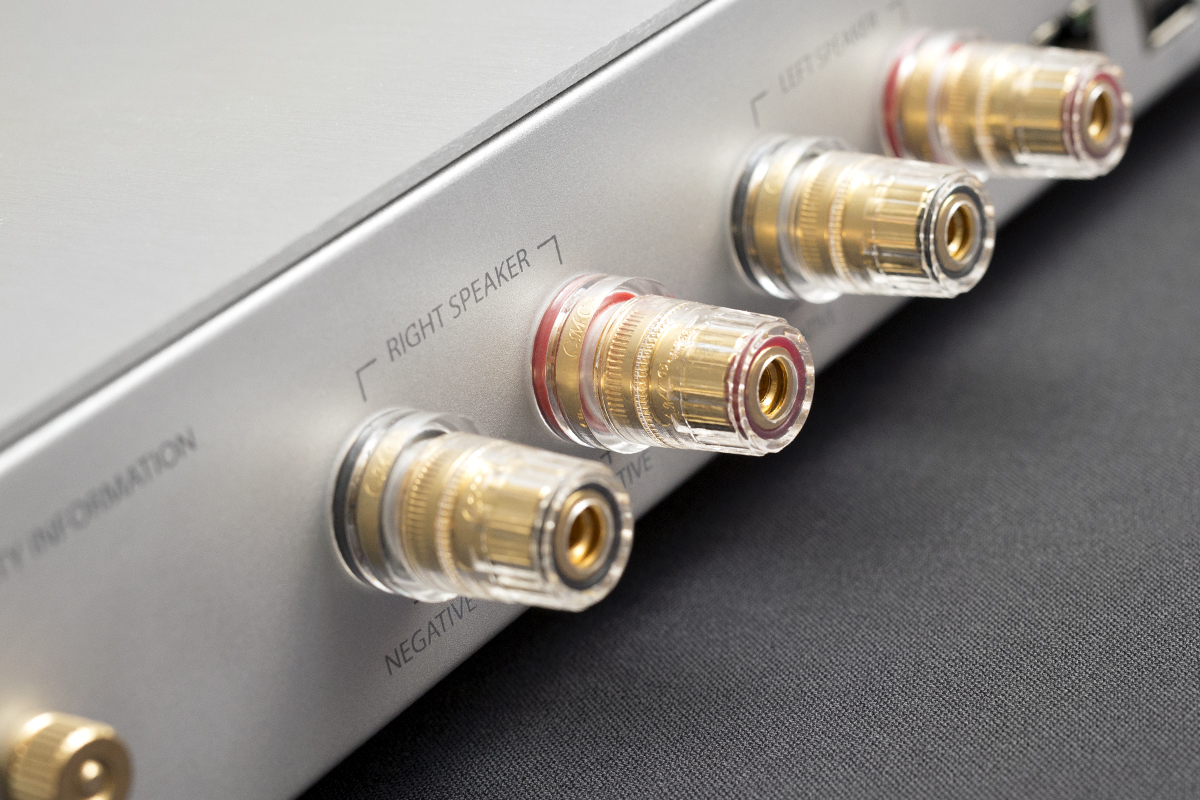 Not all recordings fared as well under the M1's microscopic gaze. In "Shhh/Peaceful," from Miles Davis's In a Silent Way (24/88.2 FLAC, Columbia/HDtracks), Tony Williams's double-time hammering on hi-hat cymbal had a too-crisp sound that proved fatiguing about a quarter of the way through this track's 18 minutes. Davis's trumpet could also sound papery in loud passages of his solos. Overall, I found that the M1 performed best at a relatively moderate volume level with most recordings. It also was a much better match with the GoldenEar towers than with the MartinLogans. With the latter attached, the M1's precision mixed with the crisp character of the electrostatic panels to create a sound that, on some tracks, could be in-my-face forward.
Comparison
Hegel Music Systems' Röst integrated amplifier is a more traditional design than the Lumin M1: it has analog and digital inputs to supplement its LAN and USB connections. At around $3000, it also costs quite a bit more than the $1995 Lumin. Playing the same tracks through the Röst that I'd listened to with the M1, I heard general improvements in dynamics, bass extension, and image depth -- for example, a more pronounced separation of the kick and snare drums in "Riders on the Storm" lent the sound better punch, though the Lumin's dynamic capabilities certainly made it no slouch on this track. And the halo of phasing that trails Morrison's voice did sound more distinct, which gave it a more palpable presence.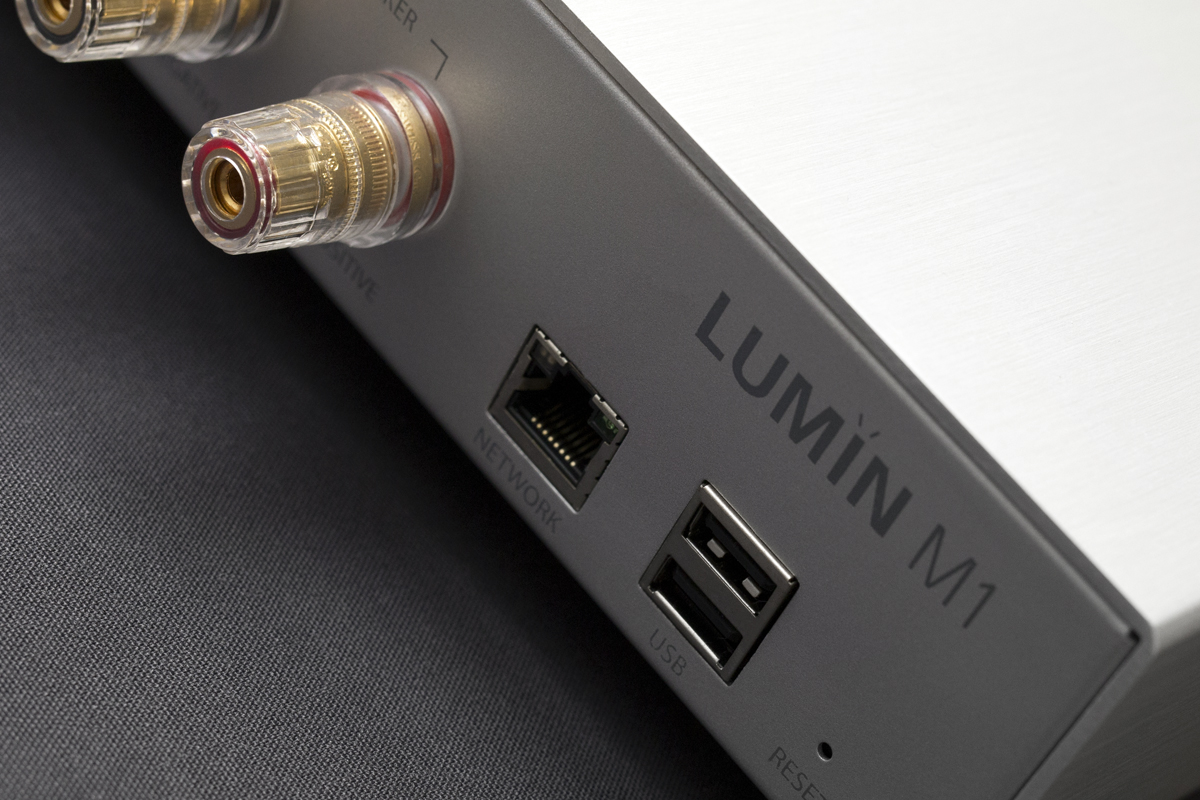 Jesca Hoop's singing in "The Lost Sky" also shone through the Röst. The song's mix contains multiple vocal tracks, and Hoop's slightly gritty voice now stood out more distinctly from the mass. Here again, though, the Lumin's taut presentation of acoustic instruments conveyed its own distinct appeal on this track. Ultimately, it seemed that the M1's highly revealing character served to highlight strengths of well-recorded music, as well as illuminate shortcomings in less-than-exceptional recordings. The Röst, in contrast, was more forgiving.
Conclusion
Lumin's M1 is a great choice for audiophiles focused on computer playback who want to keep their systems simple. With nothing but a network connection and USB ports, all you have to worry about is adding speakers. Lumin's control app is effective and easy to use, and Roon readiness and integrated Tidal streaming (with MQA) sweeten the deal. That said, the M1's crisp overall sound means that you'll need to pay close attention to speaker matching. But if simplicity is your endgame, few components out there embody that idea better than the Lumin M1.
. . . Al Griffin
This email address is being protected from spambots. You need JavaScript enabled to view it.
Associated Equipment
Sources -- Apple MacBook Pro, iPhone 6, iPad 2, Apple Music, JRiver Media Center 21, Roon, Tidal HiFi
Speakers -- GoldenEar Technology Triton Five, MartinLogan ElectroMotion EM-ESL X
Integrated amplifier -- Hegel Music Systems Röst
Speaker cables -- Monster Cable S14-2R CL-500
Analog interconnects -- AudioQuest Victoria (RCA)
Lumin M1 Integrated Amplifier-Network Music Player
Price: $1995 USD
Warranty: Two years parts and labor.
Lumin
Pixel Magic Systems Ltd.
Unit 603-607
IC Development Centre
No. 6 Science Park West
Hong Kong Science Park
Hong Kong
E-mail: This email address is being protected from spambots. You need JavaScript enabled to view it.
Website: www.luminmusic.com
US distributor:
Source Systems Ltd.
San Clemente, CA 92675-6000
Phone: (949) 369-7729
Website: www.sourcesystemsltd.com